Adele Delivers Another Amazing Live Performance at the NRJ Music Awards
Watch and weep.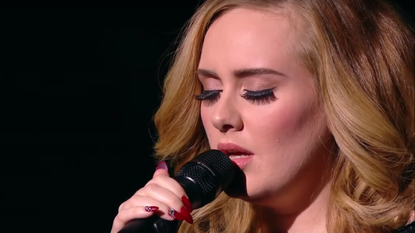 (Image credit: YouTube)
We are not getting over "Hello" or Adele's absolutely earth-shattering vocals anytime soon. On the heels of her first live performance (opens in new tab) seen in the preview for her upcoming BBC special, the singer proves her singular skills once more at the 2015 NRJ Music Awards.
Adele took the stage in Cannes, France last night for this stripped down rendition of her latest single. In this day of routine auto-tuning and lip-synching, Adele's raw, powerhouse pipes never fail to send shivers down our spine. Watch the full video of her mind-blowing performance below. Needless to say, we are on the edge of our seats with anticipation for what the rest of her album will bring.
I am an experienced editor, writer, and creative strategist, specializing in fashion, beauty, and lifestyle content for digital media outlets, as well as video and social platforms. While I currently operate as a freelance contributor/consultant, with such clients as The Zoe Report, my 10+-year background in the industry was cultivated at the dot-coms of elite publications, including Harper's BAZAAR, ELLE, and Marie Claire.