The Brangelina Wedding: More Details Emerge
Sources speak out on what Angelina wore, among other details.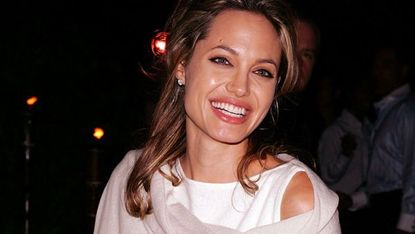 (Image credit: Getty Images)
Brad Pitt and Angelina Jolie's wedding is still shrouded in secrecy—so much so that we didn't even find out it happened until yesterday, five days after the fact. But some details are finally starting to emerge, thanks to E!, and they're shocking in how classic they are.
Unlike other celebrity brides who've worn short frocks (Keira Knightley) and colored gowns (Gwen Stefani), Angelina, one of the edgiest, most menswear-loving starlets, opted for a fairly vanilla wedding gown. It was "very traditional, but very Angie," according to E!'s source; "comfortable but plain white floor-length antique lace and silk." As for accessories? Angie "had a veil" and sported a gold locket "that once belonged to [her mother], Marcheline Bertrand." All in all, it's a little more conventional of a look than we imagined—but also an elegant and timeless one, which is perfectly suited to Angie.
Related: Brad Pitt and Angelina Jolie Got Married
Related: Worldwide Exclusive: Angelina Jolie Opens Up
From the editors of .
Celebrity news, beauty, fashion advice, and fascinating features, delivered straight to your inbox!