Amy Schumer Responds to a Critic Who Called Her "Chubby" in the Best Way Ever
"From the bottom of my heart—I could not care less."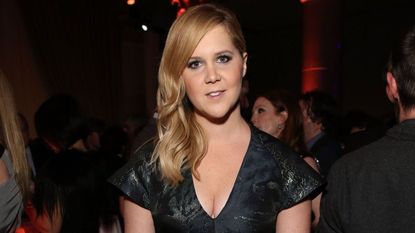 (Image credit: Archives)
Amy Schumer is a funny woman who is creating her own funny movies and television shows. So of course, someone just had to make an are-you-serious comment about her weight.
Last week, she unveiled the trailer for her upcoming rom-com, Trainwreck. In the movie, she plays a woman who can't handle monogamy–until she meets Bill Hader, who tries to get her to settle down. The red-band trailer features Schumer in her underwear, kicking various guys out of bed without a care in the world. It's a pretty refreshing portrayal, since it's usually the man in a rom-com who needs to be "tamed."
But within the chorus of praise from excited Schumer fans came one troll-y review, seemingly tailor-made to get people mad. "Director Judd Apatow is once again introducing a chubby, whipsmart, not conventionally attractive, neurotically bothered female comic to a mass audience," Jeffrey Wells wrote on the site Hollywood Elsewhere. "There's no way she'd be an object of heated romantic interest in the real world."
Schumer actively is not giving a crap, though. "I didn't read the thing. I think this is probably a good thing. I like that he was the only one that said anything," she told USA Today (opens in new tab) in a new interview. "It was such an example of sort of the reason for trolling. It seems like a rewarding experience for people who do that stuff. From the bottom of my heart—I could not care less."
After the review went viral last week, she posted a photo of her posing in just her underwear and heels. She looked amazing, and insisted she won't lose any weight just for some lousy critic:
She also posted another photo, putting a new spin on "conventionally attractive":
All that seems to have chastened Wells, because he published an apology on Friday for the review. "She's a first-class talent and deserves more respect than what I gave her," he wrote. But he couldn't leave it at that, adding:
Sigh. Once a troll, always a troll.
You should also check out:
The Trailer for Amy Schumer's New Movie 'Trainwreck' Will Be the Highlight of Your Day, Maybe Week
Megan Friedman is the former managing editor of the Newsroom at Hearst. She's worked at NBC and Time, and is a graduate of Northwestern's Medill School of Journalism.