Diane Keaton Can't Wait for Her Ideal Husband Channing Tatum's Movie to Come Out
Same page, Diane. Same page.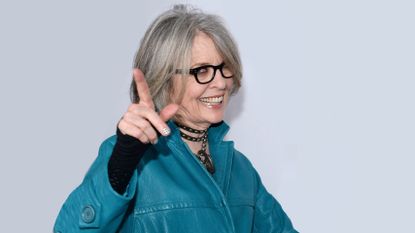 (Image credit: Getty Images)
Marie Claire newsletter
Celebrity news, beauty, fashion advice, and fascinating features, delivered straight to your inbox!
Thank you for signing up to . You will receive a verification email shortly.
There was a problem. Please refresh the page and try again.
Update, 6/19: Diane Keaton, supportive would-be wife to Channing Tatum, has secured her ticket for Magic Mike XXL. She is ready for this (opens in new tab).
OK girls and guys, we're one week away from HEAVEN. pic.twitter.com/U0J87qY6RUJune 18, 2015
See more
Original post, 5/7: If anyone has seen Magic Mike, you know the glory that is Channing Tatum. And Channing Tatum's abs. And Channing Tatum's moves. And...sorry what were we saying?
We're going to venture to say that Diane Keaton has seen the movie as well, given her recent appearance on The Ellen Degeneres Show. The 69-year-old actress, who has never been married, revealed that her first choice for a husband would be (duh) Mr. Channing Tatum himself.
All we can say is: Us too, Diane. Us too. And if any of you out there are shaking your heads, have you *seen* the Magic Mike XXL trailer (opens in new tab)?
The award-winning actress then got candid when fielding questions from viewers, like what she thinks the sexiest part of a man is. "Well, his thing. The thing!" she answered articulately.
Simedar Jackson is an esthetician, content creator, and lover of sci-fi fiction living in Brooklyn, New York. She is passionate about creating space for Black and Brown people in the beauty and wellness industries by providing access to culturally nuanced education and services that meet their needs. You can find them doing their skincare routine, reminding friends to reapply SPF, and watching reruns of Love Island.