Lin Tucci Reads "The Vagina Monologues" to an All Male Prison
Lin Tucci from Orange Is the New Black performed the first ever reading of "The Vagina Monologues" at an all male prison.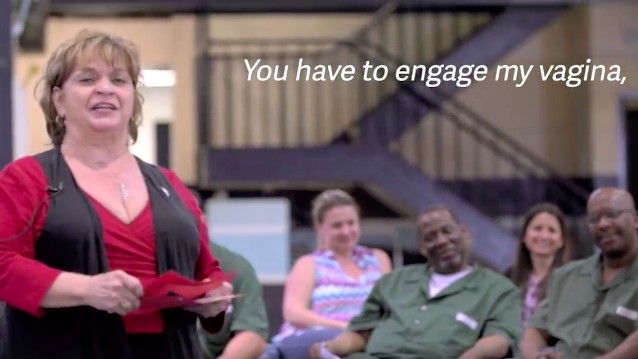 (Image credit: Image Library - Rights Unknown)
When Lin Tucci, who you recognize from her role as Anita DeMarco on Orange Is the New Black, joined an ensemble of women in the first performance of The Vagina Monologues at an all-male prison, the reactions of the incarcerated audience were not at all what she expected.
"I thought that the men's body language would be uncomfortable and awkward—and it wasn't," she told Quartz (opens in new tab). "They wanted to know, they wanted to hear what we have to say."
The iconic 1994 play was performed by an ensemble cast that included Broadway actors and women who had previously spent time behind bars.
"It's important for the men to know that we are women," Sharon Richardson, who had previously served 20 years in prison, said after the performance. "We honor our bodies, every part of it."
Judging from the video, it seems like the men in this reentry facility in Queens, New York, really did appreciate the theatrical education.
"Some parts intense, some parts funny, but everything had a message to it," one inmate said. "Respect the women, to understand that they go through things just like we do."
Yep, yep, yep!
Follow Marie Claire on Facebook (opens in new tab) for the latest celeb news, beauty tips, fascinating reads, livestream video, and more.
My writing has regularly appeared in The New York Times, The Paris Review, Salon, VICE, Guernica, The New York Observer, BuzzFeed, Cosmopolitan, Seventeen, Esquire, Elle, Harper's Bazaar, and many more publications.

I was previously the Senior News Editor at Best Life Online and the Viral Content Editor in the Newsroom of Hearst Digital Media. My portfolio consists of a vast and diverse body of work that includes personal essays, lifestyle articles, breaking news posts, and viral content. My areas of expertise, however, are Russia, sex and relationships, and mental wellness.