31 Times North West Was More Fashionable Than You
She may be a toddler, but girl's got style.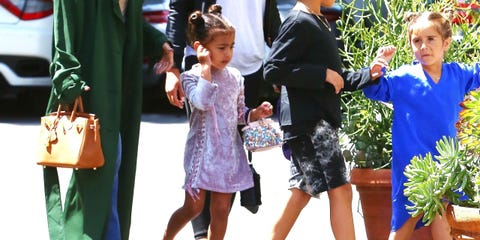 We never thought we'd be looking to a toddler for fashion advice, but here we are. Yes, when it comes to North West we've got to give her props. And with parents (hiii Kimye!) that have a certain reputation for perfection, it only makes sense that North follow suit. Here are all the times this little tot looked so fashionable it made you wish Kim would adopt you.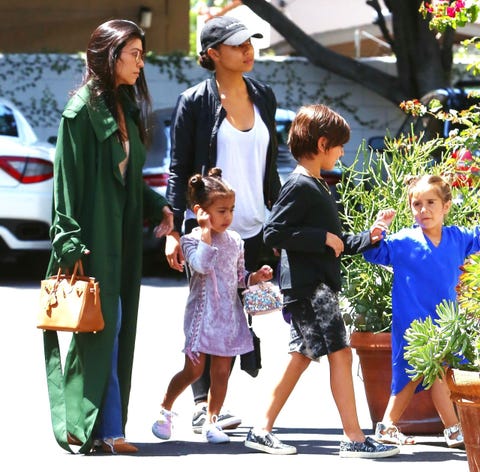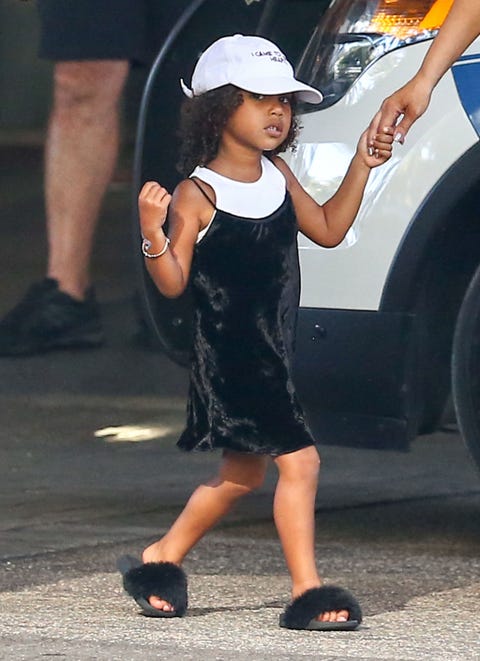 September 18, 2016
Nori wears so many trends in one little outfit. Let's break it down: black furry slides by AKID, a velvet slip dress with a white tank underneath, and a sporty baseball cap. A+ all around.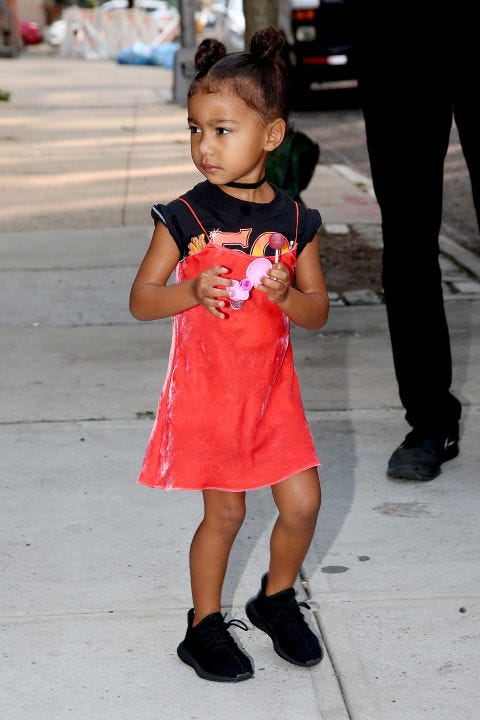 September 10, 2016
Little Northie stepped out in a red velvet slip dress layered over a graphic tee paired with a skinny black choker, baby Yeezy boosts and double-bun hairstyle. Her quickly developing aesthetic is sure to outdo us all, considering she hand-picks the fabrics for her custom clothes...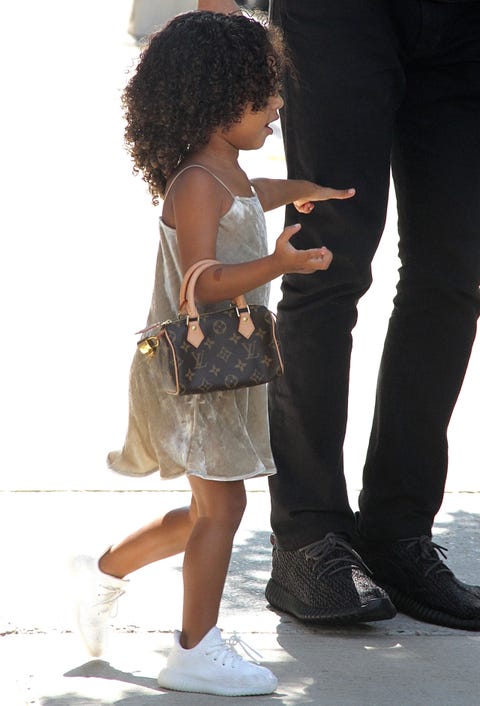 September 8, 2016
North West is already the master of the outfit repeat. She stepped out with mother Kim K in NYC wearing a cream, velvet dress seen earlier in the week. This time, the tot wore a $1000 mini Louis Vuitton bag on her arm and a pair of white Yeezy boosts. Seriously, we need her closet like yesterday.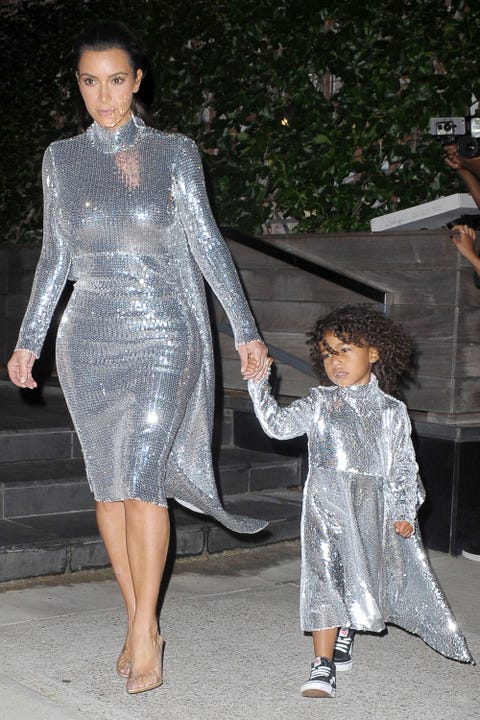 September 5, 2016
En route for Kanye West's The Saint Pablo Tour show at Madison Square Garden in NYC, North West donned a silver sequin dress to match her mama's.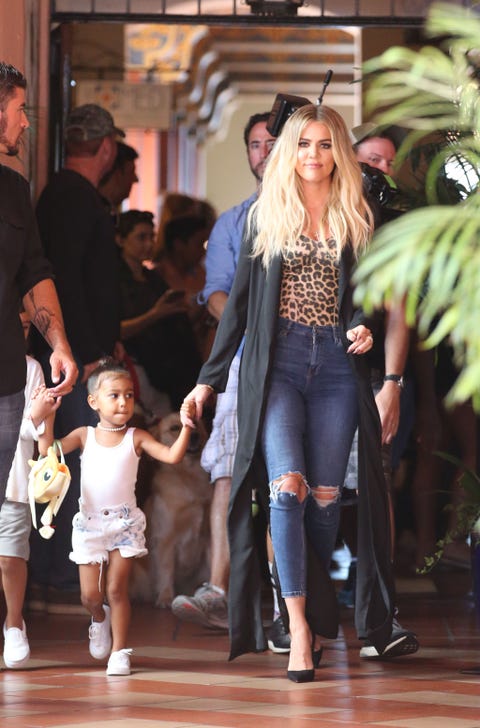 July 26, 2016
Who wants a cat purse now? Giving her Fallon chokers a break, North goes for a string of pearls and denim cutoffs.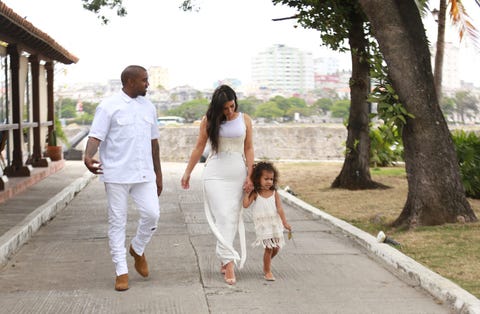 April 5, 2016
While exploring Cuba with her parents, Nori wore a cream-hued sundress with crochet detail and espadrille flats.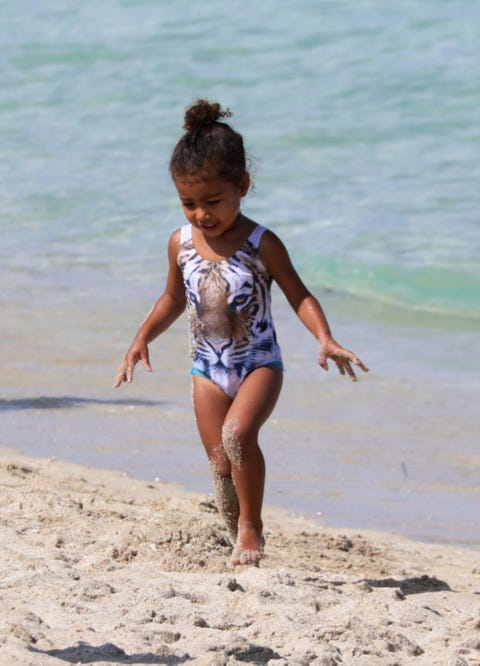 April 23, 2016
The fashionable toddler had the Miami Beach look on lock this weekend with this adorable tiger swimsuit.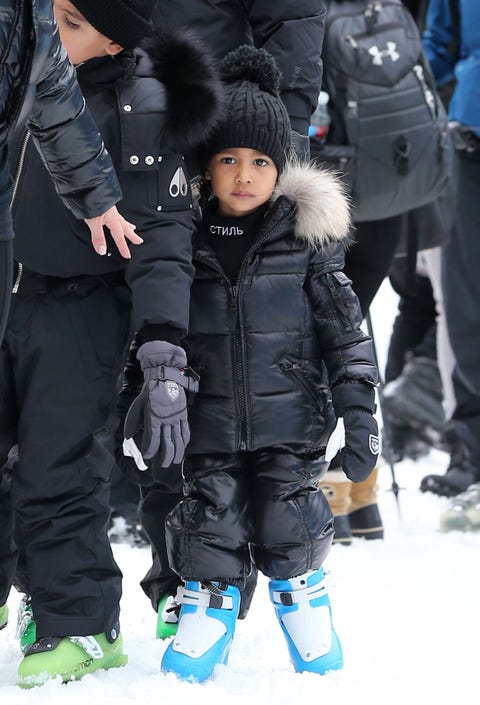 B Prahl/ C Brewer Splash News
April 6, 2016
While skiing with her mama, Nori kept toasty in a fur-trimmed puffer coat, snow pants, and a pom-pom beanie.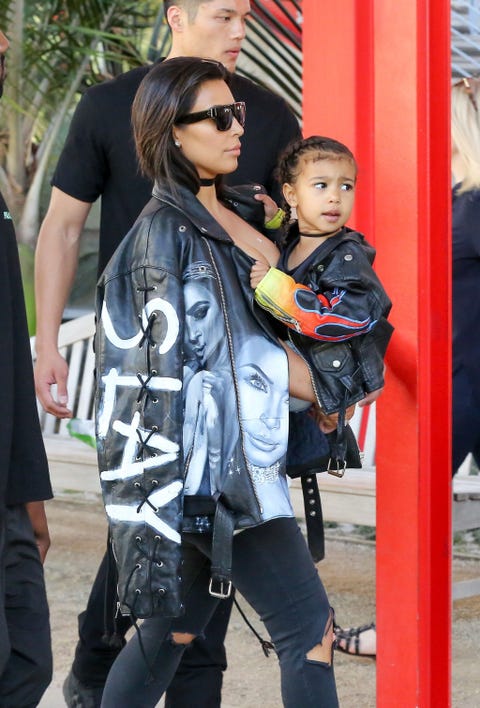 April 3, 2016
While hitting LACMA (you know, as toddlers do), North West matched her mama in a fierce, flame-decorated leather jacket, denim cut-offs, and choker, as well as mixed-print tennis shoes.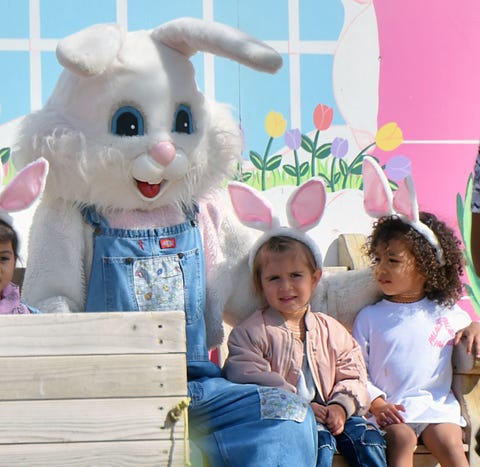 March 22, 2016
On an Easter egg hunt at Underwood Farms in L.A., North West met the bunny of the hour with her cousin Penelope. For the occasion, she donned a gold chain choker, white logo sweater, and bunny ears.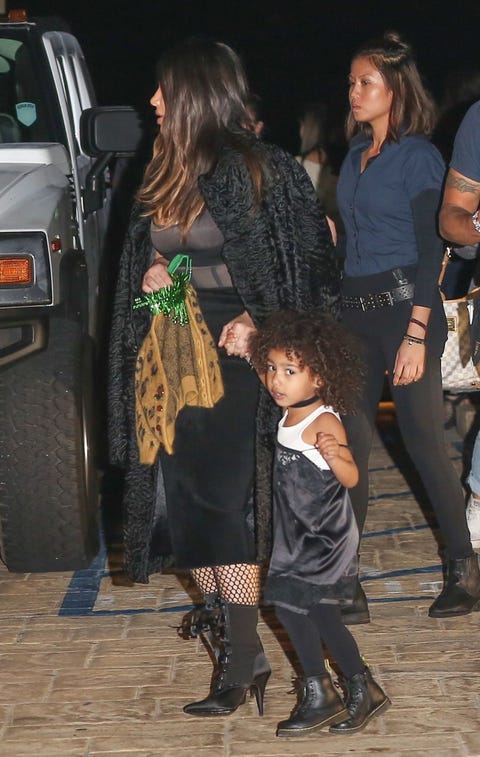 March 19, 2016
Over the weekend while celebrating her Uncle Rob's birthday, North West was a teeny-tiny punk rocker in a choker, black spaghetti strap dress, tights, and Doc Martens boots.
December 29, 2015
You know when you can't take off your jacket because it's an integral part of your *look?* That is little Nori here, who wore her $3,500 crystal fox fur coat in L.A. on Tuesday, with a pink sweatshirt and hat, jeans, Converse, and a red lollipop.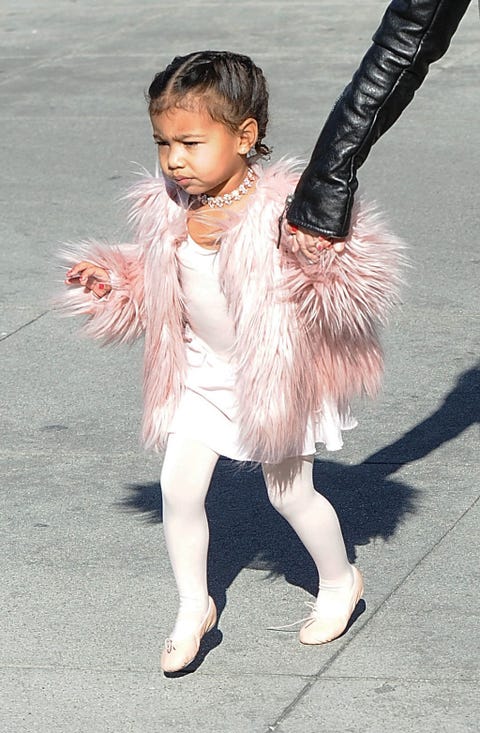 December 16, 2015
En route to ballet class, Nori sported a pink fur jacket, custom Fallon rose gold choker, and matching pink tights i.e. so not what you wore to pirouette as a kid.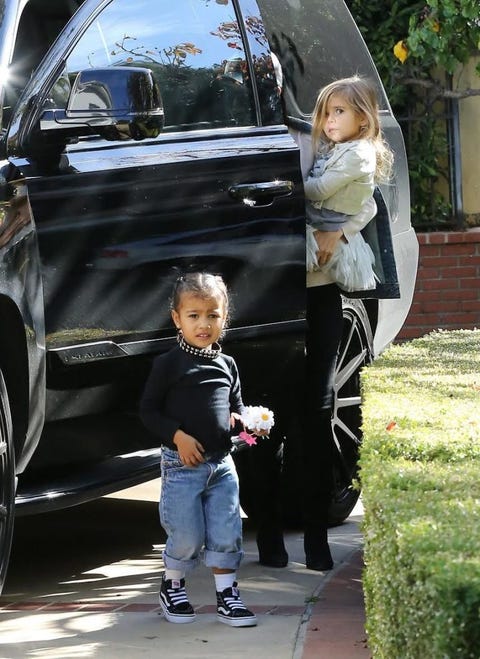 December 13, 2015
Going rogue for an outing with her cousin P, North rocks a studded choker, black long-sleeve shirt, rolled-up jeans, and high-tops like a boss.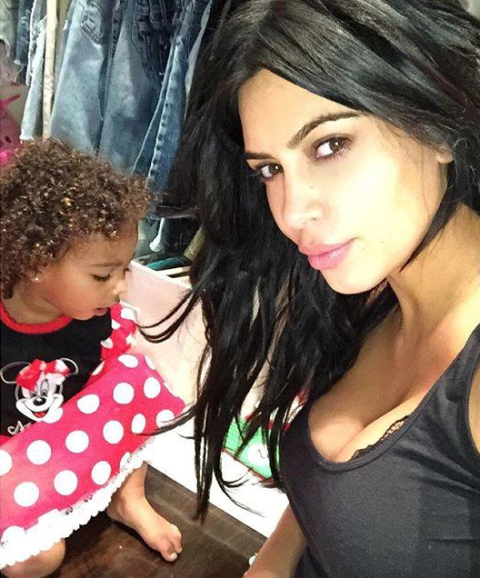 September 28, 2015
Our first peek into North West's closet (check out those denim options), looks like she's all about her Minnie Mouse dress and letting her curls run wild.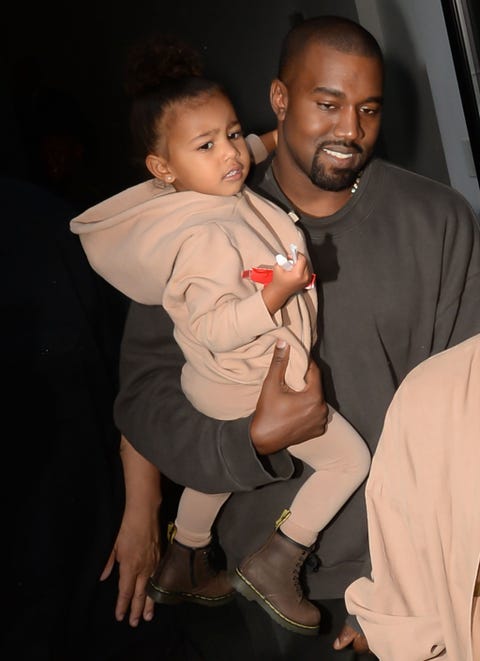 September 16, 2015
At her dad's Yeezy Season 2 show during New York Fashion Week, North matched the models wearing a pale brown monochrome look in a hoodie, leggings, and leather boots.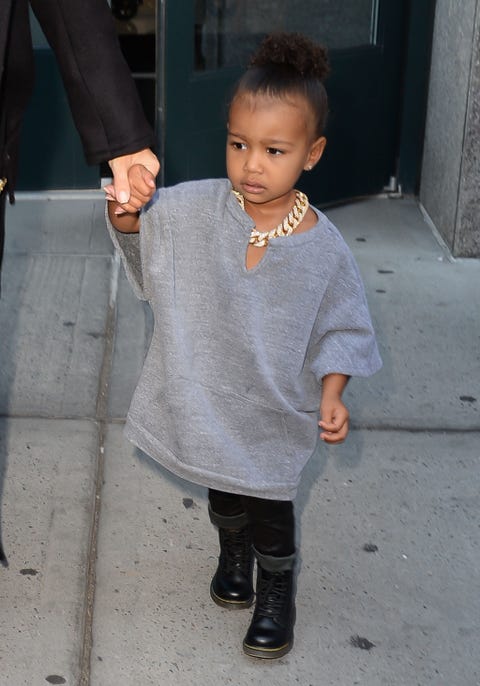 September 7, 2015
She channels her dad Yeezy wearing an oversized grey sweatshirt poncho, black leather leggings, motorcycle boots, and a thick gold chain necklace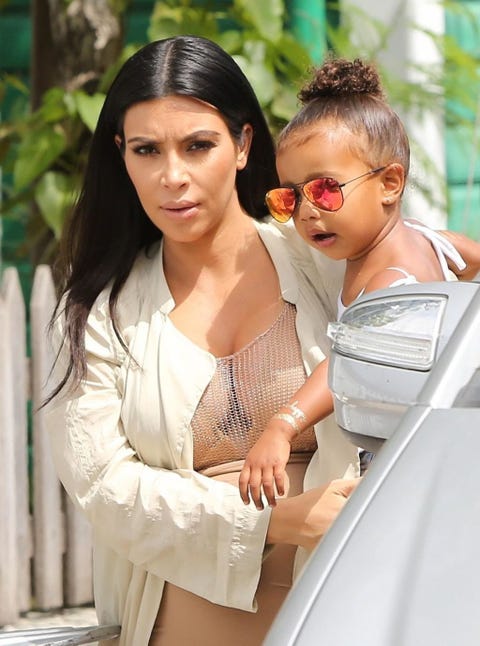 August 20, 2015
Joining the ranks of Queen Bey and Rihanna, West is proving that metallic body tattoos are still very much a thing—and in mirrored Ray-Ban aviators to boot. One word: Badass.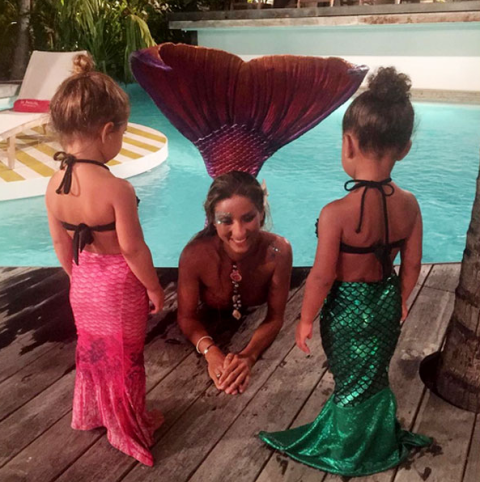 August 18, 2015
While on vacation in St. Barts, Norry opted to dress the part of meeting a mermaid—bikini, sparkly green fish tail, et al.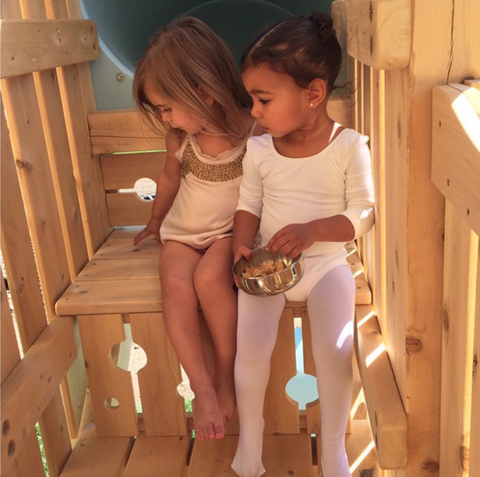 July 10, 2015
During a play date with P, she looks like she came straight from dance class in a white leotard and matching tights.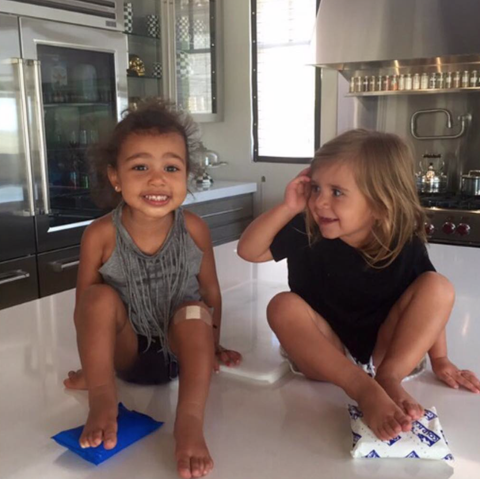 July 10, 2015
While hanging out with cousin P, North wears a fringed gray tank top and denim shorts.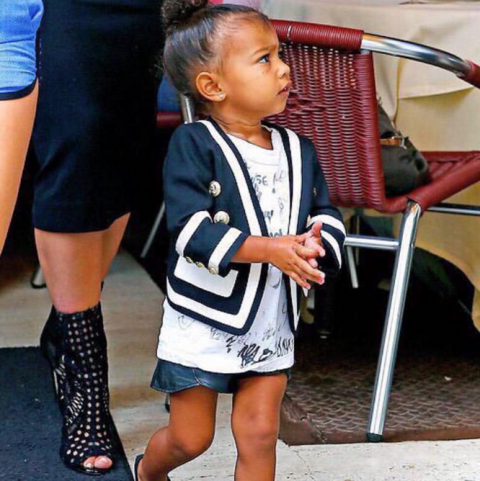 North West
Norry has gone nautical for summer and we're loving the adorable results.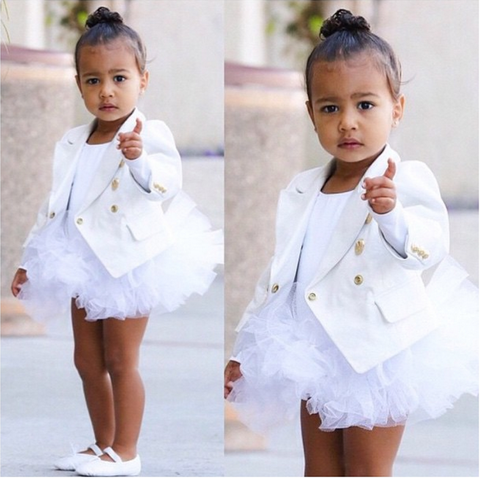 Swan Lake
Norri casually attended ballet class in a custom Balmain blazer. And the award for chicest toddler ever goes to...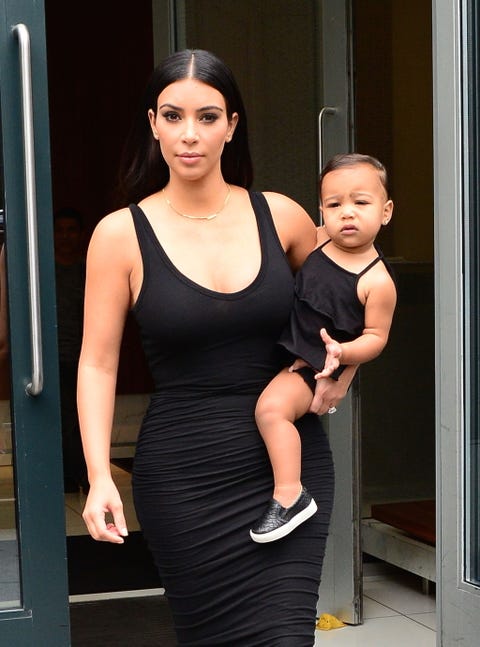 Black is the new black
Here, North West reminded you that she was ahead of the slip-on-sneakers-that-are-still-stylish trend before you even thought about it.
Peek-a-boo
Kim and North adorably matched (as they tend to do) in black lace on the way to the Givenchy show during Paris Fashion Week.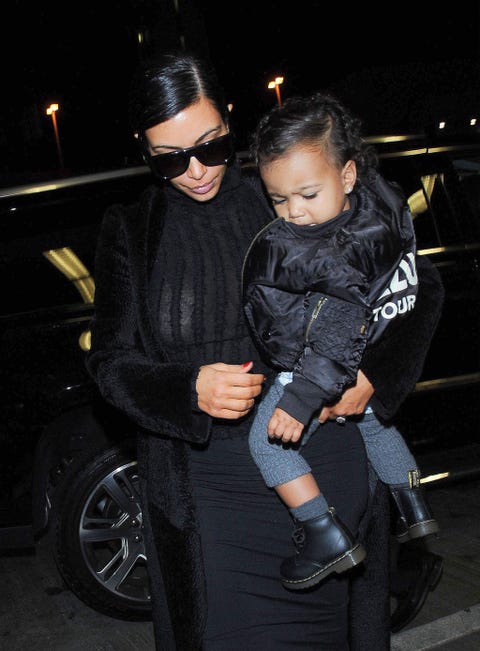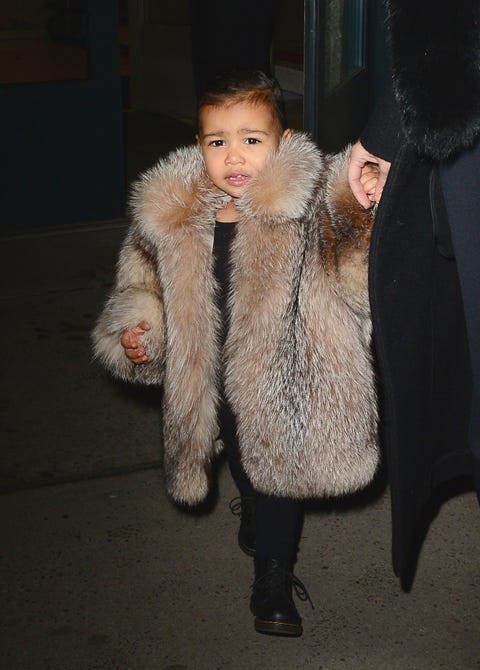 PETA who?
Just a casual fur coat look, any questions?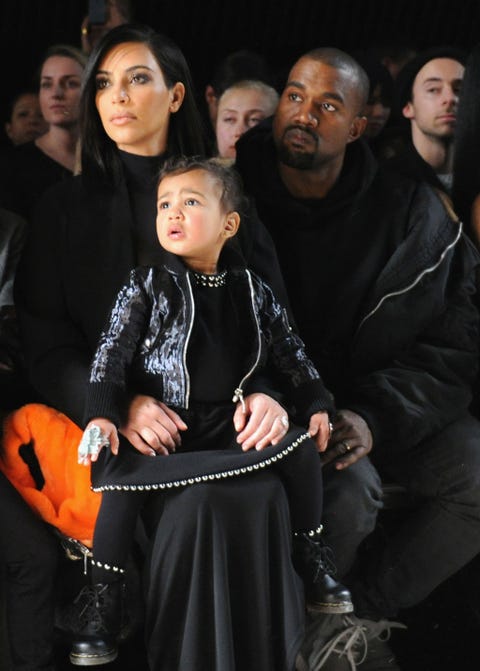 Front row inspection
North had a pretty great view during fashion week—and with great seats comes great responsibility, so Norri kept it chic and simple in this all-black outfit. (It's also clear that she made Dr. Martens the Manolo Blahniks for babies.)
Easter Sunday
The perfect white dress is an Easter staple and North had one of the best in this graceful, satin frock. And just when we thought we were over flower crowns...
This content is created and maintained by a third party, and imported onto this page to help users provide their email addresses. You may be able to find more information about this and similar content at piano.io