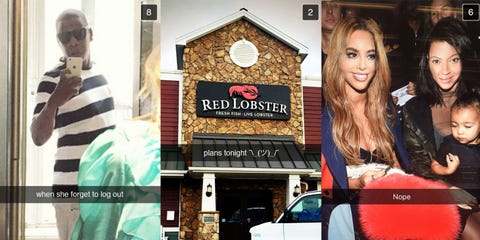 Can you file a FOIA for Beyoncé's secret Snapchat that she totally doesn't have, according to Tina Knowles? (Suuuure.) While we wait for the government to send us a curt rejection letter, here's our magnum opus: 12 completely fictional but entirely plausible screenshots in the key of Queen B.
You know what you did, Aunt Becky.
Smack it, smack it all the way over to the Big Gulp dispenser.
He had to take his own chopper home, though.
BUT WHAT IF HE ACTUALLY DID KNOW?
Look at your life, look at your choices, green ivy.
"They don't have pizza [in Houston]," Jay Z once said. "That explains everything."
The new "North posted this while playing games on my phone."
If you squint, her shoulder pads are totally his paws.
Still hilarious, 10 years later.