11 Movies You Should See Now If You Want to Win the Office Oscar Pool
Close your Netflix and get thee to a big screen.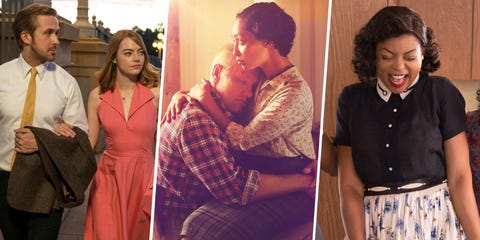 Awards season is almost upon us, which means—hallelujah!—theaters are finally full of movies you actually want to see. (No offense to all the awkward films no one bothered seeing this summer, we still love you!)
The Oscars are much more enjoyable when you've actually watched the nominated contenders, so here's a handy list of films worth the 💸 to see on the big screen.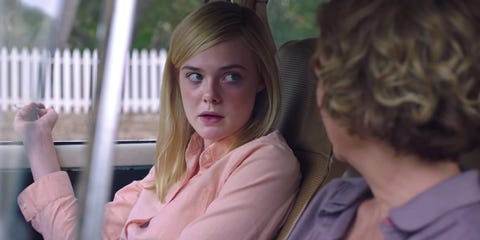 '20th Century Women'
20th Century Women is the semi-autobiographical story of director Mike Mills' young adulthood, and has a completely killer cast complete with Annette Bening, Elle Fanning, and Greta Gerwig. The film is a win for feminists, and tells the story of the profound influence three women of varying ages have on a boy coming-of-age. This is the type of movie Hollywood should be making more of.
Release date: December 25, 2016.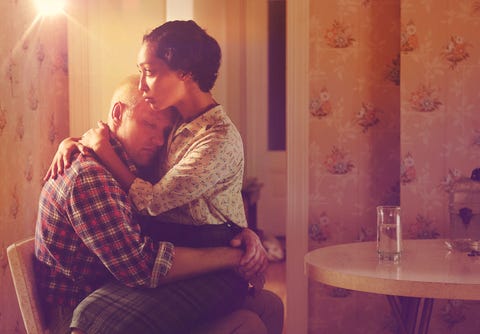 'Loving'
It's almost impossible to write about Loving without making a pun about loving it, but we'll try. The Jeff Nichols directed film follows an interracial couple from small down Virginia as they deal with prejudice and racism. It's a gorgeous movie, but also an important reminder that interracial couples are still judged in 2016. Hopefully, Loving will serve to open hearts and broaden minds.
Release date: Already out. See it before it leaves!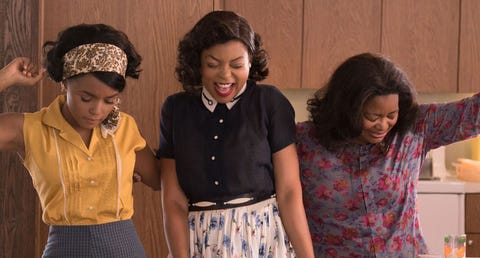 'Hidden Figures'
Women—and more significantly, women of color—are constantly sidelined to the margins of history, which is why Hidden Figures is such an important film this year. The movie stars Taraji P. Henson, Octavia Spencer, and Janelle Monáe as the three NASA employees who made it possible for John Glenn to visit space. It takes women out of the shadows and puts them front and center—exactly where they belong.
Release date: December 25, 2016.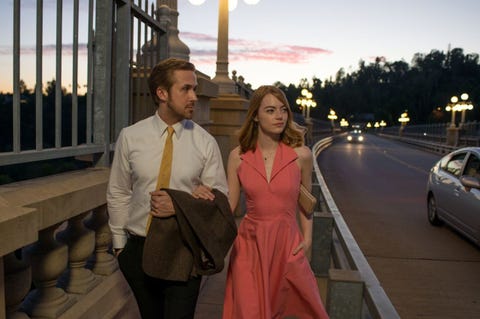 'La La Land'
If you see one movie in theaters this month, let it be La La Land. The gorgeous musical stars Emma Stone and Ryan Gosling as aspiring entertainers who fall in love in Los Angeles (hence the film's title), and it's gotten rave reviews—not to mention all kinds of Oscar buzz. It also categorically proves that musicals can, and should, be taken seriously.
Release date: December 9, 2016.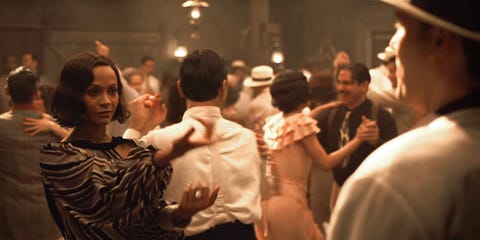 'Live by Night'
Guys, Ben Affleck wrote another movie, yay! And he's also starring in it, so double yay! Live By Night is set in prohibition-era America, and is about gangsters—so really, how can you go wrong? Answer: you can't. But the real reason to see the film on the big screen is Affleck's directing. Let's not forget that his work on Argo earned a Best Picture win, and while he was snubbed in the best director category at the time, this could be his chance for redemption.
Release date: December 25, 2016.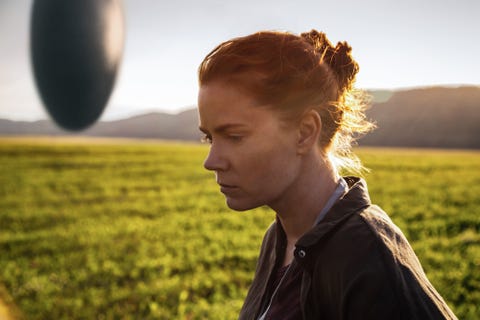 'Arrival'
Please, please, please do yourself a favor and see Arrival in theaters. It's one of the smartest—if not the smartest—film of the year, yet still manages to have a deep emotional core. Plus, it's about aliens and has a powerhouse performance by Amy Adams. What's not to love?
Release date: Already out. Go, go, go!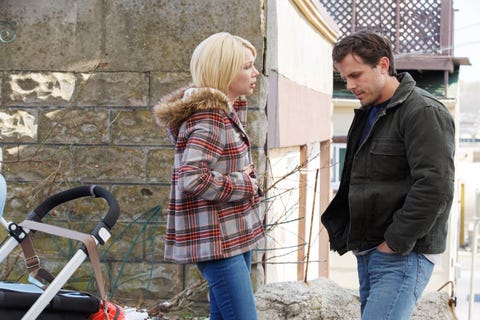 'Manchester by the Sea'
Manchester by the Sea is generating a lot of controversy due to Casey Affleck's sexual assault allegations, and honestly, it almost didn't make this list as a result. Separating the art from the artist is hard if not impossible, but the fact remains that Manchester by the Sea will likely do well during Awards season. If you're the type of person who likes to see the main Oscar contenders in theaters, add this to your list.
Release date: Already happened, so check your local listings for movie times.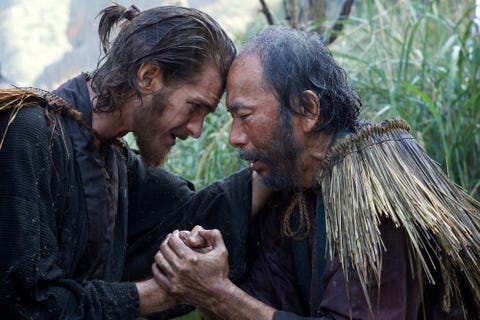 'Silence'
You can't go wrong with a Martin Scorsese movie, and his latest stars the perpetually adorable and talented Andrew Garfield as a Portuguese priest who travels to Japan to find his mentor. We always knew Garfield was talented, but let's just say Spiderman does not do him justice.
Release date: December 23, 2016 (though it already premiered in Vatican City because that's just how the Pope rolls).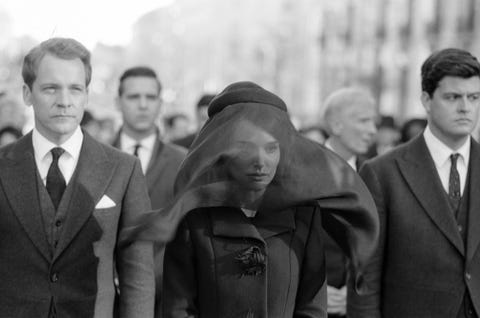 'Jackie'
Remember when you saw Black Swan and were like "holy crap, Natalie Portman is an amazing actress?" Well, she's back at it again as titular character Jackie Kennedy Onassis in Jackie. If the acting and plot aren't enough to get you to spend $$$ on a movie ticket, the costuming alone is worth it.
Release date: Already out. Go forth!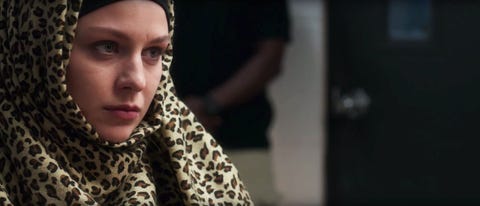 'Patriots Day'
Patriots Day might be a struggle to watch given that it's about the Boston Marathon bombing, an event which is pretty recent and raw to many Americans. That said, the film is probably best enjoyed in theaters, as are most movies starring Mark Whalberg and J.K. Simmons. Fun fact: Nine Inch Nails' Trent Reznor co-wrote the score.
Release date: December 21, 2016.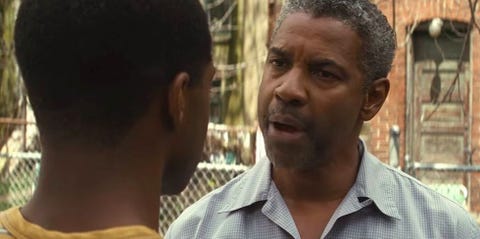 'Fences'
Viola Davis and Denzel Washington star in Fences, an absolutely spectacular film based on the Pulitzer Prize-winning play. The movie is set in the 1950s, but deals with issues that are still strikingly relevant today: race relations, and the too-often-marginalized experience of people of color in America.
Release date: December 25, 2016
This content is created and maintained by a third party, and imported onto this page to help users provide their email addresses. You may be able to find more information about this and similar content at piano.io