How Bloggers Make Money on Instagram
Danielle Bernstein of We Wore What reveals all.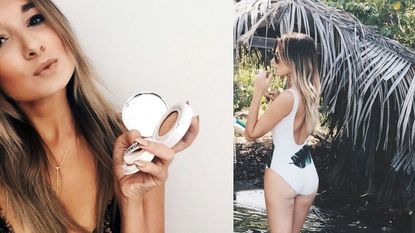 (Image credit: Instagram)
"I have an idea if you're open to it," Danielle Bernstein, 22, a personal style blogger who runs We Wore What, wrote me recently.
I'd emailed Bernstein to ask if she'd be open to explaining the business of bloggers being paid by brands to feature their products on Instagram. Most people are probably aware this is going on as they flick through their feeds (#spon), but the money and business practices behind it are inconsistent—and often obscured.
She proposed she'd take me through how she makes money from Instagram, as long as she was the only blogger in the piece. "It's super important who I associate myself with in this industry," she says. "It's not that I don't like other people, but there are some other bloggers that it's random seeming to associate myself with."
Bernstein has 992,000 followers on her Instagram @weworewhat. When she gets to a million, which she predicts will happen in the next 10 to 15 days, she can charge "a good amount more" for sponsored content. "It's a big milestone," she says.
Right now, Bernstein's rate card, through Next Models, sets her range for the cost of a single piece of sponsored content (i.e. one Instagram shot) from $5,000 to $15,000. This rate can go up or down, depending the terms of the deal, such as if a brand wants a long-term commitment or multiple Instagram pictures. "Everything's negotiable," Bernstein says, laughing. "I'm Jewish."
https://instagram.com/p/2lpmrjhZHj/
According to experts who spend a significant portion of their days figuring out how brands and so-called creators can play together nicely on Instagram, we're at some kind of mid-point. There are still plenty of products sent out gratis to bloggers with fingers crossed that they'll throw a picture of themselves online using it. Bernstein does this, too, albeit selectively. Milly recently send her an electric blue bag that was too bright for her taste. Bernstein wrote back, "I love this bag, but do you have it in black?"
But there's also just as much contracted—often agent-negotiated—work where the blogger agrees to feature the brand in a certain number of Instagrams, often promising not to put any competitors in the same shot (or even hold off mentioning them for a week or so). Industry estimates say brands spend more than a $1 billion per year on sponsored Instagram posts. Particularly in fashion, "there's a rapidly developing economy on Instagram," says Thomas Rankin, co-founder and CEO of Dash Husdon, a program that lets you make your Instagram posts shopable. Instagram founder Kevin Systrom even went to Paris Fashion Week, attending Jean Paul Gaultier's couture salon and meeting with Karl Lagerfeld and Louis Vuitton's Nicholas Ghesquière, to learn more about the style bloggers, models, editors, designers, and clothing brands who create such a large portion of content on the photo-sharing site.
Recently, Bernstein's done Instagram-only work for Lancôme and Virgin Hotels. Lancôme had her feature its new foundation, Miracle Cushion, in a picture of her morning routine and as part of her on-the-go makeup bag. For Virgin Hotels, she posed at the opening of the one in Chicago with Virgin's owner Richard Branson. "Last year was definitely my most profitable," she says. "I hate talking about money, but let's just say it's more than I could have ever imagined as a 22 year old. I fully support myself, and it's in the mid-six figures. I save, I invest, I'm trying to be smart about it all and learn as I go."
Bernstein is at the top end of this new Instagram economy, but it's one with a big income gap. On average, if you have hundreds of thousands of followers you can make anywhere from $500 to $5,000 a post, but if you have upwards of 6 million followers, your fee can be $20,000 to $100,000 a shot. "Which is kind of crazy," Rankin says.
Part of what makes the idea crazy that bloggers would be paid five figures for a picture of them doing something like sitting on their couch is that it just looks so casual—which is, of course, the point. Indeed, when Bernstein worked on a campaign for Project Runway, part of her well-paid contracted work was posting pictures of herself sitting on her couch. "I'd say I was watching the show," she says.
In fact, when Rankin approves blogger's Instagrams before they're posted on behalf of a brand, the only negative feedback he gives if he thinks something looks too posed. "It's not an editorial photo," he says. "We're not trying to be in a magazine. We're trying to create a moment."
Kerry Pieri is Harper's Bazaar's Digital Fashion/Features Director. Kerry oversees the fashion vertical for BAZAAR.com, including launching digital covers, styling celebrity features, and managing recurring features including Brand Watch and My Life in Three Looks. In addition, Kerry edits the "best of" each season, from shoes to bags, denim and coats, and is consistently looking for shifts in the fashion realm to lend a voice. Kerry formerly served as the Editorial Director of StyleCaster.com and as a producer at Full Frontal Fashion. She lives in New York with her husband Steve, and baby girl Lila Sky.