14 Things You Never Knew About Kate Middleton
There's more to her fairytale life than you thought.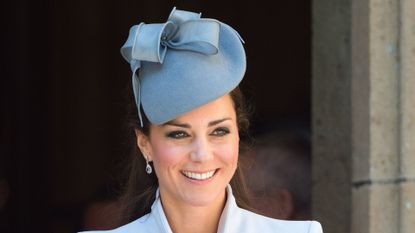 (Image credit: Getty Images)
You may think you know everything about the Duchess of Cambridge. After all, not a day goes by without a new tidbit from her life making the news (and, yes, we're totally guilty). But there is a lot more to the the future queen beyond her fairytale romance, adorable family and plethora of fun hats!
1. Kate proved she'd be a natural at the royal life at an early age.
In 1992, when she was just 10 years old, the future princess played a lovesick Prince Charming in her school's production of Cinderella. Some of her hilarious lines included, "I'm in love. I can't eat. I can't sleep. I can't concentrate on anything."
2. She's an art buff.
She studied the History of Art at University of St. Andrews and also spent a year studying art in Florence, Italy.
3. And she loves taking photos, too.
Before she got married, she used to take pictures for her parents' mail-order company Party Pieces. More recently, she's credited with snapping a series of oh-so adorable portraits of Prince George and his baby sister, Charlotte.
4. Kate and Will met for the first time when they were in college together.
They both lived in the same building, but she really caught his attention when he paid £200 ($315) to watch the tall brunette (she's 5-foot, 9-inches!) walk the runway in a sheer dress for a charity fashion show.
5. She may be British, but she's actually related to America's founding father: George Washington!
On her father's side, they are eighth cousins, seven times removed.
6. A dress she once wore sold out minutes after she was photographed wearing it.
The dress was designed by Reiss and retailed for £175 (about $275). A style icon, her outfits often become instant hits.
7. She's keen on cooking.
In fact, she owns a sausage maker, and likes to make her own strawberry jam and plum preserves to give as gifts.
8. The princess is a huge fan of Downton Abbey.
Kate even visited the set of the PBS series earlier this year. She visited the wardrobe, hair and makeup departments before meeting the actors and watching some of the filming.
9. She wears lots of colors, but really likes white.
Kate claims she doesn't really have a favorite color — but if she had to decide, it would be white.
10. She is a big fan of accessories.
And she's especially fond of hats and fascinators — she has at least 40 of them.
11. Kate likes to eat healthy, but does have a sweet tooth.
Her favorite treat is sticky toffee pudding, especially the kind from the Old Boot Inn in Stanford Dingley, a village in Berkshire, England.
12. Her pet name for Prince William is "Big Willie."
Aww, how sweet! (We won't ask where that came from though...)
13. She was the oldest royal bride in British history.
When she wed Prince William on April 29, 2011, she was 29. In comparison, Princess Diana had only just turned 20 when she married Middleton's future father-in-law, Prince Charles.
14. The value of her engagement ring has increased tenfold since Princess Diana last wore it.
According to TODAY.com, the sparkling blue sapphire ring was reportedly worth £60,000 when Charles bought it for his fiance, Diana Spencer, in 1981. Now, just the sapphire alone is worth £300,000 — that's about $472,170!