See Photos of Meghan and Harry at Their First Event as Duke and Duchess of Sussex
Meghan fits in perfectly (obviously).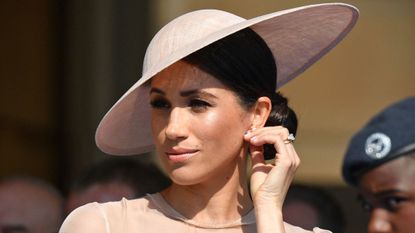 (Image credit: Getty Images)
Now that their epic royal wedding is behind them, it's time for Mr. and Mrs. Mountbatten-Windsor to get back to royal duties. Just three days after the couple tied the knot at St. George's Chapel in Windsor, Prince Harry and Meghan Markle are attending a garden party for the 70th Birthday Patronage Celebration of Harry's father, Prince Charles. Meghan fits in perfectly in a sheer Goat Fashion peach silk pencil dress and matching hat. You can shop it here (or simply scroll down).
Meghan looked on fondly as her husband gave a speech about his father.
And it's clear that she already gets along well with her mother- and father-in-law. The three were snapped laughing together (presumably about funny memories of William's "naughty" wedding reception toast).
And here, Harry's new wedding band can be spotted.
The Queen is hosting the get-together for family, friends, and 400 charities (yes, 400 charities) at Buckingham Palace to honor the work "close to the Prince's heart." This is Meghan and Harry's first event as the Duke and Duchess of Sussex, and Meghan's first outing as an official royal. She participated in her first royal event alongside Harry, William, and Kate back in February at the Royal Foundation Forum.
RELATED STORY
Immediately after Harry and Meghan said "I will," the Royal Family updated their website to reflect Meghan's duties as Duchess. She will "undertake royal duties in support of The Queen, both in the U.K. and overseas" and "devote her time to supporting a number of charities and organizations." The website also highlights Meghan's feminist roots, which she'll continue to embrace in her duties. "I am proud to be a woman and a feminist," she's quoted as saying on the site.
And it's goodbye from us....(clearly the post wedding glow hasn't rubbed off given that PDA!) #DukeandDuchessofSussex pic.twitter.com/t2S0DtUZTSMay 22, 2018
See more
Prince Harry gave a really loving and affectionate speech about his 'pa' today. pic.twitter.com/mjMCCzs1n3May 22, 2018
See more
We can't wait to see what she'll focus on first (after her honeymoon, of course)!
See Every Single Photo of Meghan Markle's Wedding Dress
Image 1 of 42
RELATED STORIES