Serena Williams Is GQ's 'Woman Of The Year' and Here's Why That's Controversial
Twitter is maaaaaad.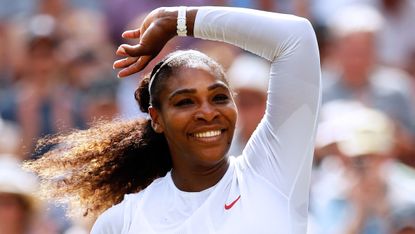 (Image credit: Julian Finney)
The world isn't great right now, but GQ Magazine released its covers for the 2018 Men of The Year yesterday, and the three men are my boyfriend Michael B Jordan, and my other boyfriend Henry Golding and Jonah Hill. Meanwhile, this year's Woman of the Year is none other than my best friend and idol, Serena Williams. Dubbed "The Champion" by the magazine, she's rocking a black long-sleeved turtleneck leotard on one of the four covers of the magazine's December issue.
But yes, while she is most certainly Woman of The Year (more like Woman of the Century but maybe that's just me?), the real question came when the cover was released and the word "woman" was in quotation marks. To say social media exploded is to put it lightly. Williams, after all, is a black woman who has spoken out about the pain she feels when people describe her as "mannish." For many, quotation marks around the word "woman" led back to the multitude of misogynoir and transphobic comments lashed at the Williams sisters over the last twenty years.
@GQMagazine Please explain to me why GQ Magazine's Editorial Team felt that quote marks were necessary on the Serena Williams' Woman of the Year Cover. I Really Really Need to Know. I'm Expecting an Answer😡🙄🤷🏽‍♀️🤔👎🏾👎🏾👎🏾👎🏾👎🏾 pic.twitter.com/qGNPNJI4RqNovember 13, 2018
See more
Mick Rouse, a research manager for GQ, pointed out via Twitter that the word was handwritten by fashion designer Virgil Abloh, who Williams has collaborated with for a Nike collection and also designed those iconic tutus Williams wore at this year's U.S. Open. Abloh "has styled everything in quotation marks as of late," Rouse pointed out, acknowledging that "it's not something lost on me."
Because it was handwritten by Virgil Abloh of Off-White, who has styled everything in quotation marks as of late (see Serena's US Open apparel that he designed)November 12, 2018
See more
It quite literally has tags/quotations around it because that's Virgil's own style/branding, including in his partnership with Nike and Serena herself. That's the only "message" behind it. pic.twitter.com/uaGV1DYDhCNovember 12, 2018
See more
100% understand the concerns your raising, and it's not something lost on me. But that's the truth behind the coverNovember 12, 2018
See more
But many people on Twitter wondered why it wasn't "Woman of the Year" instead.
As if everyone will identify "Oh yea that's Virgil's style!" when most ordinary people not into Supreme-isms or adherents to fashion really have no fuxx to give about VA or Off-White. Lol.... This is like when H&M thought that monkey on the hoodie was just mere child's play 🙃November 13, 2018
See more
That context definitely helps - it's definitely off putting especially for an athlete who has been critiqued for not being womanly/not a real woman in all sorts of racist and problematic waysNovember 12, 2018
See more
RELATED STORY
Celebrity news, beauty, fashion advice, and fascinating features, delivered straight to your inbox!
Amanda Mitchell is a writer and podcaster with bylines at Marie Claire, OprahMag, Allure, Byrdie, Stylecaster, Bon Appetit, and more. Her work exists at the apex of beauty, pop culture, and absurdity. A human Funfetti cake, she watches too much television, and her favorite season is awards season. You can read more of her work at amandaelizabethmitchell.com or follow her on Instagram and Twitter @lochnessmanda.