happythankyoumoreplease: Not Just Another Rom-Com
Josh Radnor's directorial debut, opening in select theaters today, is more than the typical boy meets girl love story.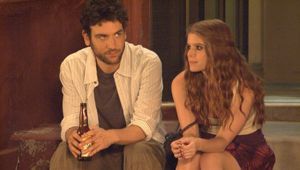 (Image credit: Anchor Bay Entertainment)
Marie Claire newsletter
Celebrity news, beauty, fashion advice, and fascinating features, delivered straight to your inbox!
Thank you for signing up to . You will receive a verification email shortly.
There was a problem. Please refresh the page and try again.
Boy meets girl. Girl and boy flirt a lot and fall in love only to separate due to some dramatic scandal or challenge to their relationship. Boy and girl are brought back together by a karmic synergy and live happily ever after.
If you're sick of this storyline, then Josh Radnor's happythankyoumoreplease is the film worth seeing when it opens this weekend. Winner of the audience award for U.S. drama at last year's Sundance Film Festival, the movie is the How I Met Your Mother star's writing and directorial debut.
It is centered on Sam Wexler (Radnor), a struggling 20-something writer, who finds a young boy separated from his family on the subway named Rasheen (Michael Algieri). But instead of returning Rasheen to one of his former foster homes, Sam takes him in, befriends him, and introduces him to his circle of friends — other 20-something New Yorkers who are desperate to find themselves and figure out their lives while going on romantic adventures and stepping out of their comfort zones. Among them are Malin Akerman (27 Dresses), Kate Mara (127 Hours), Tony Hale (Arrested Development), Zoe Kazan (It's Complicated), and Pablo Schreiber (The Wire).
"It's about, are [these characters] going to take this leap beyond what they know or will they remain in their own solipsistic kind of tunnel?" Radnor says.
Although each actor brings a certain hopeful realness to the screen, it's Akerman's portrayal of Annie, who suffers from alopecia universalis (an auto-immune disorder that prevents her from growing hair) that shines through, capturing the depth of the entire movie.
"I got the script and was offered a different role, but I just felt like the role I'd been offered was something I'd already done before," Akerman tells us. "I could not get the role of Annie out of my head."
To become the character, which is based loosely on Radnor's friend, Rachel, Akerman researched the back-story of other women suffering from the disease. "I was more excited to transform myself when I shaved the eyebrows off," she said.
Annie's character and her vulnerability are a far cry from the roles Akerman typically plays.
"You haven't really seen Malin Akerman like this," Radnor says. "Thank God she came forward and demanded that I cast her."
With witty, well-written dialogue, un-ironed clothes and perfectly imperfect hair and makeup, the movie makes you not only fall in love with the characters but also sparks a thought that their stories and personal struggles could very well be the real thing. The romantic relationships between the characters serve as a fresh departure from the standard rom-com and, with its that'll-be-a-great-soundtrack music, it's quite reminiscent of 2009's indie favorite, (500) Days of Summer.
So, why the funny title? And what, oh what, does it mean?
"It's about this notion that it's not enough to say thank you," Radnor said. "When you're really feeling something that feels wonderful, you say 'more please.'"