Putin Roasts Trump Over the Unimpressive Inauguration Turnout on SNL
"You're not off to a great start, man!"
Instead of seeing Alec Baldwin as Donald Trump in the first Saturday Night Live episode following our new president's inauguration, we were given Beck Bennett's shirtless Putin. (Which is a foreboding message, to be certain.)
As Putin, Bennett boasts about how he bought America in this election, then offers some less-than-comforting reassurance.
"Many of you are scared and marching in the streets. You are worried that your country is in the hands of this unpredictable man. But don't worry, it's not," he says with a sinister chuckle. "Relax, I got this. Pootie's going to make everything okay."
Right.
He then went on to roast Trump for the underwhelming turnout at his inauguration, which Trump exaggerated a little too obviously afterwards.
"If you're going to lie don't make it so obvious. You know, say you are friends with LeBron James, not that you are LeBron James."
Watch the darkly humorous cold open in the clip below:
Follow Marie Claire on Facebook for the latest celeb news, beauty tips, fascinating reads, livestream video, and more.
Celebrity news, beauty, fashion advice, and fascinating features, delivered straight to your inbox!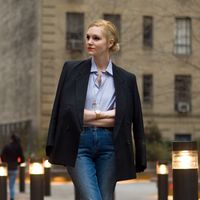 I am an experienced editor, writer, and creative strategist, specializing in fashion, beauty, and lifestyle content for digital media outlets, as well as video and social platforms. While I currently operate as a freelance contributor/consultant, with such clients as The Zoe Report, my 10+-year background in the industry was cultivated at the dot-coms of elite publications, including Harper's BAZAAR, ELLE, and Marie Claire.