How Meghan Markle's Style Might Change Now That She's Pregnant
Will the Duchess of Sussex wear heels? Trousers? Pencil skirts?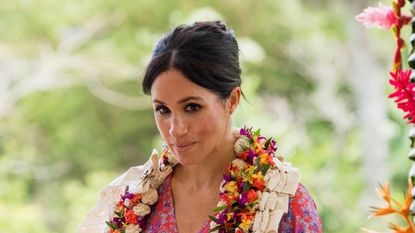 (Image credit: Getty Images)
Meghan Markle officially announced her pregnancy (with the help of Kensington Palace) on October 15 and since then, her fans have been tuned in to her maternity style. Because Meghan is in the early stages of pregnancy, and just wrapped a 16-day royal tour (where she was expected to dress to impress), the Duchess' style hasn't changed all too much. She's mostly chosen neutral-colored empire waist dresses and sleek trousers—shop our favorite pieces, here—though she has on a couple of occasions forgone the heels we're used to seeing her in at royal events and opted for flats or sneakers instead.
But will her style shift as her pregnancy progresses? I asked several fashion experts—including the designer behind Seraphine, a maternity wear brand both Middleton sisters have been spotted in—to weigh in. Together, we're predicting how Meghan's personal style might change and what we can expect more (or less) of in the coming months. Perhaps (fingers crossed!) her fashion choices over the coming months will have their own "Meghan effect," influencing maternity designers to create more conservative-but-not-dowdy clothing options for other expectant mothers.
What Colors Will Meghan Wear?
On the tour, the Duchess of Sussex armed herself with navy and black dresses. It seems she favors them as go-to colors, even though many royal family members do not wear black often.
"I think it is a tradition of the royal family to not wear black because the queen doesn't wear it and black is often associated with burials," says Cecile Reinaud, founder of London-based maternity line Seraphine. "But, Meghan has been wearing it since her engagement and, in pregnancy, it's quite an easy choice because of its slimming factor. If she decides to stick with this, she might accent her black outfits with more colorful shoes and bags."
As TV personality, style expert, and current Marshalls partner Clinton Kelly puts it, "Meghan is using fashion to assert her own independence, which is something Prince Harry can relate to." Plus, there is no rule that states a royal cannot wear black while pregnant. Since Meghan has a preference for darker hues, it would be safe to assume she'll continue wearing them well into her pregnancy; the colors are already organically part of her wardrobe.
What Sort of Shoes Will She Choose?
As for her footwear choices, the Duchess of Sussex packed quite a few designer pairs of heels for the royal tour, but also managed to sneak in some daytime-appropriate flats, including brown sandals and comfy sneakers. In fact, she wore her white Veja kicks for the first time ever as a royal while in Australia.
At some point, "she may drop the heels," says Reinaud. "It's very much dictated by your back. Some women have back pains quite strongly in the last trimester of pregnancy and others don't, so if Meghan feels strain, she may not wear them." For now, however, the Duchess seems perfectly comfortable walking around in her suede Manolo Blahniks.
Are Trousers Still an Option?
If there's one key piece you likely won't see Meghan getting rid of soon, it's her trousers. The Duchess is known to wear pants more often than Kate Middleton. (She wears this Altuzarra pair frequently.)
As the royal baby grows, our sources suspect Meghan will stay true to her preferences, adapting, as needed. MarieClaire.com's exclusive royal wedding expert and bridal designer Caroline Castigliano shares her prediction: "I expect Meghan will wear the bump trousers and then have shirts and jackets that are loose in style to wear over top."
Reinaud echoes that sentiment, saying, "Meghan has her own defined style and I'm sure she will do things differently than Kate Middleton. For example, she often wears trousers and Kate does not. I can foresee Meghan continuing to wear those in her pregnancy."
Will Meghan Wear Maternity-Specific Clothes?
If she's looking for advice on where to shop over the next few months, Meghan could turn to her sister-in-law, the Duchess of Cambridge, for tips on which maternity brands to wear. After all, Kate has mastered maternity dressing three times already! In the past, Meghan has worn brands Kate loves, two being Goat and Emilia Wickstead.
"We had Kate, who was pregnant at the time, pass by the store and that's how she started shopping and then coming in with her personal stylist," reveals Reinaud, explaining that Seraphine conveniently has a store located right behind Kensington Palace. "It made a lot of sense she would choose our brand as we've dressed celebrities and the royal family before her. It felt quite natural."
It seems Kate passed the word along to her sister, Pippa, who also shopped in the Kensington store. Pippa gave birth a couple weeks ago to a baby boy, one day after Meghan announced she was expecting.
Will Meghan Stick to Her Modern, Sophisticated Style?
Though we see nothing wrong with it (wear what makes you feel comfortable!), don't expect the Duchess of Sussex to step out of her house in sweats or fuzzy slippers. Meghan will keep to her ladylike style for public engagements and continue to wear sophisticated designer tops and dresses that speak to her elegant and classic taste. "We can probably expect Meghan to wear empire waist dresses, maternity sheath dresses, and maybe a shift dress in the future," Kelly says.
Perhaps, one of these months, Meghan will even debut a custom maternity creation by Givenchy? I'll be waiting for that one.
RELATED STORIES
Celebrity news, beauty, fashion advice, and fascinating features, delivered straight to your inbox!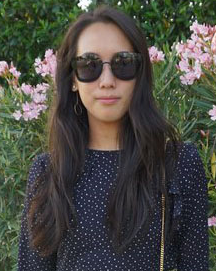 Marina Liao is the former fashion news editor at MarieClaire.com, where she covered celebrity style (from Meghan Markle to Katie Holmes), fashion trends, and shopping advice, plus conducted original interviews with industry insiders. She's also had many opportunities to write content in other areas such as beauty, food, tech, and even home. Her previous fashion stints include POPSUGAR and Cosmopolitan.