The 13 Best Anklets We're Obsessed With
Your ankles deserve some sparkle, too.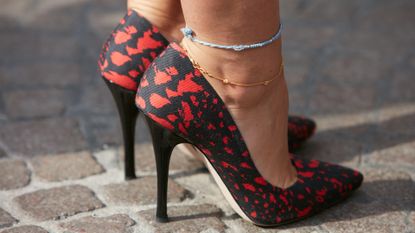 (Image credit: A. Astes / Alamy Stock Photo)
When it comes to jewelry, you're probably already well-stocked on the basics. Fashion girls know that necklaces, earrings, rings, and bracelets are closet staples. But there may be an understated accessory you're lacking in your jewelry collection: The anklet. Some of the best jewelry brands out there have a small selection of gorgeous anklets (or ankle bracelets, if you prefer) in their collection, so might we suggest you should too?
Just like any other piece of jewelry, anklets come in all shapes and sizes to fit your own style and needs. You may opt for a thin, delicate option or go bold with a chunky chain piece. Or maybe you need some added bling to go with your favorite summer dress. Whatever your style may be, rest assured that the best anklets will instantly make your outfit more elevated. And don't worry—the best affordable jewelry brands have great options available, too.
Brooke Knappenberger is the Editorial Fellow at Marie Claire, where she writes across the board from fashion and beauty to books and celebrities. As a pop culture junkie, Brooke obsessively consumes and writes about the latest movie releases, streaming TV shows, and celebrity scandals. She has over three years of experience writing on fashion, beauty, and entertainment and her work has appeared on Looper, NickiSwift, The Sun US, and Vox Magazine of Columbia, Missouri. Brooke obtained her Bachelor's Degree in Journalism from the University of Missouri's School of Journalism with an emphasis on Magazine Editing and has a minor in Textile and Apparel Management.