The Coziest Cashmere Sweaters of the Season Are Hiding In Brands' Sale Sections
From The Row, J.Crew, Banana Republic, and more.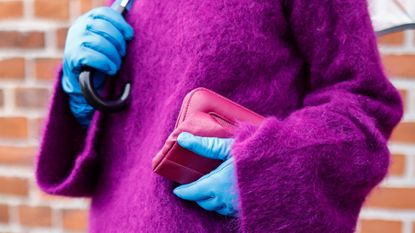 (Image credit: Streetstyleshooters/Getty Images)
If there's one thing to know about me, it's that I love a sweater. I live for the fall and winter seasons when I can pull out my chunkiest, coziest knits and live in them for months on end. But if I had to pick my favorite, best-ever sweater, it would definitely be one of my cashmere options. Cashmere sweaters are essentially the elevated older sister to all of your wool knits. That elevated touch normally comes at a steeper price, but only if you spend your entire shopping experience in the "New In" section. This is me sharing my number one knitwear secret with you: Shop for your cashmere sweaters in the sale section.
Gatekeeping begone! Shopping the sale section is the key to finding next-level deals, like pieces from The Row that are a) fully in stock in every size and b) on sale for 50 percent off. Brands like J.Crew (who are also running a major Black Friday sale right now) and Banana Republic also have plenty of cashmere knits that you can don to upgrade your luxury loungewear selection, like a cashmere hoodie that both is 100 percent office-approved and 20 percent off right now.
So, whether you're shopping for yourself or shopping for every other person on your list, take my advice and buy them one of these luxe cashmere knits this holiday season. No one will ever know you didn't pay full price for any of them. Consider it my gift to you as a Shopping Editor who spends her entire day finding the very best pieces for you.