The 16 Best Spring Dresses for 2023
From light and bright to slinky and sexy.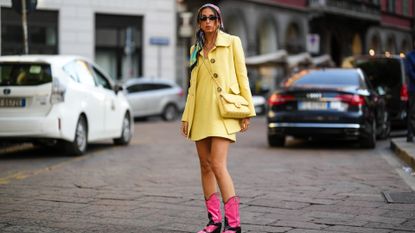 (Image credit: Edward Berthelot/Getty Images)
While spring fashion is great for many things—shedding your winter parka! Wearing color for the first time in months!—the weather can make it tricky to know what to wear. Some days are chilly, others are so summer weather-adjacent that you sweat through all of your layers. The best spring dresses need to be both layer-friendly and breezy for those warmer days.
But what makes the perfect spring dress? I turned to Caroline Maguire, the Fashion Director at Shopbop, to learn about this season's key dress silhouettes and trending spring 2023 colors. This season's offerings cover a ton of sartorial ground: The Spring/Summer runways proved that colors like bright blue, fuchsia, and bold yellow are going to be popular, alongside softer shades like digital lavender.
"This season leaves lots of room for creativity, and I'll be opting for a mix of fun, brilliant bright shades and sexy, muted neon hues," says Maguire on her personal color picks for the season ahead. But opting for colors doesn't mean that you should do away with your basic frocks: "On the opposite end of the spectrum, easy little white dresses are on my must-have list for the late spring."
When it comes to silhouettes, Maguire is taking inspiration from the '90s and leaning hard into slip dresses. "I'm keen on minimalistic colorways, and I'm excited to add The Little White Dress, a.k.a. "The LWD," to my wardrobe, along with some chic lingerie silhouettes with lace detailing," she says. Lace also touches on the continuation of 2022's sheer trend, which has been completely revamped for the new year. Instead of looking for mesh or chiffon options, the addition of lace into the sheer dressing universe makes for a sweeter, more elegant touch to the look.
But if you're looking for a dress that will add a little warmth, consider a knit or ribbed option. "Midi and maxi knit dresses continue to stay on my mind year-round," says Maguire. "You can layer this style with an oversized blazer for chillier days and accessorize with a fun sock and a lug-soled boot to complete the look."
If you're ready to shop, keep scrolling. Ahead, shop the best spring dresses, broken down by silhouette and color: brights, little white dresses, slip dresses, and knitted picks.
Best Spring Dresses
Bright Spring Dresses
Spring Slip Dresses
White Spring Dresses
Knit Spring Dresses
Meet The Expert