The 7 Best Beach Outfits for Summer 2023, According to a Stylist
Sun, sand, and style don't have to be mutually exclusive.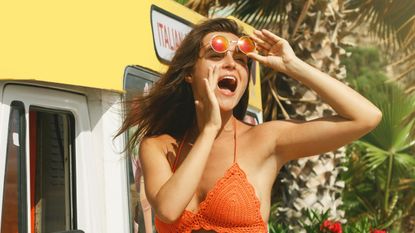 (Image credit: Getty)
Marie Claire Newsletter
Celebrity news, beauty, fashion advice, and fascinating features, delivered straight to your inbox!
Thank you for signing up to Marie Claire. You will receive a verification email shortly.
There was a problem. Please refresh the page and try again.
With summer on the horizon, even the thought of packing a suitcase gives us that fuzzy feeling. But preparing for a beach vacation doesn't end with finding the right swimsuit (or two, or three). Seasoned vacationers know that bringing the right beach bags, sandals, and sunglasses for every occasion is just as important, but there's one highly overlooked facet of beach-packing: The beach outfit.
It can be tricky to transition from a wet and sandy bathing suit to normal clothing, so picking the right beach outfit is often a confusing, messy, and anxiety-inducing experience, leaving even the chicest beach-goers among us ready to resign ourselves to the loosest, easiest-to-grab items in our closets. However, it is, in fact, possible to look chic on the beach, according to fashion stylist Madeleine Kennedy. Below, she reviews a variety of outfit options that look great and feel comfortable in spite of all the sun and sand.
What to Look For
Of course, not every outfit is suitable for sun, salt, and sand. Kennedy reminds us that for the sake of your comfort (and for the sake of the garments themselves), it's best to focus on specific fabrics and colors that will keep you cool.
"Shoppers should look for pieces that are made with breathable fabrics such as linen or cotton," she advises, noting that they, along with silk, "allow for breathability and will keep you cool throughout the day." And when it comes to shoes, she says, "leather, canvas, or cotton fabrics are all great options that will keep your feet comfortable and cool."
In terms of comes to beach style, Kennedy encourages experimentation. "The summertime is a great time to explore patterns and bolder colors," she says. And wearing lighter, brighter colors also has logistical advantages. She writes, "Darker colors tend to absorb heat easily, so be sure to avoid them if you plan to be in the sun all day."
Simple Yet Classic
For many people, including myself, denim shorts are the ultimate easy beach go-to. And for an elevated denim look, Kennedy suggests pairing them with an airy linen top. She elaborates, "An outfit I love for the beach is definitely a pair of denim shorts paired with a light colored linen top, baseball cap, and leather slide sandals. It is a simple yet classic look that will never go out of style." Plus, the cap is a perfect sun hat for shielding your face from the harsh summer sun.
Easy and Elevated
For those who, like me, prefer eschewing pants as often as possibly during the summer months, Kennedy brings up yet another classic beach outfit—only this one doesn't involve pulling on bottoms. "Another take on a classic look would be an oversized white button up that works as a mini dress, paired with a straw hat, tote bag and strappy sandals," she says. "If you need to wear this look into the evening, add a thin belt and gold earrings to elevate the simple white shirt."
An Easy One-Piece
If you're like me, then you love a low-maintenance beach outfit that makes leaving the sun and sand as easy as possible. Kennedy says that a one-piece is perfect for this, explaining, "I love a great romper moment, as it can be dressed up or down. I also like to play with patterns and bolder colors when it comes to rompers since you are only working with one article of clothing."
But if you are, in fact, going bold with an eye-catching print or bright shade, she recommends, "I then tend to keep the shoes and accessories more neutral so not to draw the attention away from the romper."
SEE Eyewear is my personal go-to spot when I need new, fashionable prescription glasses, including prescription sunglasses. Their looks range from classic and simple to daring and attention-grabbing, and this option is a blend of the two, with its mix of Italian acetate and stainless steel accents. Its cat eye style also flatters a number of different head shapes and gives any outfit a retro, feminine look.
Monica Vinader Deia Lyre Medium Hoop Earrings
This is my personal favorite pair of earrings. I wear them nearly every day because of the simple, minimalist element of glam that they bring to my ensembles, whether I'm going to work, to brunch, to a party, or to enjoy some much-needed sunshine. Inspired by ancient Greek mythology, these unique hoops are each shaped like a lyre, the instrument that the Greek god Apollo is said to have played. These hoops are also made responsibly from recycled gold—the true full package.
Poupette St Barth Isabelle Romper
Summer is the ideal time to break out flower child-inspired prints like this one, which lend your look a laid-back feel that's sure to match the level of relaxation you feel after spending a day at the beach. The halterneck style also brings an element of modesty (read: a lack of cleavage) that may very be welcome after a day spent in a bikini. I also love the universally flattering shade of blue on this romper, which mimics the color of the ocean itself.
Chinese Laundry Yanti Slide Sandal
As Kennedy pointed out, subdued accessories, including shoes and eyewear, are the way to go when styling a busy romper like the Poupette St Barth option listed here. Chinese Laundry's simple, elegant three inch heeled sandals are just the ticket for an outfit like this. The shoes come in four different colorways, including white, blue, and orange, but when pairing with a patterned or bright colored piece, I always go for classic black.
A Dress that Doubles as a Cover-Up
I try to be as low-maintenance as possible in the summer: The heat tends to make me feel languid, and, when I'm at the beach, any complicated outfit is bound to be undone by the wind and the sand, anyway. For this reason, my all-time favorite beach outfit is a dress that doubles as a cover-up. It's quick, easy, looks like it involved more effort than it actually did, and it doesn't involve having to wiggle into a pair of pants.
A Linen Look
Linen has always been a summer favorite, but it's made a particularly strong comeback this year in the midst of a contemporary obsession with quiet luxury. I'm a personal fan of linen all through the summer, and Kennedy is, too. "I love the option of wearing pants to the beach, especially if you are planning an evening out afterwards," she says. "I opt for a linen pant for breathability, paired with a one piece bathing suit that can act as a bodysuit during the evening by throwing on a lightweight jacket or button up over. Find a sandal that has a small platform, that way the shoe can be dressy enough for the evening."
A Matching Set
Who doesn't love a matching set? Not only does it take the thinking out of choosing an outfit (I cringe at the amount of time I've spent obsessing over an outfit, wonder if one item matches with another), but it's also several outfits in one: You can, of course, wear the set together, or you can wear the pieces as separates.
Anaiss Yucra Lunar Set in Lilac
One of my all-time favorite summer styles is the crocheted look. It's intricate, never goes out of style, and adds some much-needed texture to any outfit. This set from ethical, Latinx-owned brand Annaiss Yucra is hand-crocheted over the course of about nine days, and includes a top, cropped jacket, and skirt. This set's gentle lilac color and floral detailing looks sweet and romantic, and is sure to be a hit at any beach party.
Anaiss Yucra Passion Flower Bucket Hat
While you're shopping for that Annaiss Yucra set, why not complete the look with this matching hat? Kennedy says that the crocheted bucket hat is one of the hottest trends of the season. Not only will it keep the sun from your face and prevent you from burning (though you should still wear sunscreen, hat or no hat), but it also looks fabulous and shields any beach-induced frizz from view. Made from 100 percent Peruvian cotton, it, too, is crocheted by hand.
I love Saylor's matching sets. They're unique, comfortable, and high quality enough to last for summers on end. This set, which includes a cropped tank and on-trend high waisted shorts, boasts a sunny yellow color that's perfect for hot summer days. And to offset its whimsical look and loose cotton fit, it features a structured straight neckline and an adjustable tie belt. I love it for lunch on the boardwalk during a particularly steamy day, and it's a breeze to dress up or down.
Open Edit Lilah Know Slide Sandal
When wearing a matching set, I like to opt for a simple pair of neutral colored shoes that doesn't take away from the rest of my outfit. These slide sandals are easy to slip on and off, and are perfect for pairing with any clothing style or color. Plus, because they're flat, you won't have any trouble walking in them while traipsing through the sand. They're also available in vibrant green and tan mocha.
Meet the Expert
Madeleine Kennedy is a celebrity stylist from Texas. A UCLA graduate, she has styled the likes of Julia Roberts, Timothée Chalamet, Cate Blanchett, Anne Hathaway, Ana de Armas, and more. She is currently based in Los Angeles.
Celebrity news, beauty, fashion advice, and fascinating features, delivered straight to your inbox!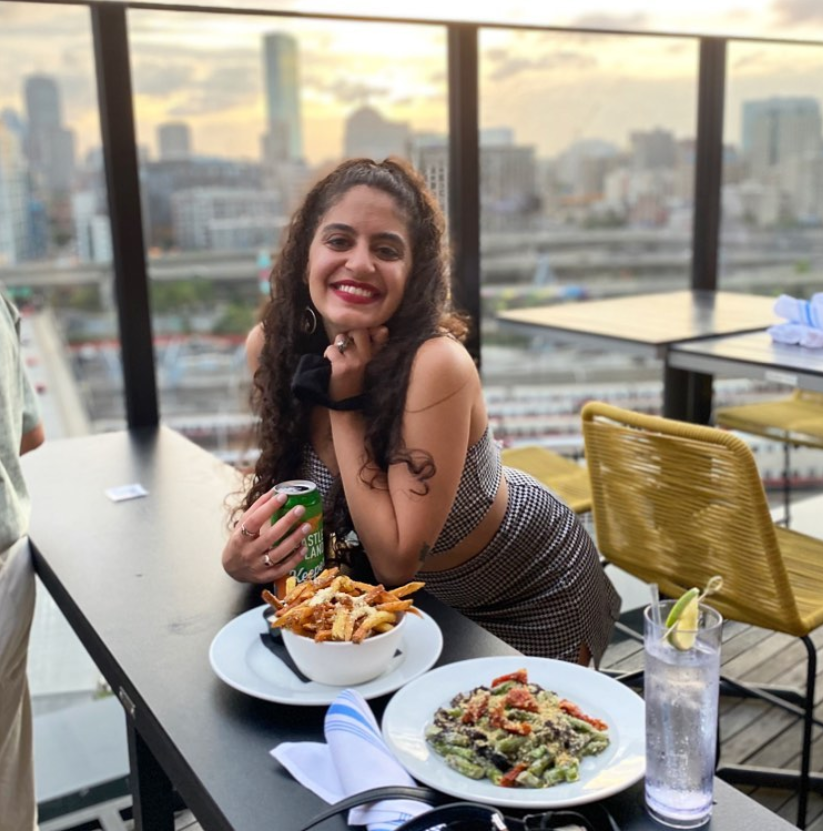 Gabrielle Ulubay is an E-Commerce Writer at Marie Claire and writes about all things beauty, sexual wellness, and fashion. She's also written about sex, gender, and politics for publications like The New York Times, Bustle, and HuffPost Personal since 2018. She has worked extensively in the e-commerce and sales spaces since 2020, including two years at Drizly, where she developed an expertise in finding the best, highest quality goods and experiences money can buy. As a film school graduate, she loves all things media and can be found making art when she's not busy writing.