29 White T-Shirts on Amazon Thousands of Reviewers Swear By
The foundation of any outfit.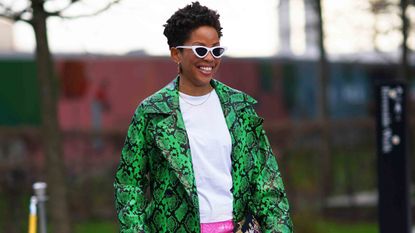 (Image credit: Edward Berthelot/Getty Images)
Now that I've finished my thorough investigation into the best leggings on Amazon (opens in new tab), I'm turning my attention to another basic: white t-shirts. If you're looking to add a basic tee to your collection, look no further than the small but mighty selection on the e-retailer, many of which have 1,000-plus reviews. From fitted v-necks to slouchy, relaxed styles, allow me to present the findings of my investigation. You'll have no problem finding a favorite, because they're backed by thousands of reviews. Oh, and all the tees cost $25 and under. Win-win.
1/29
SweatyRocks Crop Top T-Shirt
Best Cropped T-shirt
We love a cropped t-shirt to pair with a high waisted skirt or short in the summer. With an average of close to 5 stars and more than 3k reviews, this could be your summer uniform!
2/29
NIASHOT White Tee With Pocket
Best V-Neck with Pocket T-shirt
Another great v-neck for your casual summer days. Words like "soft" and "lightweight" flood the reviews.
3/29
JUST MY SIZE Short Sleeve V Neck Tee
Best Plus Size V-Neck T-shirt
With an average of 4.1/5 stars and over 8.3K reviews, the Just My Size Crew Neck seems to have a cult following, with numerous buyers stating they've been purchasing JMS T-Shirts for over 15 years.
4/29
Hanes Nano Premium Cotton V-Neck Tee
Best Everyday White T-Shirt
For an everyday, affordable tee, you can't go wrong with a classic from Hanes. This one has 2.3k reviews and a four-star rating, and it comes in multiple colors.
5/29
MANGOPOP Round Neck T-Shirts Basic Bodysuit
Best White Bodysuit T-Shirt
Solve the whole problem of tucking in and re-tucking of your tee with this bodysuit. You'll get that crisp look every time. (Shhh, no one will know your hack.)
6/29
Amazon Essentials Women's 2-Pack Tees
Best Multi-Pack White T-shirt
Why not get both? You can pick (literally) any color combination, and this plain white tee has over 21k ratings, so it must be worth doubling up on...
7/29
Amazon Essentials Relaxed-Fit Lightweight T-Shirt
Best Relaxed White T-Shirt
With over 1.4k reviews and counting, this relaxed tee will speak to those who want a roomy top instead of a tight-fitting shirt. The material is soft, lightweight, and moisture-wicking so you can wear it year round. A buyer's tip from other reviewers: size down as this shirt does run large since it's meant for a loose fit.
8/29
Sipaya Short Sleeve Tee
Best Loose-Fitting V Neck
This loose fitting, V-neck is the perfect wardrobe all-rounder.
9/29
Amoretu Casual Loose Tee
The Best Fun White T-shirt
Sometimes our plain white tee needs a little extra something, and with 8.8K+ ratings we know that people are loving this casual t-shirt with the criss-cross detailing.
10/29
Amazon Essentials Short-Sleeve V-Neck Tee
Best White T-Shirt for Curves
If you're never able to find tees that fit quite right, check out this option from Amazon. It boasts a v-neck and straight hemline, and is soft and lightweight. If you end up loving it, the tee also comes in three other colors.
11/29
Lands' End Rib Crew in White
Best Durable White T-Shirt
This 100 percent cotton t-shirt has a crewneck neckline and receives praise from shoppers for its fit, durability, and stretch. One reviewer wrote, "I have Lands' End T-shirts that still look good after 10 years of wear," so this will definitely last you for seasons to come.
12/29
Joe's USA Short-Sleeve Moisture Wicking Shirt
Best Moisture-Wicking White T-Shirt
If your perfect white tee has performance qualities, you'll want to grab this moisture-wicking athletic top. It's great for everyday wear at home or for a jog around the neighborhood.
13/29
Splendid Crewneck Short Sleeve Tee
Best Comfy White T-Shirt
Splendid products are known for their comfort and easy-to-wear vibes, so you can expect those same qualities in its tees. This one is perfect for tucking into your fall skirts or layering under your fuzzy knit sweaters (opens in new tab).
14/29
MakeMeChic Summer Crop Top
Best Crop White T-Shirt
It all comes down to the details when you're looking for a white tee that stands out from the rest. This one hits two unique notes: it comes in a cropped length and there is a knot detail on the front.
15/29
Amazon Essentials Crewneck T-Shirt
Best White T-Shirt Bundle
We love tees that come in a pack of two, because we'll always have a spare when mysterious wine or sauce stains appear. This one has over 10,000 ratings (!!), gets 4.5 stars, and is available via Prime.
16/29
MIHOLL Short-Sleeve V-Neck T-Shirts
Best Pocket White T-Shirt
We're all for breathable tees with a pocket on the front. This one comes in every color of the rainbow, so you might want to add a few to your checkout cart.
17/29
Hanes Medium White Nano T-Shirt
Best Crewneck White T-Shirt
Are you team crewneck or v-neck? Depending on your answer, you may find yourself gravitating towards the Hanes option in slide 1 or this pick, also from Hanes. This one is great for Zoom if you need to throw it over your tank tops or under your summer dresses for fall.
18/29
Gildan Soft Style Cotton T-Shirt
Best Formfitting White T-shirt
Make sure to size up if you're buying this cozy pack of two tees. It's perfect for those seeking a more tailored fit and with 1.4k ratings, you can't go wrong with any of the other color options.
19/29
PrinStory Short Sleeve V-Neck Shirts
Best Fitted White T-shirt
One reviewer sums up the tee like this: "This shirt is nice. It's decent quality. It's definitely not 'oversized.' I bought a size larger than I normally do and it fit almost snug. It's only a little bit oversized. Thank goodness I got a size larger! If you buy at least a size larger than you normally wear, you will be fine. Otherwise, maybe look for another shirt that really is oversized."
20/29
Hanes Soft Short-Sleeve T-Shirt
Best Men's White T-shirt
You find yourself reaching for your S.O.'s white tees more often than not, especially now that you're WFH. Though he's happy to share, he'll likely breathe a sigh of relief when you buy your own pack of mens tees.
21/29
Next Level CVC Deep V-Neck T-Shirt
Best T-shirt to Buy in Bulk
This stretchy tee is good for both large and small-chested women, holds up well in the wash, and comes in 40-plus colors. The fabric veers towards the thinner side, so if you're looking for a T-shirt that will help you get through summer, here it is. Some buyer's notes: the shirt runs small, so size up. As for the shirt's longevity: "They will last a year or two, and then I buy new ones," said one reviewer.
22/29
Amoretu Short Sleeve Summer T-Shirts
Best Silky White T-shirt
This tee is made of 95 percent rayon and five percent spandex for a lightweight, breathable, and stretchy feel. Reviewers say the material feels more silky than cotton-y, if that is what you're searching for. If not, opt for one of the other options on this list.
23/29
Under Armour Tech Short-Sleeve T-Shirt
Best Athletic White T-shirt
Under Armour needs no introduction, so if you already know you want a performance white tee that doesn't leave you sitting in your own sweat, add this one to your checkout cart. It has anti-odor technology and four-way stretch construction, too.
24/29
SheIn Short Sleeve Loose Tee
Best Casual White T-shirt
This T-shirt offers a soft, curved neckline rather than a rigid v-neck shape for that slouchy, relaxed look. Follow customer reviews and size up if you don't want it to be too clingy to your frame; it should drape over your figure. One customer wrote, "This makes me feel so sexy it's not clinging to me and I really love that." It's made of 95 percent rayon and five percent polyester, hence the stretchiness in the fabric.
25/29
Clementine Apparel Petite Plus Deep V Neck Tee
Best White T-shirt for Layering
If you're looking for the perfect layering tee, look no further. In addition to being "softer than tissues," this opaque top looks good under everything from a blazer to a dress. It's also durable enough to handle a yoga or barre class. "I was wearing a black bra underneath the white t-shirt and you cannot see the black through the shirt!" wrote one Amazon customer. Another spoke of its design, saying, "The shirts are well constructed and the fabric is of perfect weight."
26/29
SAMPEEL Short-Sleeve V-Neck T-Shirt
Best Non-Clingy White T-Shirt
With over 6k reviews, this T-shirt is definitely a popular pick. On top of being "soft" and not "super clingy," the tee comes in over 20 different colors.
27/29
Opna Short Sleeve Moisture Wicking Shirt
Best White T-shirt to Lounge In
With over 7.8k reviews, this white tee has received some nice compliments, ranging from "good quality" and "moisture wicking" to "highly recommend" and "great price." Though technically it's a workout top, it's also a fit for those who live a more sedentary lifestyle. (It's sleep-approved, thanks to the breathable fabric.) The shirt is silky soft and lightweight, and can be machine-washed without changing the fit or shape.
28/29
Allegrace Casual Scoop Collar Plus Size T-Shirt
Best Plus-Size White T-shirt
You'll obsess over this white T-shirt. The material is soft, but not see-through; the neckline is cut a little low for a sexy dip, and a nice pocket detail separates this tee from the rest. Sizing seems to vary for this tee, according to reviews, so order your normal fit and go from there. Once you found the right size, wear it with jeans, leggings, or tucked into a skirt.
29/29
Sivvan Long Sleeve T-Shirt
Best Long-Sleeve White T-shirt
Designed to be worn under scrubs, this long-sleeve tee is also perfectly fine to wear by itself. It's thin (the debate on whether it shows your bra or not remains unresolved), but not too thin, according to reviewers, which makes them good for even warm weather. "I have a very "outdoorsy" toddler granddaughter...and overheating happens in a hurry with hoodies or blouses. Hence the lightweight nature of this tee is a godsend," read one comment. A bonus: this shirt won't shrink in the wash and the material is very soft.