The Best Fall Jackets to Buy for 2020
I'm ready for spiced lattes and cider weather.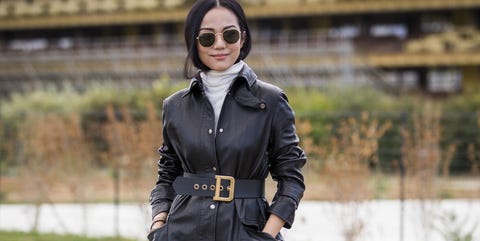 Claudio Lavenia
Getty Images
The item of clothing I'm willing to splurge on year after year isn't a new pair of shoes or a designer handbag, it's a nice jacket. Sometimes I'll go with a trendy option, like a teddy bear jacket. Other times, I prioritize practicality and opt for a long down coat, which more or less means I'm traipsing the streets of Manhattan in a black sleeping bag. (It's definitely not trendy, but oh-so-very warm.) I'm a firm believer that your coat should last you through multiple seasons, but with so many new styles coming out annually, I can't resist buying a new one...or two. If you're in the market for a fresh jacket for fall, too, keep clicking; we've hand-picked some goodies. Whether you plan to swaddle yourself in cozy faux-shearling or bury your hands in some wool pockets, the outerwear choices ahead won't disappoint.
The Faux Leather Jacket
Faux Leather Jacket in Dusty Green
Step outside of your "neutrals only" zone this season and try a minty green jacket. You may find yourself loving the pop of color more than you thought.
The Sherpa Jacket
Sherpa Sweater Jacket
Wilfred Free
aritzia.com
$98.00
The Vintage-Looking Jacket
Parchment Puff Sleeve Jacket
Hope for Flowers by Tracy Reese
hopeforflowers.com
$225.00
This is the kind of jacket you'd find in your cool aunt's vintage-chic closet. Go ahead and play dress up with this puffy outerwear, which can simply be worn as a blouse too. The shoulders will make a strong style statement as soon as you leave the apartment.
The Rain Jacket
Water-Resistant Linen-Cotton Rain Jacket
Banana Republic
bananarepublic.gap.com
$107.00
This outerwear comes in handy for cloudy skies and unexpected showers. It's water-resistant, which means if you forgot to bring that umbrella, you'll still remain dry as you race to get back home from the grocery store.
The Denim Jacket
Oversize Denim Jacket
This piece is crucial to your transitional spring-into-fall wardrobe. If your denim outerwear seems like it needs to be retired, replace it with this oversize style from Mango.
The Leather Jacket
The Stratford Trench
The Mighty Company
themightycompany.com
$995.00
This contemporary trench-style coat feels fresh thanks to the supple beige leather construction. The deep side pockets allow you to go bag-free while the inside lining has a soft cream-to-lilac ombré color scheme for a colorful surprise when you unbutton the jacket.
The Leather Bomber Jacket
Leather Blouson Jacket With Rib
This military-inspired bomber jacket is buttery smooth to the touch, making it feel as luxe as it looks. Drape it across your shoulders to jazz up a simple t-shirt and jeans look.
The Utility Jacket
Utility Jacket With Back Sequin Logo
DKNY
donnakaran.com
$79.00
This utility jacket is quite useful in that it can be paired with anything, from sporty leggings to jeans to even your fall maxi dress. The outerwear is simple and fuss-free, perfect for people on the go.
The Lightweight Quilted Jacket
Rumi Jacket Fuchsia
ALIYA WANEK
aliyawanek.com
$265.00
This three-quarter length quilted jacket has hidden front pockets and is locally dyed/handmade in the Bay Area. The popular lightweight jacket is almost all sold out, which means if you love this one—get it now.

The Dolman-Sleeve Jacket
Dolman Sleeve Quilted Jacket
Free People
nordstrom.com
$198.00
The kind of jacket you'd picture on someone who is traveling cross-country in a van with their pup. It looks lived in and cozy. Though if you have no plans to travel anytime soon, this would look great with your day-to-day relaxed wardrobe too.

The Blue Wool Jacket
Colette Baby Blue Cropped Wool Jacket
Lisou
lisou.co.uk
£550.00
Lisou has hopped on to the textured trend for fall by releasing this baby blue curly jacket design. It reminds me of a Goldendoodle's fur, so naturally I'd want to run my hands over this plush outerwear 24/7. Trading in all my trench coats for this asap.
The Puffer Jacket
Boxy Puffer Jacket
For a puffer jacket that hits at the hips and looks modern from all angles (you don't want to look like an Emperor Penguin), check out this one from H&M. It has an exposed zipper at the front and drawstrings at the sides to cinch in the jacket tighter to keep you warm.
The Statement Jacket
Barkcloth Long-Sleeve Jacket
IAMISIGO
industrieafrica.com
$587.50
This patched jacket is made from barkcloth in Nairobi, Kenya. Artisans cut the unique fabric into patches to avoid waste as the barkcloth is an ancient, non-woven material sourced from the Mutuba tree in Kampala, Uganda. If you want a jacket with a story behind it, scoop up this baby.

The Plaid Crop Jacket
Alicia Plaid Cropped Jacket
Serena
serenawilliams.com
$139.00
This is the understated, crop plaid jacket you can count on to match all your outfits. The tailored fit, side pockets, and length are classic details that will satisfy even the pickiest outerwear shoppers. Dress it down with sneakers or up with heels.

The Crop Denim Jacket
Faux Shearling-Trimmed Denim Jacket
Balmain
net-a-porter.com
$2,195.00
A denim jacket that has it all, from the removable shearling collar to gold coin buttons to the fitted hem and sleeves. The jacket is, frankly, more stylish than a regular cropped denim jacket. I'd wear this with jeans of the same color, a black sweater, and brown riding boots. Denim-on-denim, here I come.

This content is created and maintained by a third party, and imported onto this page to help users provide their email addresses. You may be able to find more information about this and similar content at piano.io