Matching Workout Sets That Will Keep You Motivated in 2020
If you didn't take a selfie, did you even work out?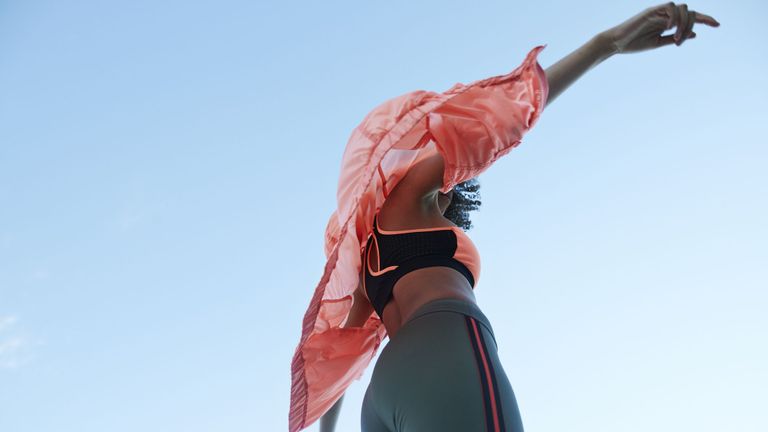 (Image credit: Klaus Vedfelt)
If you're like most of the world, you've probably made a resolution for yourself going into the new decade. And if you're like most of the resolutioners out there, it was probably to exercise more. Let's just start by admitting that getting to that 7 a.m. bootcamp class is a challenge in itself. That said, I'm here to give you a little more motivation—by way of the best and most practical coordinated exercise outfits that are so worth showing off, you'll jump out of bed the second your pre-spin class alarm sounds.
Models and celebs made coordinating your workout looks a huge trend in 2019 and its here to stay. But gym gear can't just look cute, it has to hold up through all the miles I'm putting in on the treadmill. I scoured the offerings of my favorite brands—like the always trusty Athleta, designer collab Adidas by Stella McCartney, which focuses on sustainability as well as mobility, and The Upside and Splits59 that give you both style and performance—to put together the most fashionable and functional fitness 'fits out there for you.
Adam Selman Sport
This shocking pink A.S.S. look is the perfect fun and flirty answer to technical activewear. The stretch-knit and alternating ribbing are perfect for any high impact workout. Pair with a matching pink sports bra to compete the pretty in pink look.
Shop the pieces: Adam Selman Sport Top, $225; Adam Selman Sport Sports Bra, $85; Adam Selman Sport Leggings, $225
Athleta, Guess, & All Access
I swear by all Athleta leggings. They never seem to stretch out and are perfect for yoga or any off-the-mat workouts. Pair with this matching purple All Access high impact sports bra and cozy GUESS sherpa Apres Ski jacket for full fashion impact.
Shop the pieces: Athleta leggings, $89; GUESS jacket, $98; All Access Sports Bra, $75
The Upside & Champion
The Upside's '70s inspired jacket and shorts are perfect for your next run around your local track. Coordinate with these Champion sweats for warm up!
Shop the pieces: THE UPSIDE track jacket, $150; THE UPSIDE shorts, $80; Champion joggers, $50
Splits59 & Sweaty Betty
Ditch your black leggings and grab these Splits59 crimson red quick-dry leggings (also chafe-free) and Sweaty Betty stamina sports bra—both are exactly what you need to look fire and dominate your next bootcamp class. Retain heat after your workout in this Splits59 windproof puffer!
Shop the pieces: Splits59 leggings, $150; Sweaty Betty sports bra, $50; Splits59 puffer, $298
Nagnata
This is the retro shorts set I'm dying over. Yes, it's expensive, but the way wearing its coordinating sports bra and sweater (made from organic cotton) will make you feel is worth the price. Perfect for all the pilates classes I tell myself I'm going to attend.
Shop the pieces: Nagnata Sports Bra, $180; Nagnata shorts, $200; Nagnata turtleneck, $380
Live the Process & Erin Snow
Live The Process is one of my favorite brands, and their wrap effect sports bra and cutout stretch leggings bring a little bit of sex appeal. Grab this Erin Snow color-block jacket and your good to go straight to the ski lodge.
Shop the pieces: Live The Process wrap sports Bra, $88; Live The Process cutout leggings, $128; Erin Snow jacket, $1,150
Tory Sport
While this full Tory Sport look might not be technical performance wear, it's great for warm-ups, cool-downs, and all your post-gym errand-running. It's feminine off-duty style is perfect for the days at the dance studio and meeting the girls for brunch.
Shop the pieces: Tory Sport track jacket, $198; Tory Sport Fair Isle Sweater, $298; Tory Sport track pants, $198
Adidas by Stella McCartney & Varley
This Adidas by Stella McCartney steel blue track suit not only has a loose-fitting silhouette that allows for mobility and breathability, but it's made from recycled material. Match with a printed sports bra like this Varley cheetah print one to spice up your look and make the ultimate statement on the way to the studio.
Shop the pieces: Adidas by Stella McCartney jacket, $102; Adidas by Stella McCartney pants, $84; Varley sports bra, $53
DKNY, Alo Yoga & We/Me
These Alo Yoga leggings are super flattering with their high-rise waistband and flat-lock seams. Match them with the We/Me already knotted tee—no need to worry about it coming undone mid-workout! Throw on this DKNY windbreaker to take your look from the yoga studio onto the windy streets of your city.
Shop the pieces: Similar DKNY windbreaker, $69; We/Me knotted tshirt, $75; Alo Yoga leggings, $88
•••
For more stories like this, including celebrity news, beauty and fashion advice, savvy political commentary, and fascinating features, sign up for the Marie Claire newsletter.