The Most Genius Royal Fashion Hacks of All Time
Women in the royal family live their lives in the spotlight, so of course they have fashion tricks for formal events—especially to avoid wardrobe malfunctions.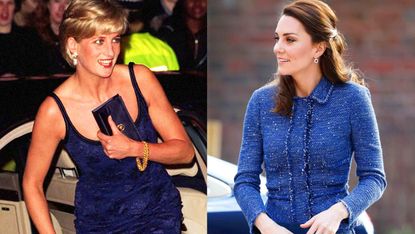 (Image credit: GETTY IMAGES)
Women in the royal family are constantly in the spotlight, so naturally they've developed a repertoire of fashion and styling hacks to ensure all of their formal (or even non-formal) events run smoothly. No one wants to have a wardrobe malfunction when they're shaking hands with a foreign dignitary with hundreds of cameras around! Ahead, a comprehensive list of the genius wardrobe tricks that have helped Princess Diana, Kate Middleton, and Meghan Markle pull off their chicest ensembles.
1/85
Princess Diana used clutches to hide her cleavage.
Princess Di used her clutches to cover her cleavage as she got out of cars. Why? It prevented any prying photographers from snapping a revealing pic of her.
2/85
Princess Diana used clutches to hide her cleavage.
Princess Di used her clutches to cover her cleavage as she got out of cars. Why? It prevented any prying photographers from snapping a revealing pic of her.
3/85
Nina Metallic Box Clutch
Opt for a classic structured clutch, like this navy style.
4/85
Love Cortnie Color Me Roll-Down Leather Statement Clutch
This simple black option will go with pretty much everything.
5/85
Kate Middleton wears pantyhose with sticky heels.
It's no secret that part of royal protocol for women is to wear pantyhose, but the smooth material makes it way too easy for their feet to slide out of their heels...
6/85
...Which is why Kate Middleton chooses tights that have silicone pads (opens in new tab) on the bottom so they stick to the inside of her high heels. Apparently, she's a fan of the brand John Lewis (opens in new tab).
7/85
John Lewis & Partners Non-Slip Open Toe Tights
It's your lucky day: Kate's favorite pantyhose can be yours.
8/85
Wolford Neon 40 Tights
Here's another non-slip and toeless option by editor-fave brand Wolford.
9/85
Princess Diana wore hats with hidden combs in them.
Formal public occasions often call for hats, and I'm sure you've wondered how some of the gravity-defying royal headpieces manage to stay perched so perfectly—especially the larger, wide-brimmed ones.
10/85
Princess Diana's hats reportedly often had combs inside them (opens in new tab) that would secure to her hair so they stayed put. Hidden but useful!
11/85
Better Crafts Clear Hair Clips
If you love fascinators (hi, nice to meet you), these combs will keep your headwear in place.
12/85
Lamdoo DIY Blank Metal Hair Clips
These guys are also helpful if you want to keep your hair out of your face.
13/85
Kate uses hairnets to keep her strands in place.
Despite all odds, Kate makes a pretty convincing case for the hairnet. She often wears them when her hair is styled in more intricate updos—that way, she doesn't have any rogue fly-aways.
14/85
Here's Kate wearing one over her low bun at the 2019 Commonwealth Day service at Westminster Abbey.
15/85
Conair Standard Hairnet
Hate loose hairs in your updos? Get thee a hairnet!
16/85
Deoot 10 Pcs Invisible Hair Nets
These invisible hair nets will keep your hair perfectly in place. Magic.
17/85
Royals wear weights on their hems...sometimes.
Another go-to fashion hack royals use to stop wardrobe malfunctions is weights added to their skirts and dresses. Seems like the royal family stylist sometimes runs out of time to employ this trick, though, as evidenced here by Kate's flying-skirt moment at Princess Eugenie's wedding in October 2018. Whoopsie!
18/85
Stewart Parvin, one of Queen Elizabeth's couturiers, told the Daily Mail that he sews small lead weights (used for curtains, actually) into the hems of her clothes, which prevents her skirt from blowing up in the wind.
19/85
Dress Downs Reusable Dress Weights, 2pcs
Never have a Marilyn moment again, thanks to these small weighted stickies.
20/85
Dritz Home Drapery Lead Weights
Or you can DIY it like HRH does. Just buy these drapery weights, and attach them to your skirts on the inside hem.
21/85
Royals often wear heavier materials and fitted silhouettes.
Another way royals prevent their outfits from billowing in the wind is by choosing thicker fabrics and more fitted silhouettes, like Kate's tweed blazer-and-skirt set pictured here.
22/85
A-line silhouettes have a greater chance of flying up in the wind, but a sheath dress like this is more likely to avoid any breezy malfunction.
23/85
Shopbop Short Sleeve Blanket Tweed Dress
Make like Kate in this mini tweed dress.
24/85
NORDSTROM Tie Neck Sheath Dress
Or opt for a ruffled look, like this structured frock.
25/85
Royals wear shoes that are one size too big.
According to fashion expert Harriet Davey, going up a shoe size is a style hack employed by many celebrities. It looks like Meghan used this trick in this instance, as there's lots of room behind her heel in these strappy Aquazzura pumps.
26/85
"Celebs often go a size up, or even two, in the shoe department when they're at an event or on the red carpet, and it's for one reason we can all relate to—to avoid blisters," she said in an interview with (opens in new tab)The Sun. (opens in new tab)
27/85
Brother Vellies Bike Shoe in Espresso
Copy Meghan's kicks with these neutral heels that tie up the ankle.
28/85
Zou Xou Belen Pump
Or opt for some pumps in a half-size or full-size up.
29/85
Meghan opts for bodysuits so her top stays put.
Meghan looked super fashion-forward when she stepped out in this Alexander McQueen suit in February 2018. But perhaps more notable than her chic pantsuit was the fact that her white blouse was actually a BODYSUIT (!!!) by the brand Tuxe (opens in new tab).
30/85
31/85
Astr the Label Cowl Neck Bodysuit
Leave tops that ride up in the dust and get this blousy bodysuit instead.
32/85
Alix Chelsea Thong Bodysuit
33/85
Surprisingly, royals also wear bodysuits that increase static.
Speaking of bodysuits, etiquette expert Myka Meier said in an interview with The Sun (opens in new tab) that Kate and Meghan often "wear bodysuits and clothes that actually increase static so it's much hard[er] for something to fly up." Does this mean they're constantly giving each other static shocks or...?
34/85
It achieves a similar result as weighted hems, but in a more wearable form. This is just a guess, but it seems like Meghan might have worn one underneath this breezy pleated Self-Portrait dress in April 2018.
35/85
AGOLDE Rib Tank Bodysuit
Hate it when your dress unexpectedly flies up? Same, so I'm nabbing this sleek black style.
36/85
Everlane The Cami Bodysuit
This style has a super thin straps, which is helpful if you're planning to wear it under something sleeveless. Plus, it's plain ol' sexy all by itself, too.
37/85
Meghan wears low buns to prevent hair "dents."
Another speculation is that Meghan's signature low, messy bun makes it seamless for her to wear her hair down for another event later that same day. Her loose updo doesn't cause those annoying hair creases like tighter updos tend to do.
38/85
According to Byrdie UK (opens in new tab), "a low bun is like a form of damage control. Markle can wear one all day and then quickly unwind it—letting her loose waves fall beyond her shoulders, ready for the evening's function."
39/85
eBoot Bun Hair Pins
The first step of a low bun is lots (and lots) of bobby pins.
40/85
Beauty Rageous Super Grip Blonde Bobby Pins 400 Piece Tin
Another tip: Find pins that match your hair color so they blend in easily.
41/85
Kate wears leather insoles in her heels to avoid sore feet.
Royal functions mean fancy attire, so that usually means women wear heels. Kate Middleton spends a lot of time walking around in sky-high footwear.
42/85
This is why she's reportedly a fan of Alice Bow leather insoles, which add extra cushiony padding to any shoe. They come with double-sided sticky areas to really hold them in place.
43/85
Alice Bow Insoles for High Heels
Make your feet happy with a pair of leather inserts that will ease the pain of heels. These guys come in multiple colors, FYI.
44/85
Shoeslulu Ultra Thin Leather Insoles
While this style isn't super thin, it does majorly deliver on the cushion, so your feet won't ache a bit even at the end of a long day.
45/85
The Queen wears bright clothing so people can see her.
HRH is known for her bright, monochromatic looks, which she wears during public appearances so that she's easy to spot from far away.
46/85
"She needs to stand out for people to be able to say, 'I saw the Queen,'" Sophie the Countess of Wessex explained (opens in new tab) in the documentary The Queen at 90.
And it seems like the Queen has passed this advice on to the future Queen, Kate Middleton. The Duchess has never been one to shy away from color, and in recent years, she's been going even brighter and brighter.
47/85
Pyer Moss Oversized Scuba T-Shirt Dress
A striped dress with bright primary colors is definitely head-turning.
48/85
Victor Glemaud T Neck Dress
You don't have to wear neon to make a statement—this bold red dress will do the trick.
49/85
Kate wears hats to keep her hair out of her face.
The Duchess, on more than one occasion, has had to walk down steep stairs in front of hoards of photographers, while holding the future King in her arms. In other words, she's got no time for a face full of hair. Her clever hack: Always wear a hat at the airport.
50/85
A perfectly-placed fascinator gets the job done, too.
51/85
'Messer II' Felted Wool Fedora
Even if photographers aren't waiting at your arrival gate, you'll feel totally chic in this wide-brimmed number the next time you travel.
52/85
Monrowe NYC Beret
Or maybe you're more of a beret person? It's subtle, but also makes a statement that more or less says "fashion is kind of my thing."
53/85
Royals opt for nude nail polish—per the Queen's request.
All female members of the royal family are instructed to keep their nail colors as natural as possible—a.k.a. neutral or light pink. There are a few exceptions to this rule (see: Meghan at the British Fashion Awards), but generally the women try to adhere to this one.
54/85
What's more ~au naturel~ than no nail polish at all?! At times, you'll see the royals sporting bare nails, but they're still *impeccably* groomed.
55/85
Essie Ballet Slippers Nail Polish
Essie's "Ballet Slippers" passes the royal test—Queen Elizabeth has been wearing it for years.
56/85
Suite Eleven Latte O'Clock
Or try out this pretty neutral shade that channels your morning latte.
57/85
Royals invest in classic pieces they can rewear.
Kate Middleton is the queen of repeating outfits—a move that signals practicality and frugality, which aren't adjectives one usually associates with the monarchy. Hey, when you find something as good as this burgundy set, you gotta wear it more than once.
58/85
Meghan also knows the value of investing in a timeless piece, like her Sentaler camel coat. After wearing the piece to Sandringham for her first royal Christmas, Meghan wore it again over her shoulders at a charity visit this November.
59/85
L'AGENCE Chamberlain Blazer
Whether it's a pant suit or dress suit, a timeless pattern and cut will allow for maximum re-wearability.
60/85
Calvin Klein Notched Collar Wrap Coat
This camel coat is a perfect substitute for Meghan's staple and will remain timeless.
61/85
Meghan uses a toothbrush to fight flyaways.
"I spray hairspray on a small boar bristle toothbrush (a regular toothbrush also works great!) to lightly brush them down or smooth the hairline—this is especially good for a sleek bun when I'm off-camera," Meghan told Birchbox in 2014 (opens in new tab). GENIUS.
62/85
Gaia Guy toothbrush Natural Bristle Bamboo Toothbrush
A normal toothbrush works just fine, but Meghan uses a boar bristle brush, like this one, for its coarse texture and gentle bristles.
63/85
Ouai Haircare Texturizing Hair Spray
Crunchy hair is sooo '80s. For a strong hold that feels natural and soft, try this option from Jen Atkin's line Ouai.
64/85
Royals always have a shawl on hand.
There's a protocol that states royals can't remove their coat in public...yeah, eye-roll, we know. As a work-around, the ladies have discovered the shawl, which keeps them warm and complies with the palace's rules.
65/85
There's a protocol that states royals can't remove their coat in public...yeah, eye-roll, we know. As a work-around, the ladies have discovered the shawl, which keeps them warm and complies with the palace's rules.
66/85
INC International Concepts Oversized Travel Wrap
This neutral wrap is perfect for throwing on top of a fancy dress or snuggling up in while traveling.
67/85
Echo Shawl Collar Ruana
Here's a fall-worthy navy one with a handy button closure if it's extra chilly.
68/85
Royals turn to monochrome ensembles when they want to make a statement.
Queen Elizabeth is the OG of monochrome and has been rocking the look *long* before it was trending. We'd expect nothing less from the woman who even has custum umbrellas (opens in new tab) to match her outfits.
69/85
Meghan was quick to pick up on the Queen's monochrome trick. She wore a number of these looks during her time as a royal, like this crimson 'fit in 2019.
70/85
Lulu's Vegan Leather Pencil Skirt
The popular oxblood color of this vegan leather pencil skirt is relatively easy to match if you want to try out your own Meghan-approved monochrome look.
71/85
The lightweight fabric of this short sleeve sweater is practically made for French tucking into a skirt.
72/85
Royals keep their makeup looking natural.
The palace prefers that members of the royal family wear minimal, natural-looking makeup for public appearances. That's why you won't catch Kate rocking a red lip or bright eye shadow.
73/85
Meghan followed this protocol too. Though she hasn't shared her beauty bag with the public recently, she did reveal that Nars Blush in Orgasm was one of her can't-live-without beauty products in an interview with Beauty Banter (opens in new tab).
74/85
Natasha Denona Nude Lipstick
A simple nude lipstick, like this one from Natasha Denona, is natural enough that even the highest-ranking royal (cough Queen Elizabeth) would approve.
75/85
Nars Blush Set in Orgasm
Turns out Meghan's go-to blush is a cult favorite product. Better stock up on this baby because it tends to sell out fast.
76/85