The Most Genius Royal Fashion Hacks of All Time
Women in the royal family live their lives in the spotlight, so of course they have fashion tricks for formal events—especially to avoid wardrobe malfunctions.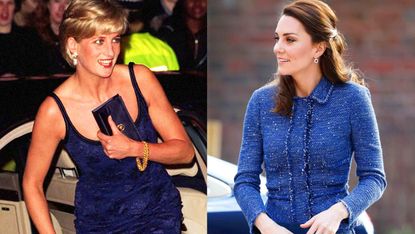 (Image credit: GETTY IMAGES)
Women in the royal family are constantly in the spotlight, so naturally they've developed a repertoire of fashion and styling hacks to ensure all of their formal (or even non-formal) events run smoothly. No one wants to have a wardrobe malfunction when they're shaking hands with a foreign dignitary with hundreds of cameras around! Ahead, a comprehensive list of the genius wardrobe tricks that have helped Princess Diana, Kate Middleton, and Meghan Markle pull off their chicest ensembles.
1/85
Princess Diana used clutches to hide her cleavage.
Princess Di used her clutches to cover her cleavage as she got out of cars. Why? It prevented any prying photographers from snapping a revealing pic of her.
2/85
Princess Diana used clutches to hide her cleavage.
Princess Di used her clutches to cover her cleavage as she got out of cars. Why? It prevented any prying photographers from snapping a revealing pic of her.
3/85
Nina Metallic Box Clutch
Opt for a classic structured clutch, like this navy style.
4/85
Love Cortnie Color Me Roll-Down Leather Statement Clutch
This simple black option will go with pretty much everything.
5/85
Kate Middleton wears pantyhose with sticky heels.
It's no secret that part of royal protocol for women is to wear pantyhose, but the smooth material makes it way too easy for their feet to slide out of their heels...
6/85
...Which is why Kate Middleton chooses tights that have silicone pads on the bottom so they stick to the inside of her high heels. Apparently, she's a fan of the brand John Lewis.
7/85
John Lewis & Partners Non-Slip Open Toe Tights
It's your lucky day: Kate's favorite pantyhose can be yours.
8/85
Wolford Neon 40 Tights
Here's another non-slip and toeless option by editor-fave brand Wolford.
9/85
Princess Diana wore hats with hidden combs in them.
Formal public occasions often call for hats, and I'm sure you've wondered how some of the gravity-defying royal headpieces manage to stay perched so perfectly—especially the larger, wide-brimmed ones.
10/85
Princess Diana's hats reportedly often had combs inside them that would secure to her hair so they stayed put. Hidden but useful!
11/85
Better Crafts Clear Hair Clips
If you love fascinators (hi, nice to meet you), these combs will keep your headwear in place.
12/85
Lamdoo DIY Blank Metal Hair Clips
These guys are also helpful if you want to keep your hair out of your face.
13/85
Kate uses hairnets to keep her strands in place.
Despite all odds, Kate makes a pretty convincing case for the hairnet. She often wears them when her hair is styled in more intricate updos—that way, she doesn't have any rogue fly-aways.
14/85
Here's Kate wearing one over her low bun at the 2019 Commonwealth Day service at Westminster Abbey.
15/85
Conair Standard Hairnet
Hate loose hairs in your updos? Get thee a hairnet!
16/85
Deoot 10 Pcs Invisible Hair Nets
These invisible hair nets will keep your hair perfectly in place. Magic.
17/85
Royals wear weights on their hems...sometimes.
Another go-to fashion hack royals use to stop wardrobe malfunctions is weights added to their skirts and dresses. Seems like the royal family stylist sometimes runs out of time to employ this trick, though, as evidenced here by Kate's flying-skirt moment at Princess Eugenie's wedding in October 2018. Whoopsie!
18/85
Stewart Parvin, one of Queen Elizabeth's couturiers, told the Daily Mail that he sews small lead weights (used for curtains, actually) into the hems of her clothes, which prevents her skirt from blowing up in the wind.
19/85
Dress Downs Reusable Dress Weights, 2pcs
Never have a Marilyn moment again, thanks to these small weighted stickies.
20/85
Dritz Home Drapery Lead Weights
Or you can DIY it like HRH does. Just buy these drapery weights, and attach them to your skirts on the inside hem.
21/85
Royals often wear heavier materials and fitted silhouettes.
Another way royals prevent their outfits from billowing in the wind is by choosing thicker fabrics and more fitted silhouettes, like Kate's tweed blazer-and-skirt set pictured here.
22/85
A-line silhouettes have a greater chance of flying up in the wind, but a sheath dress like this is more likely to avoid any breezy malfunction.
23/85
Shopbop Short Sleeve Blanket Tweed Dress
Make like Kate in this mini tweed dress.
24/85
NORDSTROM Tie Neck Sheath Dress
Or opt for a ruffled look, like this structured frock.
25/85
Royals wear shoes that are one size too big.
According to fashion expert Harriet Davey, going up a shoe size is a style hack employed by many celebrities. It looks like Meghan used this trick in this instance, as there's lots of room behind her heel in these strappy Aquazzura pumps.
26/85
"Celebs often go a size up, or even two, in the shoe department when they're at an event or on the red carpet, and it's for one reason we can all relate to—to avoid blisters," she said in an interview with The Sun.