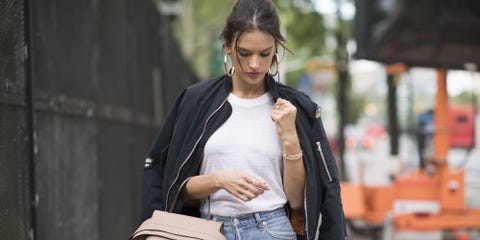 After all this time—after it's been manipulated and "elevated" every which way—the basic T-shirt is still best in its most unadulterated form. Full stop. Here, shop seven styles that have met the internet's highest expectations, because as the saying goes, the wearer is never wrong.
The sheer crew-neck you've been looking for all your life, plus a pledge to conserve water that could go toward filling our aquariums.
$28, thereformation.com.
The headline says "the internet," which does include Nina Garcia, who once backed these undershirts, specifically the men's version you can buy six at a time like beer.
$14.59, target.com.
Another feel-good buy (the provenance and cost breakdown are all right there) that comes in a flattering, jewelry-highlighting V-neck.
$15, everlane.com.
Cut for a shrunken '60s fit (read: close to the body), this guy is super soft and super half-French, half-Anglo Instagram star with undetermined employment status. You might agree with reviewers who've called it the "f*cking best," unless you can't stand cap sleeves. Then you will hate it.
$78, shopredone.com.
Industry people die for this grandaddy-of-basics brand, darling. With a semi-sheer, relaxed fit and supreme wear-with-everything-ness, what's not to love?
$52, revolve.com.
If you like your tops boxy, translucent for a hint of bra peep-age, and pre-broken-in, this one's for you.
$60, theline.com.
Long torso or FOBS (fear of butt showing)? Not everybody will be down for the extra length, but *all* will be into the fabric, which is so heavy-duty you might not need to buy another T-shirt ever again.
$36.50, american-giant.com.