Worldwide Wine Output Hits a 50-Year Low Thanks to "Climate Hazards"
Have you been waiting for the right time to panic? Because this might be it.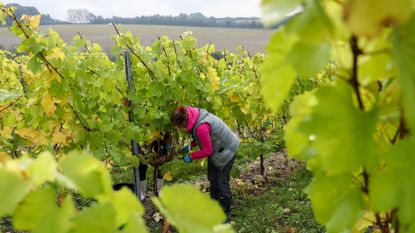 (Image credit: Andrew Matthews/PA Images via Getty Images)
As Napa Valley rebuilds from the devastating wildfires it suffered a couple of weeks ago, some more bad news surfaced today in the wine world: global wine production is expected to be down 8.2 percent this year, a 50-year low.
The AFP reports that the International Organisation of Vine and Wine, a Paris-based intergovernmental organization, primarily attributes the large drop to a decrease in output from all three of the world's top wine-producing countries: Italy, France, and Spain.
The OIV said in a statement, "This drop is consecutive to climate hazards, which affected the main producing countries, particularly in Europe."
Wine production forecasts dropped 23 percent in Italy, 19 percent in France, and 15 percent in Spain. In more uplifting news for American wine regions, production only slid by one percent in the United States, the fourth-largest wine-producing country in the world. (The forecasts are based on estimates from the U.S. government and were made before the fires in the Napa and Sonoma Valleys.)
Production in Australia, meanwhile, was up six percent, the country's third consecutive annual increase in output. And Argentina's output increased by 25 percent.
Sam Dangremond is a Contributing Digital Editor at Town & Country, where he covers men's style, cocktails, travel, and the social scene.