How to Make a Wine Bottle Christmas Tree
The first step? Start drinking.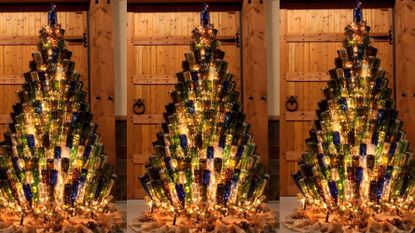 (Image credit: Etsy / AJsGlassInnovations)
It's common knowledge that booze and Christmas go together like turkey and Thanksgiving. Scratch that: both holidays involve copious amounts of booze. Relatives fly in, family gets together, and wine is passed around the table. But what do you do with all those extra bottles of vino from Thanksgiving dinner? Well, the wine-lovers of the world have just come up with a solution.
Wine bottle Christmas trees are taking over Instagram, and we're loving it. With this new DIY holiday craze, you can watch your "tree" grow in size like you're opening an alcoholic advent calendar—counting down the days till Christmas, one bottle at a time. By the time the 25th hits, you'll have a brilliant handmade holiday centerpiece for your home. (What a perfect excuse to "test drive" those vino-related holiday gifts.)
Here are some of the best we've seen.
Ready to make your own?
First things first: don't use an actual tree. You'll want to get your hands on a tree-shaped rack, like this one from 18BelowDesign on Etsy. Or check out this smaller scale version for $329.99 here. Wine bottles are obviously not included, but that would be missing half the fun.
For those that prefer an already decorated "tree," check out AJs Glass Innovations on Etsy, where they're sold for $1,600.
Either way, these trees sure are a fun way to stay festive!