[Updated] Turns Out Ice Cream for Breakfast Won't You Smarter
Oh, well, pass the mint chocolate chip anyway.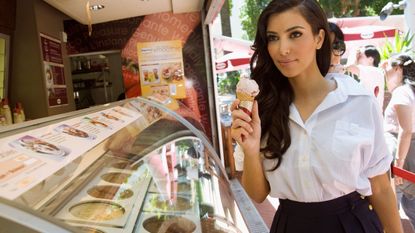 (Image credit: Getty Images)
Update, July 8, 2019: Subsequent reporting (opens in new tab) around this research has found the sourcing and details of the study were not verifiable. Currently, there's no science showing ice cream will increase intelligence.
Original story:
As if 2017 could get any better (yes, we're *still* talking about Beyoncé's twins (opens in new tab)), a new study has revealed that eating ice cream for breakfast might make you smarter. You read that correctly: ICE CREAM 🍦🍦🍦.
Researchers carrying out a study in Japan found that participants given ice cream for breakfast had better reaction times and were able to process information more effectively than those who hadn't chowed down on the creamy stuff. The study, originally published by Kyorin University professor Yoshihiko Koga, suggests that indulging in a scoop of ice cream the moment you wake up alters your levels of alertness and gives you a "mental boost." They also attributed ice cream (opens in new tab) with reducing "mental irritation," which we think translates to "makes you less cranky"; scientists, we are not.
Koga uncovered similar results when giving participants a cold glass of water but determined that a dollop of ice cream still garnered higher levels of mental stimulation. To be on the safe side, we're going to have both.
So, there you have it. Next time a family member glares disappointedly in your direction when you're face-deep in Neapolitan (opens in new tab) before 9AM, show them this article.
Follow Marie Claire on F (opens in new tab)acebook (opens in new tab) for the latest celeb news, beauty tips, fascinating reads, livestream video, and more.