This Simple Trick Makes Box Cake Mix 1,000 Times Better
It's life-changing.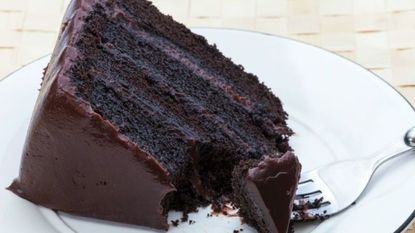 (Image credit: ARCHIVES)
I consider myself a baker—which to me means, I bake at least once a week, if not more. And more often than not, I'd rather go the extra mile and make things from scratch than use a mix, a refrigerated dough, or a pre-made batter. I just feel like mixing a few ingredients makes a huge difference in the taste and really doesn't take that much longer.
That said, there are few things in the world that are greater than box cake mix. The opportunities for creativity are absolutely endless: Turn it into a poke cake (like our boston creme, our red velvet, or our Samoa version), a dump cake (like our Funfetti dump cake), or even a giant donut. And, as any busy mom will tell you, when it's 11pm the night before a bake sale or a school function you completely forgot about, nothing comes to the rescue faster than cake mix.
But I can't seem to leave well-enough alone, so our food editor taught me an insider trick that makes any box cake mix taste like a mixed-from-scratch version. Instead of following the directions and ingredients on the box, she replaces the oil with NEARLY the exact same amount of melted butter.
I sense your skepticism. But trust me when I say that not only does the flavor increase exponentially, but the texture becomes light and heavenly. (I hear from my food-nerd friends that it has something to do with the way butter bonds with the sugar crystals to trap air.) In addition, butter also has more water in it, so your cake turns out more moist (ugh, that word ... I know) than using oil alone. Bonus: Butter actually has fewer calories than oil per tablespoon ... but we're talking about cake here, so let's not be ridiculous.
If you're planning to swap, here is a rough measurement exchange:
1/4 cup oil = 1/3 cup melted butter
1/2 cup oil = 2/3 cup melted butter
3/4 cup oil = 1 cup melted butter
1 cup oil = 1 1/4 cup melted butter
Consider this our holiday gift to you—a way to make baking mixes merry, and your baking season bright.
Follow Marie Claire on Facebook for the latest celeb news, beauty tips, fascinating reads, livestream video, and more.
Hometown: North Caldwell, NJ
7-second life story: I am best described as Captain Chaos—I love my family, my Delish team, loud music, science-fiction movies, laughing, and making people happy. I hate waiting, silence, and people who are downers.
Recipe I'm semi-famous for: Banana bread. And millionaire shortbread. And Texas sheet cake.
My drunk food is: French fries...If I'm remembering those drunken nights correctly.
Celebrity I'd love to have dinner with: Harrison Ford! ARE YOU KIDDING ME?!
Cooking fail I'm most likely to commit: Not reading the recipe all the way through...Sometimes I get distracted. Also loading the dishwasher wrong.
If I could only eat one thing for the rest of my life: Dairy Queen and Diet Coke. (I know that's two. Consequently that would also be my band name.)
Dish I'm notorious for making NOT delish: Pizza dough. An epic fail many times on many levels.