Editors handpick every product that we feature. We may earn commission from the links on this page.
The 10 Best Blenders
Whip up the perfect protein shake in seconds.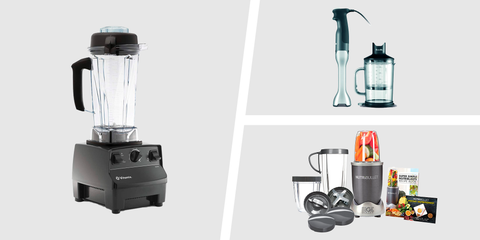 Blenders can be used for so much more than just pulverizing chunks out of your protein shake. In fact, a good blender can create the perfect margarita, a seriously silky green smoothie, and even home made peanut butter. A bad one will leave you with a sad, lumpy concoction. Of course, you could just opt for a super pricey blender, but there are plenty of solid buys that don't cost two weeks worth of groceries. Don't want to sort through hundreds of specs and reviews? That's ok, we did it for you. Here are our top blender picks.
1
Ninja Countertop Blender with 1100-Watt Base
This Countertop Blender features five simple presets to make drinks with the the touch of a button. The blender pulverizes ice without leaving chunks, all for under $100.
2
Oster Blender Pro with Texture Select
This three-speed blender includes all the settings you need to make salsas, shakes and smoothies. The jar is made of durable glass, so there's no need to worry about food stains, smells or scratches. Included in the set are two Blend-N-Go cups.
3
Oster My Blend 250-Watt Blender
Get this if you just need to whip up a simple smoothie before getting in a workout.. This little machine crushes ice and fruit in minutes. Plus, the sports bottle pops out of the base so you can take it wherever you go.
4
Nutribullet 600W Nutrient Extractor
This Nutribullet is compact, but powerful. The machine pulverizes ice, coffee beans, and greens, and frozen fruit. Plus, it's the perfect machine for guys who need a quick shake without a lot of cleanup.
5
Vitamix A3500 Ascent Series Smart Blender
Beets and spinach are no match for this powerful machine. No other blender matches this model's ability to crush and pulverize. The 120V engine is a must for guys who blend every day.
6
Blendtec Classic 575 Blender
Blendtec is costly, but happy customers say it's well worth the money, according to reviews. The premium blender is made of cold-forged, hardened steel that is stronger than traditional blades. Thee blades are blunt, so you don't have to worry about injuring yourself when cleaning. Try it to make your favorite nut butters.
7
Vitamix 5200 Blender, Professional-Grade
People rave about their Vitamix—with good reason. These machines really do it all, from grinding nuts to ice. Bonus: these machines are self-cleaning.
8
Utalent Immersion Hand Blender
Every kitchen needs an immersion blenders. They're perfect for making sauces, smoothies, or mixing. This one from Utalent includes a whisk, beaker, and bowl attachment, too.
9
Calphalon ActiveSense Blender
This pick from Calphalon is perfect for those who need a reliable blender that delivers consistent results. The fully automated machine weighs your blender load and adjusts the settings accordingly to deliver smooth results.
10
Breville 3X Bluicer Pro
A mix of juicer and blender, this machine combines the two appliances into one machine. It crushes ice, makes drinks, and blends smoothies.
This content is created and maintained by a third party, and imported onto this page to help users provide their email addresses. You may be able to find more information about this and similar content at piano.io