4 Easy, Delicious Vegetarian Recipes to Try at Home
Steps up from your lazy-girl grilled cheese.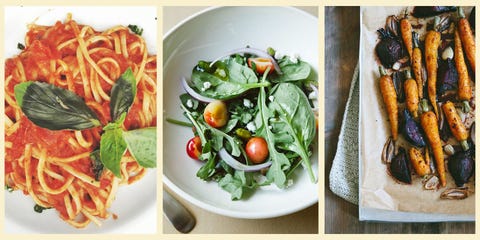 Design by Dana Tepper
Getty Images
The siren call of Seamless is a real force to reckon with, but a personal joy that trumps delivery dinner? The satisfaction of eating a meal you cooked yourself.
To lift us from our midweek grilled cheese rut, the founders of cooking store Brooklyn Kitchen whipped up these exclusive mouthwatering vegetarian recipes. The store hosts a variety of food prep classes in-house, so we know they're catering to cooking novices 🙌. Bonus? Most of these—from simple salads to roasted veggies—take less than 30 minutes to cook, so they're perfect for nights when you're craving something quick but tasty.
Spice Roasted Carrots with Dates and Pepitas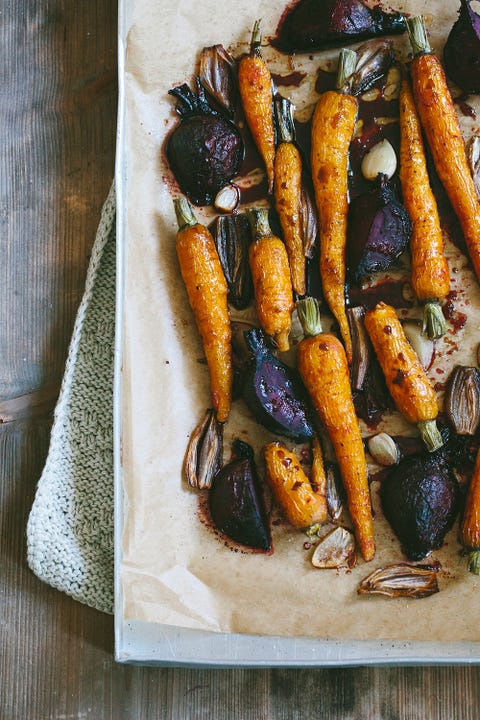 Probst and Schon
Getty Images
Serves 8
Ingredients:
24 small to medium rainbow carrots, cleaned and sliced lengthwise
⅓ cup olive oil
3 tbsp. maple syrup
1 tsp. coriander seeds, toasted and lightly crushed
1 tsp. cumin seeds, toasted and lightly crushed
1 tsp. garam masala + a pinch more for garnish
1 tsp. ginger powder
¼ tsp. allspice
kosher salt and freshly ground black pepper
1 bunch thyme sprigs
1 bunch rosemary sprig
2 oranges, halved
1 ½ cup dates, pitted and chopped
1 cup pepitas (pumpkin seeds), toasted
1 cup greek yogurt
Coarse sea salt for finishing
Directions:
1. Preheat the oven to 400 degrees. Combine the carrots, olive oil, maple syrup, spices, herbs, and orange halves in a large bowl and toss well.
Lay onto a rimmed baking tray in a single layer with space in between, with the carrots and orange placed cut side down. Place in oven and roast until tender and caramelized, about 30-40 minutes. Remove from oven, cool slightly, and squeeze roasted orange over carrots.
2. Plate carrots onto serving dish and sprinkle evenly with dates and pepitas. Dollop Greek yogurt over and top each dollop with a pinch of garam masala and finishing salt.
Time: About 50 minutes.
Green Salad with Champagne Vinaigrette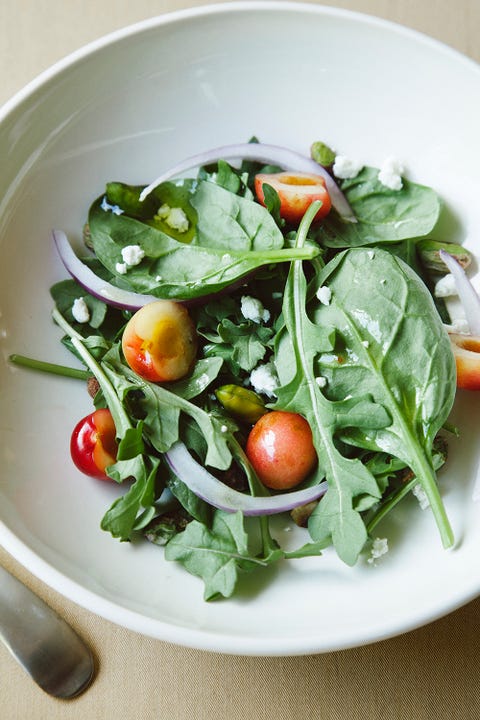 Serves 8
Ingredients:
10 oz. mixed lettuce greens, cleaned
1 pint cherry tomatoes
1 avocado, diced
1 bunch basil, torn
6 oz. aged sheep's milk cheese, such as Cedar Grove Donatello, shaved
coarse sea salt and freshly ground black pepper
vinaigrette
2 tbsp. Champagne vinegar
½ shallot, minced
½ tsp. Dijon mustard
kosher salt and freshly ground pepper
5-6 tbsp. olive oil
Directions:
1. In a large bowl, combine the greens, tomatoes, avocado, basil and cheese with a pinch of salt and pepper. Dress with vinaigrette and serve immediately.
2. Vinaigrette: In a small bowl, whisk together the vinegar, shallot and dijon with a pinch of salt and pepper until smooth. Slowly pour in the olive oil while whisking vigorously. Taste and adjust acidity and seasoning.
Time: About 8 minutes.

Thai Basil Spaghetti with Peanuts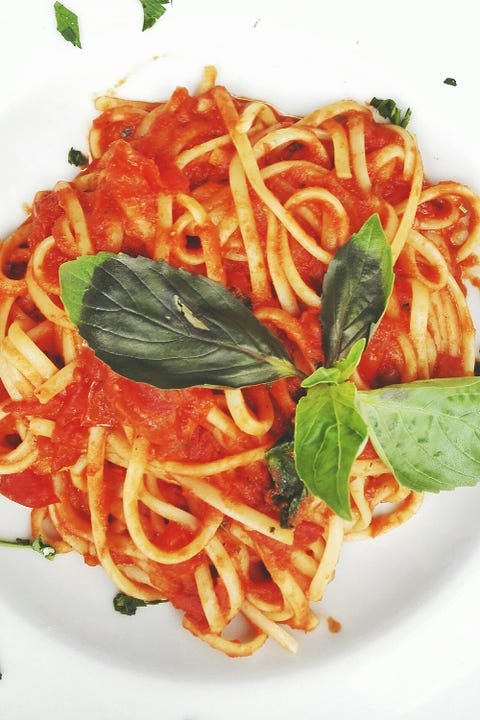 Pinghung Chen/ EyeEm
Getty Images
Serves 4
Ingredients:
1-2 tbsp. olive oil
1 tbsp. ginger, minced
2 cloves garlic, minced
2 shallots, diced
1 pint cherry tomatoes, halved
2 tsp. sugar
kosher salt and freshly ground pepper
1 bunch Thai basil, sliced into thin ribbons
2 tbsp. balsamic vinegar
1 tbsp. hot chili oil
1 tbsp. sesame oil
1 lb. spaghetti or angel hair pasta
1 cup roasted salted peanuts, chopped
Directions:
1. Place a skillet over medium heat and add a thin layer of olive oil. When oil is shimmering, add ginger, garlic and shallots and sauté until fragrant, 1 minutes, stirring frequently. Add tomatoes and season generously with sugar, salt and pepper. Cook, stirring occasionally, until tomatoes begin to break down, about 5 minutes. Remove from heat and stir in thai basil, balsamic vinegar, hot chili oil and sesame oil; taste and adjust seasoning.
2. Bring a large pot of salted water to a boil and add pasta; cook until al dente and drain, reserving ½ cup of cooking liquid. Return pasta to pot over low heat and add tomato mixture and a few drops of the pasta cooking liquid. Cook until heated through and pasta is well coated (add more cooking liquid if dry), about 1-2 minutes. Remove from heat, plate and top with peanuts.
Time: About 20 minutes.
Chickpeas with Chimichurri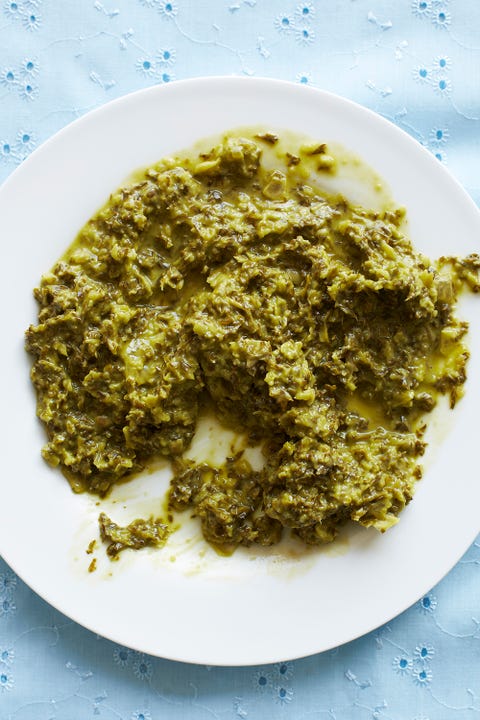 Brett Stevens
Getty Images
Serves 8
Ingredients:
4 cups dried chickpeas
1 tbsp extra virgin olive oil
2 garlic cloves, smashed
2 cups chimichurri
1 bunch scallions, white and green parts only, sliced thinly
Directions:

1. Sift through the chickpeas for rocks. Soak overnight and drain and rinse in the morning.
2. Transfer the beans to a large pot and cover with a few inches of cold water; add the olive oil and garlic. Place pot over high heat, bring to a boil and skim the foam. Reduce to an active simmer and cook until tender, about 30-45 minutes (add water if needed).
3. Once beans are tender, add salt and stir to combine; taste and adjust seasoning. Keep the chickpeas in the liquid until you're ready to serve, there is a lot of flavor in the liquid.
Note: Do not cook dried beans with salt. They will never really get soft. Once you season them when they are cooked they firm up a bit.
4. Drain the chickpeas. Toss in the chimichurri and garnish with scallions.
Time: About 50 minutes.
This content is created and maintained by a third party, and imported onto this page to help users provide their email addresses. You may be able to find more information about this and similar content at piano.io