8 Margarita Recipes That Are Cooler Than the Ones You Made in College
Because you're a grown woman.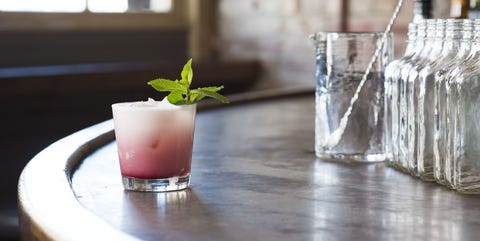 Courtesy Extra Fancy Brooklyn
Margaritas are delicious. That's just a fact. But before you reach for your tried-and-true circa-college staples, try these upgrades. You—and your not-so-terrible hangover—will thank us.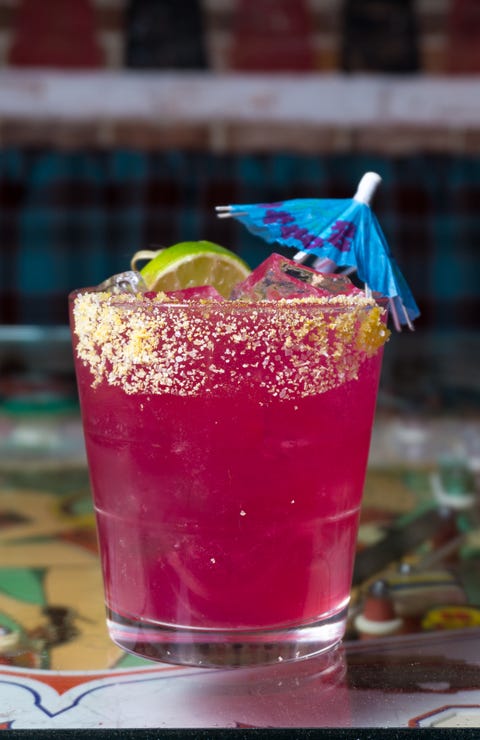 Mystic Marvel
Created by Drew Sweeney, the Beverage Director at Dream Midtown and Downtown, this is a riff on the classic prickly pear margarita.
Ingredients:
1.5 oz. Casamigos Tequila
1oz. Prickly Pear Purée
.75oz. Agave
.75 Lime Juice
Directions:
Shake the tequila, purée, agave, and lime juice in a shaker over ice and pour into a rocks glass limed with salt. Garnish wtih a lime wheel and umbrella.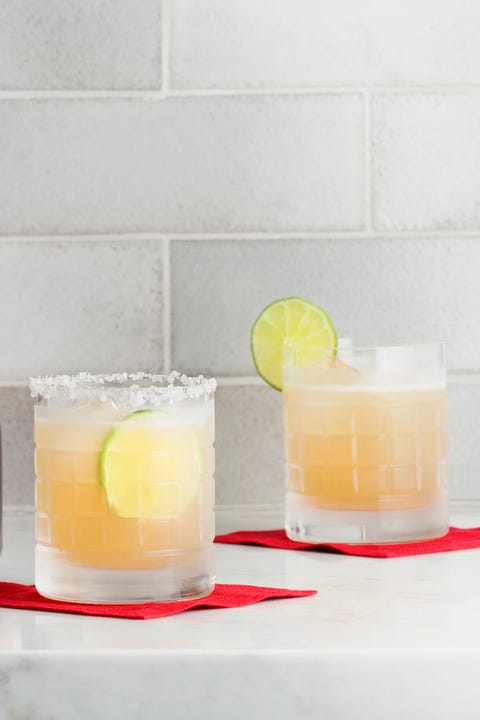 The Grand Margarita
Think of this as an elevated version of the classic.
Ingredients:
3/4 parts Grand Marnier®
1 1/2 parts premium tequila
1/2 parts freshly squeezed lime juice
Ice
Lime wheel for garnish
Directions:
Combine Grand Marnier, tequila, and lime juice in a shaker. Fill with ice and shake. strain into an ice-filled rocks glass. Garnish with a lime wheel.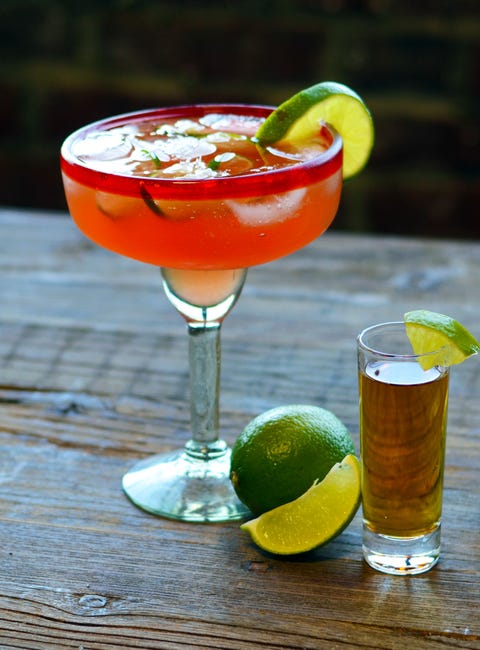 Jamaica Blood Orange Margarita
Give your normal marg a delish upgrade with a blood orange twist.
Ingredients:
4 oz tequila
2 oz triple sec
6 oz Bai5 Bubbles Jamaica Blood Orange (a sparkling orange juice)
Juice of two limes
Lime wedges, for garnish
Salt, for rimming edge of glass (optional )
Directions:
Pour 1/4 inch of salt in a shallow plate.
Moisten the rim of a margarita glass with a lime wedge, and dip it into the salt.
Fill the glass with ice, and set aside.
Pour the tequila, triple sec, and lime juice into a cocktail shaker over ice.
Cover, and shake vigorously until the outside of the shaker has frosted.
Strain into the prepared glasses, pour Jamaica Blood Orange and stir.
Garnish with lime wedges to serve.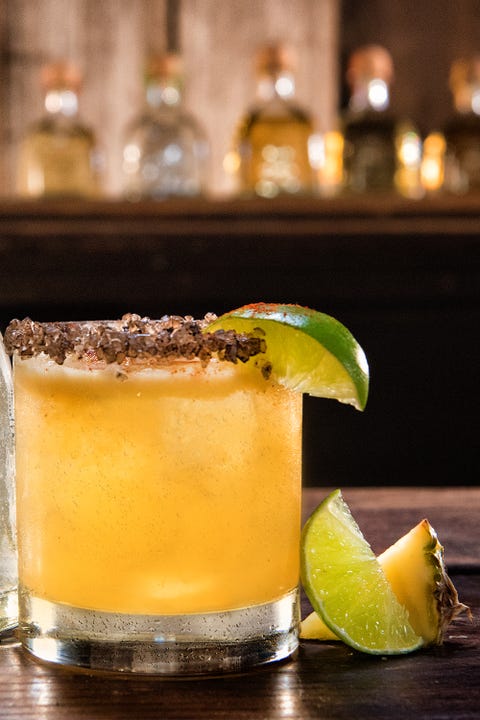 Patrón Smoked Sea Salt Margarita of the Year
This sweet cocktail gets a dash of spice with paprika. Consider it the more adult take on that fruity drink you've been ordering since you were 19...I mean, 21.
Directions:
1½ oz Patrón Silver
½ oz fresh lime juice
½ oz pineapple juice
½ oz agave nectar
a pinch of smoked paprika
smoked sea salt
Ingredients:
Prepare an old fashioned glass by moistening the rim and rolling it in smoked sea salt.
Shake everything with ice.
Strain over fresh ice cubes in the prepared glass.
Garnish with a lime and a dusting of smoked paprika.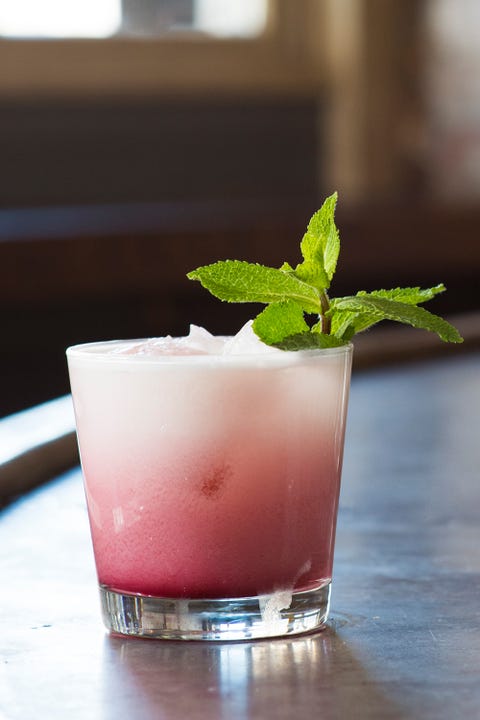 Bandera de Puebla
Created by Rob Krueger, of Extra Fancy in Brooklyn, this drink gives a nod to the Mexican flag with its cool layers. (#YouGotThis)
Ingredients:
1 oz. Patron Reposado
1 oz. Patron Citronge Lime
.5 oz. Coconut Cream
.75 oz. Fresh Lime Juice
.75 oz Pomegranate Juice
Mint Sprig for Garnish
Directions:
Combine the Patron Reposado, Citronge Lime, Coconut & Lime Juice in a cocktail shaker with ice and shake well.
Strain over fresh ice in a rocks glass.
Gently pour the pomegranate juice so it settles to the bottom half of the drink creating two equal layers of white and red.
Garnish with a sprig of mint to represent the three colors of the Mexican flag.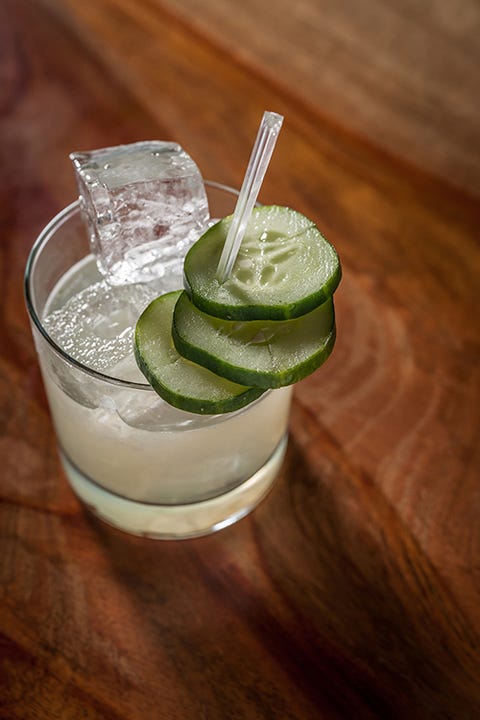 Cucumber Margarita
Served at the Living Room W Fort Lauderdale, this marg is like spa-meets-cinco.
Ingredients:
1.5 oz Casamigos Blanco
.75 oz. fresh lime juice
.5 oz. Cointreau
.5 oz. simple syrup
5 cucumber wheels
Ingredients:
Muddle cucumber with the simple and lime juice.
Combine all ingredients to iced mixing glass.
Shake vigorously and strain over fresh ice.
Garnish with cucumber slices.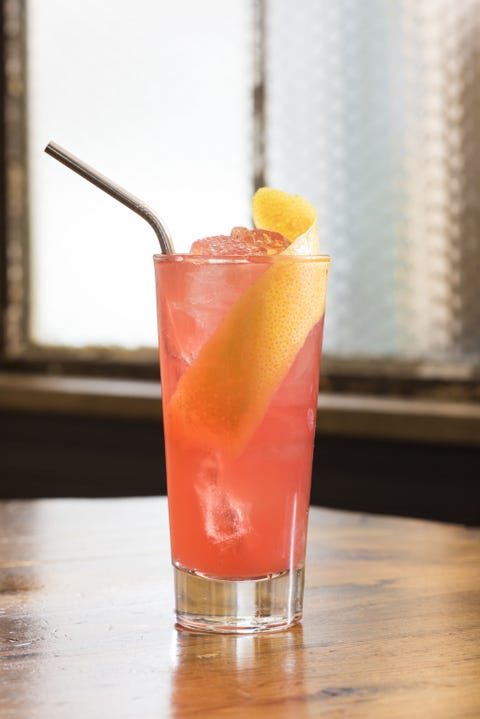 Tomar Bueno
Created by Damian Windsor in LA, this super easy drink is the fanciest-looking thing you can make in about 20 seconds flat. We also like Windsor's recommendation for those without highball glasses: "Alternatively, take a big sip out of a can of Squirt soda and add the other ingredients directly into it." See—easy.
Ingredients:
1 oz. Patron Roca Silver
.75 oz. Patron Citronge Lime
1 oz. Campari
1 oz. grapefruit juice
Top with Squirt
Directions:
Add ice and liquid ingredients to a highball glass, garnish with a grapefruit peel twist.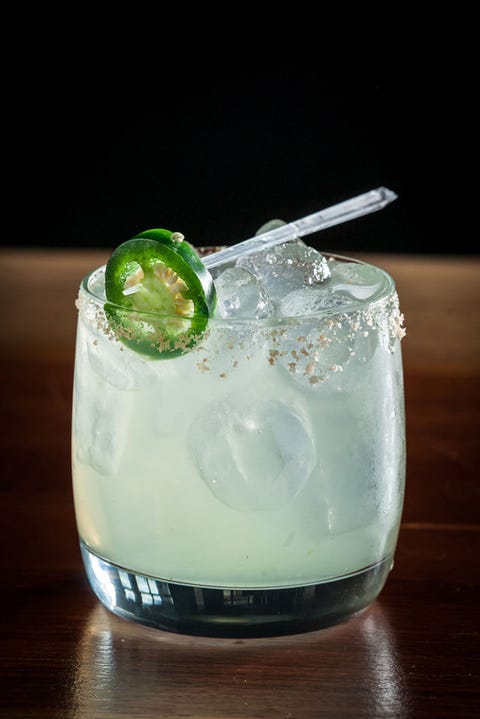 Jalapeño Margarita
Give your drink some kick (it's supposed to be a Mexican celebration, after all) with this recipe from the W at Ford Lauderdale.
Ingredients:
3 pieces muddled jalapeño (no seeds)
1 ½ ounces Casamigos Blanco
½ ounce Cointreau
½ ounce simple syrup
1 ½ ounces fresh lime juice
Directions:
In a shaker, muddle jalapeño.
Add tequila, Cointreau, simple syrup, and fresh lime juice.
Top with ice and shake. Serve in rocks glass over ice.
Garnish with a jalapeño slice.
This content is created and maintained by a third party, and imported onto this page to help users provide their email addresses. You may be able to find more information about this and similar content at piano.io