9 Wine and Cheese Pairings Every 20-Something Should Know
Because you're a g*ddamn adult.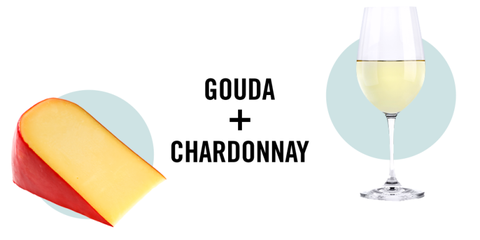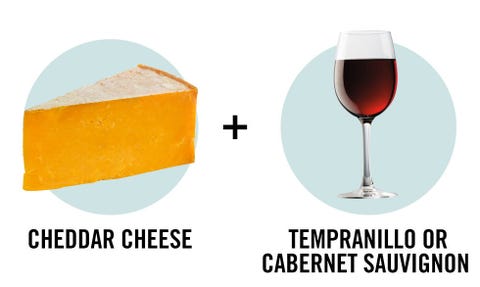 Cheddar cheese pairs deliciously with a big bodied red wine full of tannins—AKA a tempranillo or a cabernet sauvignon. Want a full meal? Make a ham and cheddar cheese melt with some baked onion rings and serve with your big glass of red wine. "Salty, cheesy, meaty—the combination of all three meets its match with a wine that will stand up to the juicy fats and cheese," Ford says.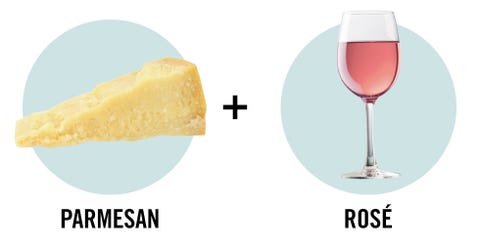 Parmesan and rosé are a match made in wine-cheese heaven. (CAN WE GO TO THERE?) Paired with hummus and pita, you've got even more deliciousness to eat, drink, and eat some more.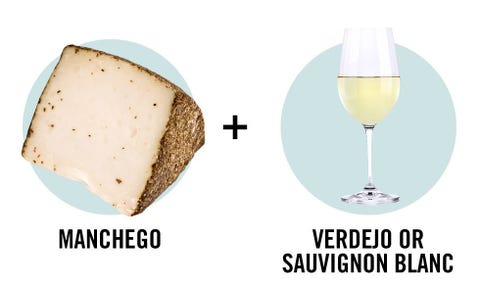 This cheese—made from sheep's milk—has a spicy but slightly nutty-sweet taste that pairs well with a crisp, fruity wine like the verdejo or sauvignon blanc. Cut up some crisp veggies and serve with ranch dip before queueing up the Netflix.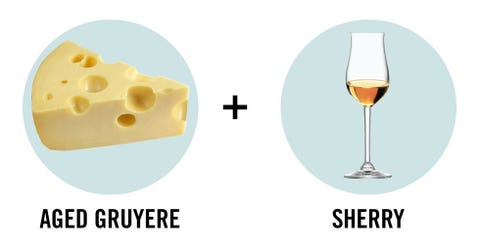 Gruyere is sweet but also has a slightly nutty taste, pairing perfectly with oloros sherry—which is a blend of "salty, nutty, and sweet," says Ford. For a true snack party, get out some salted or cheesy popcorn, peanut butter m&ms, and the gruyere. "The saltiness from the popcorn, the cheese, and the nutty sweetness of the m&ms make it a fun combo."
"They've been eating cheese and drinking chardonnay in Burgundy for hundreds of years," says Ford. So yeah, the pairing kind of lives it up to the hype. For even more deliciousness, go ahead and break out that box of Cheez-Its or Pirate's Booty Cheddar Puffs and get snack-y up in this piece.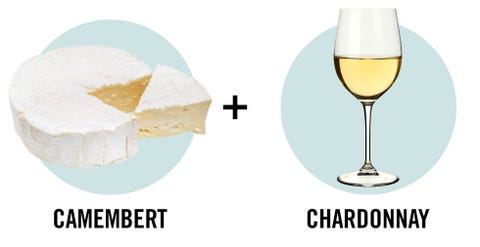 Camembert cheese has a creamy, earthy taste that goes perfectly with a creamy chardonnay. For a full meal, go ahead and serve with roasted chicken, rice with mushroom sauce (yep, it's time to break out the canned mushroom soup!) and cheese. It's delicious and a *real* meal, without being super pricey or hard to make.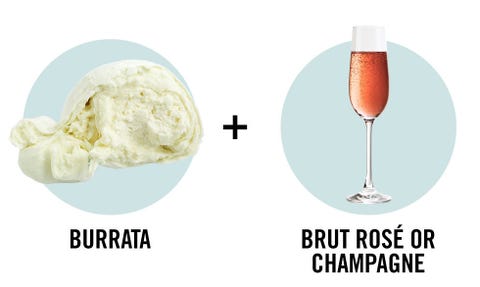 "Something creamy and rich (like burrata) begs for the cleansing, carbonated effects of a sparkling wine." Ford recommends a wine from Italy, like a Scarpetta Brut Rosé.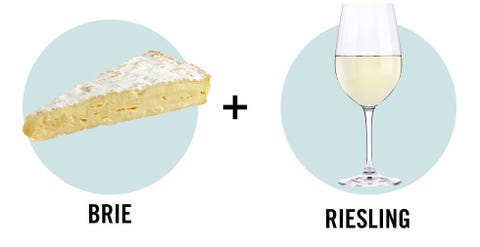 Before you scoff, know that riesling is a straight-up misunderstood wine, warns Ford. "It's always thought of as sweet," he says. "It is most often *not* sweet, but low in alcohol and high in acid." Meaning? It's not sugary—it's fruity and delicious and just shut up and drink it with some brie already. For a full meal, you can go ahead and get some hot dogs topped with sauerkraut (or go full on Chicago-style), potato chips, and brie. DIG IN.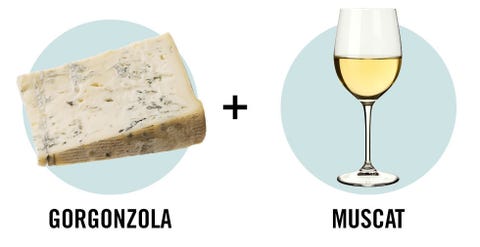 "Dessert wine should always be as sweet or sweeter than its pairing," says Ford. Why? It takes the sweetness of the dessert to new heights, without it "tapering off." Rutherglen Muscat (also known as "Stickies") are hugely popular and traditional in Australia, and pair deliciously with gorgonzola cheese. Looking to have some dessert? You can also pair it with apple pie and vanilla bean ice cream. "They are definitely sweet," says Ford. "Serve slightly chilled at the end of the meal!"
This content is created and maintained by a third party, and imported onto this page to help users provide their email addresses. You may be able to find more information about this and similar content at piano.io