Editors handpick every product that we feature. We may earn commission from the links on this page.
The 15 Best Artificial Christmas Trees
Treat yourself to a mess-free faux fir this season.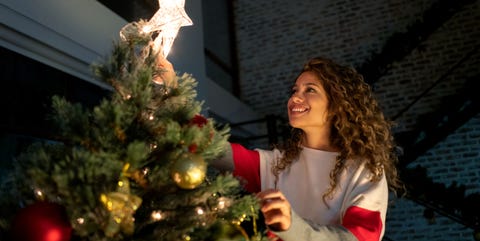 Congratulations, we officially made it to Christmas season! Which means a few things: Eating a ton of food; scrolling through endless gift guides to find the perfect item for everyone on your list; and finally putting up a tree. Enter: artificial Christmas trees. They're easy to assemble, don't require any cleanup, and you don't have to leave the house to find the perfect one—plus, they're better for the environment, since you can use the same one year after year. Whether you're looking for a realistic-looking, pre-lit fake tree or a fun gaudy version, we've rounded up the best artificial trees to choose from right now—at any price point, and in any style your heart desires.
Most Realistic Tree
6.5'' Blue Spruce Artificial Christmas Tree
Balsam Hill
amazon.com
$499.00
If you want a realistic-looking tree without all the mess, consider this option from Balsam Hill. It has all the details of a real spruce, right down to the color variations on the branches.
Best Pre-Lit Tree
6.5'' Pre-Lit Christmas Tree
Hanging lights is the hardest part of decorating your tree, so why bother doing it at all? Pull out your ornaments and adorn this tree in under an hour, no burnout required.
Best Snow-Covered Tree
Snow Flocked Artificial Christmas Tree
Perfect Holiday
walmart.com
$159.99
Prepare to make your entire home look like a winter wonderland with this tree. Plus, the fake snow will look amazing on Instagram.
Best Pre-Decorated Tree
6ft Artificial Christmas Tree with Ornaments and Lights
If you can't be bothered to decorate this year, consider buying a pre-decorated tree. This is a great option if you're having people over last-minute and you want to at least look like you planned everything out in advance.
Best Black Tree
Artifitial Black Christmas Tree
We get it—you want to do something different this year. This black tree is certainly not the most classically festive option on this list, but it might take the prize for most modern.
Best White Tree
Pre-Lit Conical Christmas Tree, 6''5
Belham Living
walmart.com
$179.99
White Christmas trees have become popular simply because they don't look like your traditional tree. This option from Belham Living comes with pre-strung lights, so you'll be able to get decorating without any hassle.
Best Bargain Tree
Artificial Christmas Tree
If you're looking to save a little on your tree this year, we've got you covered with this option. For under $50, you'll be able to make your entire apartment feel a little more festive.
Best Petite Tree
Fiber Optic Concord Christmas Tree
Holiday Time
walmart.com
$16.00
If you're trying to make your small dorm or apartment look a little more festive this season, try buying a mini tree in a bright color. You don't even need any ornaments.
Best Pink Tree
Un-Lit Pink Ombre Artificial Christmas Tree
Holiday Time
walmart.com
$41.10
Nothing says festive like a...bright pink tree! This ombre option from Holiday Time is not for the minimalist, but it will pop in any apartment.
Best Apartment Tree
Prelit Half-Shape Christmas Tree
Not every apartment is designed to fit a massive tree. If you want a tree but lack the floor space, this half-tree will get you in the mood. Simply prop it up against the wall and decorate.
Best Upside Down Tree
Upside Down Christmas Tree
LUCKYERMORE
amazon.com
$39.99
Perfect for themed parties, this upside-down tree will bring a little brevity to your holiday season.
Best Tall Tree
Dunhill Fir Tree
National Tree Company
walmart.com
$656.27
This tree is tall—10 feet tall, to be exact—so it works best if you have high ceilings. Have fun trying to get a star on top!
Best Striped Tree
Tinsel Pre-Lit Christmas Tree
TURNMEON
amazon.com
$40.99
Stripes! Lights! This tree is everything you didn't know you needed for under $40.
Best Outdoor Tree
Pre-Lit Winter Garden Cone Trees
Decorate your front or backyard with this set of two cone trees. Your home will look straight out of a picture book.
Best Tree to Set Up Fast
Pre-Lit Instant Setup Tree
Best Choice Products
amazon.com
$399.99
In a rush? This tree is pre-lit and is super easy to set up. It's perfect for when the in-laws are on their way for a surprise visit.
This content is created and maintained by a third party, and imported onto this page to help users provide their email addresses. You may be able to find more information about this and similar content at piano.io