I Went to a Sex Resort and It Was Basically Spring Break for Millennials
I saw an underwater blow job and my eyes will never be the same.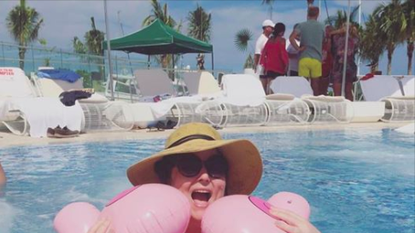 (Image credit: Laura Beck)
"I just saw someone giving a blow job in the sexy pool!" is not a text I ever imagined sending to my husband, and yet, there we were. Me, topless and free, downing another buttery nipple shot on the private white sand beaches of Cancun, Mexico, and my husband, fully clothed and repressed, at home in Los Angeles, reading my text and also probably throwing up at the unsanitary-ness of it all. "Who ARE you lololol?!" he shot back, before presumably shaking his head over the vivid mental picture I had just so generously painted him with my words.

The answer is: I don't know! I might write about sex fairly regularly but, in many ways, I am a big ol' prude. I'm married to a man I started dating ten years ago, and we vacation in places with cold climates where he can go to museums and I can sit in darkened cafes and sip espresso. And although I might dress like Miss Piggy got jackhammered by a Mardi Gras parade (plenty of cleavage and color!), I am most likely to spend my Saturday nights mainlining Netflix documentaries about serial killers whilst drinking a comforting cup of warm cocoa.
When an invite to attend the grand re-opening of Temptation, a resort for couples and *adventurous* singles in Cancun, landed in my inbox, I uncharacteristically found myself replying yes. I don't know why—probably my long subjugated inner-Bad Girl was finally ready for release? That, or a free vacay to Cancun sounded pretty dreamy after the loss of my beloved dog and a string of professional rejections that left me reeling. Besides, I missed spring break as a college student due to body issues (I'm too fat for a swimsuit oh boo hoo!), money issues (I'm too poor for a swimsuit oh boo hoo!), and also see above about liking to sit in dark cafes for fun. So, why not try it all over again as a financially solvent adult who doesn't care that her cottage cheese thighs are covered in witch hair?
And from the second I arrived at the resort, I knew I made the right choice. A handsome bellboy took my luggage and guided me into the impressive lobby. Techno music blasted, I had a drink in one hand, and an all-inclusive wrist band tied around the other. I felt like I was in a goddamned Sex and the City movie, and I wasn't even Miranda! I was Samantha! I was the sexually bold one with a body for sin and a mind for mayhem! (Or however you would describe Samantha? A vagina for trouble? Nipples for naughtiness? Anyway, that was me!)
Temptation had recently undergone a multi-million dollar renovation with designer Karim Rashid at the helm. Karim, most famous for inventing the trash can we all had in our college dorm rooms, is Egyptian-born, Canadian-raised and let me tell you, boyfriend loves color. The result is that every part of Temptation kinda looks like Lisa Frank had an orgasm all over it, and that's not a knock. It just is what it is.
After settling in my room and partaking in a room service feast, I decided to explore the sights, sounds, and yes, smells, of the Temptation lifestyle.
Full disclosure: Before I left Los Angeles, I didn't even confirm with my husband that I wasn't gonna bone other dudes, because duh. I never would. But I did make it clear that I would be willing to let the ladies out if I felt comfortable and was prepared to get crazy in any other way I see fit. And Temptation provided no end of ways to get crazy, even though they make it very clear in their "Playground Rules" that they are all about respecting women, and that the golden rule is: No means no. (Pretty sure that's not the actual Golden Rule, but I'll allow it because it hammers home the importance of consent.)
The next few days were a blur of body parts and sex on the beach (the drink, although for some people, it meant actual sex on the actual beach). The main action happens at the Sexy Pool, where women are encouraged to take off their tops and men are encouraged to take luge shots off said women's boobs. The Sexy Pool got a makeover in the renovation and many of the regulars told me they were not happy that the water level had been raised so that most women's breasts were now under water. These are what count as problems at Temptation, and I was really feeling my new lifestyle.
Another hallmark of the Sexy Pool are the games, which are so TRL Spring Break, I can't even. One day, three women (of varying ages, body shapes, and breast naturalness) took the stage to moan out pretend orgasms while the rest of us cheered for our favorite faker. Another day, the women had to get men out of the audience and see how many partially-clothed sex positions they could accomplish in 30 seconds. And yet another time, the women on stage were encouraged to go in the water and collect swimming trunks from as many dudes as possible. I saw a lot of erect penises floating in the Sexy Pool that day.
Other things I saw in the Sexy Pool? A woman giving a man an underwater blow job (points for difficulty, and praise the lord she didn't drown). Although public sex is expressly forbidden at Temptation, that doesn't mean the rules aren't bent. A lot. Needless to say, by the end of the day, the sexy pool was…murky. (Sorry, I can't carry that knowledge all by myself. I must share the load.) (Load is an appropriate word choice here.)
Despite my natural uptightness around the fact that humans are (literally) fucking animals, I couldn't help but get into it; hooting and hollering for my favorite orgasm faker and cheering on the boob liquor. I assumed it would be at least mildly terrifying to take off my top, but by the last day, I was rubbing coconut oil on my tatas while the couple next to me dry humped. The unbridled inhibition of my resort-mates was contagious. I was livin' my vida loca.
Temptation is loath to officially call itself a swingers' resort, but that's essentially what it is. Most people attend as couples, but there are a few singles floating around looking for action (mainly men, although there were some women. Single ladies are called "unicorns," so that gives you a sense of how rare they are). Also, it should be mentioned that Temptation and most places like it are fairly heteronormative, although not like, oppressively exclusionary. I did meet a gay couple there, and both guys confirmed that they were having a blast. And CancunCare, the premiere website for sex-positive visitors to Cancun, has threads touting the welcomeness of Temptation to all.
What I gathered from talking to various couples is that many people come to Temptation to explore the possibility of taking on various partners. It's the fantasy that gets them there. And while some definitely cross over into the actual fucking of other people, many just like the *wild* feel of spring break for adults. Rebecca, a 35-year-old from Missoula, Montana, told me that she and her husband Will have been coming to Temptation for three years because of the fun-loving community they've found. "We meet up with the same people every year, and it's a blast," she said, as she adjusted her Mardi Gras beads to make sure her nipples were showing. When I asked if they'd ever hooked up with other people, she told me with a sly wink, "That's for me to know and you to find out." Now, Laura back on dry land would've ran to her room and cried forever, but Laura at Temptation just laughed and downed another "wet p*ssy" shot. SPRANG BREAK FOREVER.
The fun at Temptation is mostly innocent jokes like that—it's as if the boobs blowing in the breeze and the constant sexual innuendos almost desexualize the place. I'm not worried about looking hot or whatever, because people of all ages, shapes, and sizes are just letting it all hang out. Sure, there are likely group sex parties happening in the hotel rooms, but there are also couples wearing next to nothing and just talking comfortably about their deepest sexual desires with complete strangers. That's pretty tight!
The experience is what you make it. And that means you can make it a tame-ish good time, or you can get a little more risque. If you're looking to turn things up to 100, there's the Boobs Cruise, during which you set sail on the open sea and everyone gets naked and also there is reportedly a game where men eat vodka-soaked gummy bears out of women's vaginas. Let that sink in. Also, there's a couples massage that effectively is just two masseuses (in masks!) (ahhh!) giving you and your partner a sexy massage with oils and feathers, then positioning the man on top of the woman before leaving the room so the couple can have actual sex. Steve, a 29-year-old engineer from Northern California, told me he went to the massage with his long-time girlfriend and that his mind was "blown wide open. It's unlike anything else; you have to try it," he urged.
Even though I wasn't interested in the hardcore stuff, I did love the anything-goes constant party of Temptation. Being married and not interested in swinging actually made it freeing. Like, I could pig out at the buffet and walk around with my boobs out, and who fucking cared? Although you make fast friends at a place like this, there's a relative anonymity to the whole thing. You're just one body in a mass of bodies, and isn't that what life really is about anyway? As an adult with adult struggles and adult worries, the thought that I can escape to spring break for a week is comforting. In fact, I might argue that this kind of letting loose in a controlled environment is even more necessary the older you get. As we start to hit real milestones like buying our apartments, getting engaged, and investing in 401Ks, it's nice to be reminded that life isn't just the mundane details—it can still be really weird and incredibly fun. Yes, Temptation is kinda ridiculous, but life is ridiculous, and sometimes you just have to say, "fuck it, take my top, pass me a blow job shot, and I'll meet you at the sexy pool for the Orgasm Olympics."
Names have been changed to protect the horny.
Celebrity news, beauty, fashion advice, and fascinating features, delivered straight to your inbox!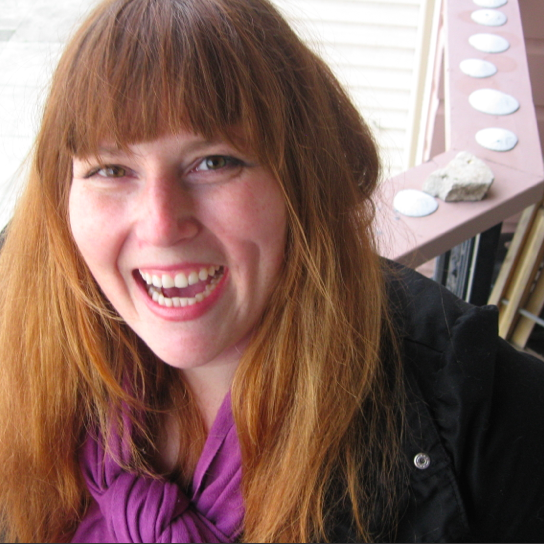 I write on Fox's THE GREAT NORTH. Before that, I wrote and edited for Cosmopolitan magazine and the Jezebel blog. My writing has also appeared in the New York Times, The New Yorker, Esquire, VICE, Marie Claire, McSweeney's, California Sunday, BUST, Elle, Village Voice, Harper's Bazaar, LA Weekly, Eater, Fast Company, Mic, Atlas Obscura, and more. I co-host/co-produce a comedy/storytelling show on the first Friday of every month at Stories in LA. I have a degree in Film and TV from NYU's Tisch School of the Arts.