FDA Recommends Approval of "Female Viagra"
The little pink pill has been a long time coming.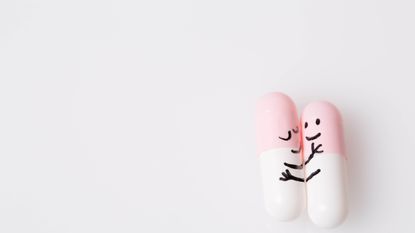 (Image credit: Archives)
This week, a Food and Drug Association panel has recommended approval for an experimental drug intended to boost female sex drive. After previously rejecting the drug twice, the FDA committee voted 18 to 6 in favor of Sprout Pharmaceuticals' daily pill Flibanserin, hailed as "female Viagra." But they stipulated that the manufacturer develop a plan to limit safety risks (which include fatigue, low blood pressure, and fainting spells).
Unlike Viagra, which increases blood flow, Flibanserin changes brain chemistry and was first studied as an antidepressant. But eventually, it was used to help women with low libido. According to Even the Score, one in ten women have hypoactive sexual desire disorder, which is the persistent biological lack of desire. And the FDA reports that 43% of women have some form of sexual dysfunction — which is higher than the number of men (31%).
Many women's groups support the drug's approval. They even started the Even the Score campaign to combat the disparity in how sexual dysfunction drugs are made available. (There are 26 FDA-approved drugs for sexual dysfunction in men but not one for this cause of low libido in women.) Still, there is a coalition led by the National Women's Health Network that opposes it because of the health risks.
But the most compelling arguments for the drug came from the testimony of some of the more than 11,000 women who participated in the clinical trial of the pill.
"I should be able to determine if Flibanserin is worth the benefit of treatment," said Amanda Parrish, who explained she experienced low libido during her second marriage and therefore decided to participate in the trial. She added, "What a relationship-saving eight months that was."