You Can Tell if a Guy's Cheating Just by Looking at Him
According to a shocking new study.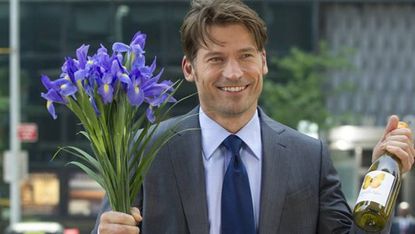 (Image credit: Archives)
At one point or another, we've all wished we had psychic powers so we could know for sure whether or not our partner was cheating on us. Ideally, you trust your partner and red flags would never indicate that might be happening, but sometimes you date someone and some small part of you thinks, Maybe? Now there's a new study to help you out [via PSMag.
Brigham Young University psychologists studied 51 undergraduates (35 women, 16 men) who were in romantic relationships and asked them about their relationships, including whether or not they'd ever cheated.
Then they videotaped conversations between the couples and asked unbiased third parties to watch the videos and decide if one, both, or neither of the members of each couple had ever cheated. Their judgments were shockingly accurate.
Research team leader Nathaniel Lambert said of the study:
"I was personally amazed about what could be surmised about people after watching them on a video for just a few minutes," said Lambert. "First, I couldn't believe how consistent the observers were with each other at independently rating who they thought were cheating on their romantic partner. Second, I was surprised by how often they were right on the mark."
Lambert says it makes sense the ability to sense these things could come from basic evolution, since the ramifications of cheating can vary from financial to physical to emotional, so chances are, you don't need to be a genius to know if he's cheating on you. Just trust your gut, or your friend's gut. According to this study, they're probably right.
Via Cosmopolitan
Image via 20th Century Fox
Lane Moore is an award-winning comedian, actor, writer, and musician based in New York City. Her first book, How To Be Alone: If You Want To And Even If You Don't became a #1 bestseller and was praised as one of the best books of the year by The New York Times, New York Magazine, NPR, Good Morning America, Fast Company, Marie Claire, and many others. Moore also gave a TEDx Talk based on the book, called How To Be Alone. Her comedy show "Tinder Live!" is regarded as one of the best comedy shows in New York City and has been praised by The New York Times, Entertainment Tonight, CBS, Time Out New York, and New York Magazine. She has a monthly sold-out residency in NYC, and also tours rock venues and colleges worldwide. As an actor, Moore plays Kelsey on HBO's Search Party, and has a recurring role on Rooster Teeth's What Do You Know? and had a memorable role on season 5 of HBO's Girls. She also frequently appears on Comedy Central, VH1, MTV, truTV, and IFC shows. As a musician, Moore is the front person and songwriter in the band "It Was Romance." In her time as the the Sex and Relationships Editor at Cosmopolitan, she won a GLAAD award for her groundbreaking work championing diverse, inclusive coverage. Moore also hosts the live streaming comedy show How To Be Alone on Twitch, which she calls "PeeWee's Playhouse for lonely adults."