WORTH IT: The 5 Insanely Good Beauty Products I'm Loving This Week
My real, no-bullshit reviews of new products you'll actually want to buy.
Welcome back to this week's episode of "holy shit—I love these products." (It's a working title.) For first-time visitors, this is the place where, every few weeks, I look at all of the beauty loot that's recently rolled across my desk and choose which of my new favorite babies I love enough to feature in a you-must-try-this-right-now breakdown.
I'm not getting paid any secret money to promote these products—I just genuinely like them. And because I spend most of my days fielding your Instagram DMs asking for product recommendations, I've decided to do the most good for the most people by putting them all in once place (utilitarianism, but make it beauty). So read on to find your new BFFs, and check back in a few weeks for another rousing edition of "WOWZA! GOOD PRODUCTS!" (I'll keep working on it.)
Urban Decay All Nighter Waterproof Setting Powder, $34
WHY I LOVE IT:
It keeps me from looking shiny for approximately 13 hours. I know this because after I haphazardly blended it over my T-zone one morning with a setting brush, I proceeded to trek through 92-degree weather to work, then to an event, and then to the gym, and my face stayed matte all damn day.
Usually, I avoid anything powder-based, since I have horribly dry skin and powders tend to make my face look too matte (read: corpse-like). But this formula is so sheer and lightweight, it blends down to virtually nothing—just invisibility—yet still manages to lock in your makeup so it won't crease or slide throughout the day. No, it won't save your foundation from washing off your face in a monsoon (sorry, but those waterproof claims are more water-resistant), but for a hot-ass day or for anyone with oily skin, this powder will keep your face ON.
IGK First Class Charcoal Detox Dry Shampoo, $27

WHY I LOVE IT:
It exceeds my incredibly high demands. I'm hella picky with my dry shampoos—I expect them to not only de-slick my scalp, but volumize my roots, stay soft and non-sticky, and also never leave even a hint of whiteness on my brunette hair. And those expectations have pretty much never been met, until now. *Cue trumpets sounding*
This little dry shampoo is infused with charcoal, a crazy powerful (and natural!) ingredient that soaks up and eliminates the bacteria, odors, and dirt from the surface of your scalp. About 30 seconds after blasting it on my roots, my hair looks clean. Not just-used-dry-shampoo clean, but just-got-a-blowout clean, with absolutely zero white residue or sticky film. If you never want to wash your hair again, here's your new excuse.
Skinfix Renewing Cream, $45
WHY I LOVE IT:
It's actually helped smooth out my bumpy arms. If you've got keratosis pilaris—i.e. those tiny, rough bumps on the backs of your arms, thighs, and/or cheeks that my grandma fondly calls "chicken skin"—you know how virtually nothing seems to get rid of them.
RELATED STORIES
The fact is there's no cure for KP, unless you find a way to reach into your DNA and change the coding so your body sheds its excess keratin faster. Until that miracle happens, we've just got a bunch of smelly KP creams that do virtually nothing but feel sticky. Trust me—I've tried them all, and I've only found minimal success with a few formulas. But this tub of thick cream absorbs surprisingly fast—my skin stayed tacky for only 15 minutes after I massaged it in—and, after using it nightly for a week, noticeably smoothed some of my bumps and reduced a bit of the redness.
The magic is in the formula: It's loaded with 5 percent AHAs (alpha hydroxy acids), like willowbark extract, glycolic acid, and citric acids, that dissolve keratin bonds to essentially "unclog" the follicle and reduce inflammation, along with aloe juice and four different oils (coconut, jojoba, sweet almond, and grape seed) to keep skin smooth and moisturized. Make sure to apply it consistently to keep your bumps at bay.
Touch In Sol No Poreblem Priming Eraser, $14
WHY I LOVE IT:
It quite literally erases all of your mistakes. You know those days (i.e. every single day) when you wriggle on your mascara and accidentally get some on your eyelid? Or when your concealer, for whatever reason, looks a little patchy around your nose, or sinks into the fine lines around your eyes? This blur stick fixes all of that.
The dual-ended stick has a powder-like primer on one end, and a soft sponge on the other end. Instead of trying to smudge the makeup with your finger, just lightly rub the primer over your crease-y and patchy areas, then dab and blend the makeup back into place (or erase it from your face). The silicone-filled formula also keeps skin smooth and matte, so you won't have any weird shiny spots after using it. I actually keep this in my purse for when I catch my reflection in bathroom mirrors and go, eghhh.
5. Too Faced Natural Eyes Eyeshadow Palette
Too Faced Natural Eyes Eyeshadow Palette, $38
WHY I LOVE IT:
I actually look forward to using every single shade in this palette. Here's the reality: Most eyeshadow palettes have about two shades that are almost empty and 12 shades that have been used exactly once, that one time, for that bachelorette party, maybe. But this nine-shadow palette is filled with a mix of shades and finishes you can actually wear on a daily basis, like four neutral mattes (in cream, beige, mauve, and brown), and six subtle shimmers (in rose, champagne, bronze, charcoal, gold, and espresso).
And, unlike some shadows that are all shimmer and no color, each of these powders is perfectly opaque and blendable, making it easy to layer on a look as light—or as dark—as you want. And, tbh, the packaging is seriously gorgeous—my co-worker audibly gasped, "Oh, wow," when I held it up. So if we're judging palettes by their cover, this one is a winner.
RELATED STORY
Marie Claire email subscribers get intel on fashion and beauty trends, hot-off-the-press celebrity news, and more. Sign up here.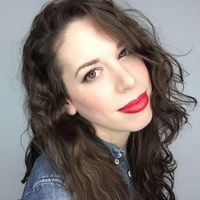 Chloe Metzger is the deputy beauty director at Cosmopolitan, overseeing the editorial content and growth strategy of the hair, makeup, and skin space on digital, while also obsessively writing about the best hair products for every hair type (curly girl here; whattup), and the skincare routines that really, truly work (follow her on Instagram to see behind-the-scenes pics of that magazine life). She brings nearly a decade of writing and editing expertise, and her work has appeared in Allure, Health, Fitness, Marie Claire, StyleCaster, and Parents. She also has an unhealthy adoration for Tom Hanks and would like to please meet him one day, if you could arrange that. Thanks.