Hidden Rainbow Roots: The Latest Hair Color Trend to Lose Your Mind Over
Peek-a-blue (and pink, and orange, and red, and yellow)!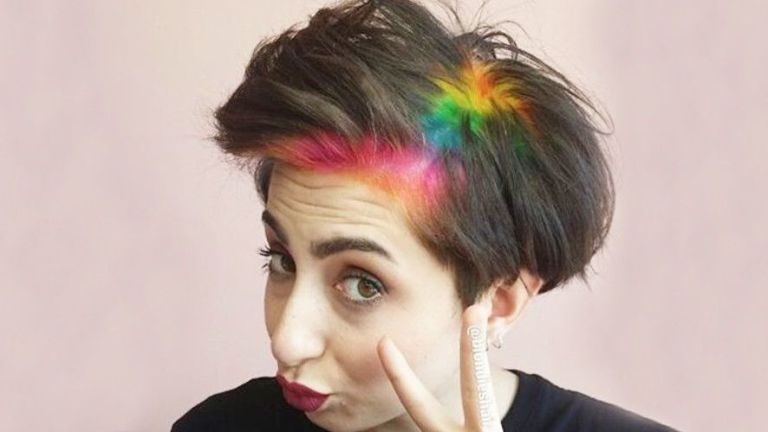 (Image credit: Instagram)
Last year it was all about glitter roots. But so far this year, everyone's been freaking out over geode hair and, most recently, unicorn-approved hidden rainbow roots—brought to you by the innovative Aussies at the Blondies of Melbourne salon.
Thanks to Instagram, you can see exactly how this look was executed, but allow me to walk you through it:
1. Get a brave volunteer to be your hair model (or take the plunge yourself!) and bleach only his/her/your roots:
2. Lay out your rainbow hair color for all to see—and photograph! The babes at Blondies of Melbourne use Pravana, but you can also use Manic Panic if you're not ready to commit long-term:
3. Apply the color in a rainbow-like fashion; leave it on for 30 minutes:
4. Rinse away the excess product using "cold water to avoid color bleeding," says salon owner Karen Lewis. Hot water also opens the cuticle, AKA your hair's outermost layer, allowing the color to wash out quicker, so cold water it is!:
5. Reveal your rainbow roots to the world!
6. Don't want to hide your rainbow roots? (who does?!), show them off with fun braids:
Tune in tomorrow to find out what the next daring tress trend is—because I'm sure there will be one!
Follow Marie Claire on Facebook for the latest celeb news, beauty tips, fascinating reads, livestream video, and more.
Carly Cardellino was the beauty director at Cosmopolitan. If you follow her Instagram, then you know she'll try just about any beauty trend or treatment once (the pics of her purple hair are on IG to prove it). But her favorite part about being in beauty is finding the most effective products, and then sharing that intel with others—because who wants to spend money on stuff that doesn't work? No one, that's who. Her most recent discovery: De La Cruz Sulfur Ointment, which will change your blemish-clearing game! Hopefully through the beauty stories she writes—and the experiences she shares—you can see exactly why she's in this business.