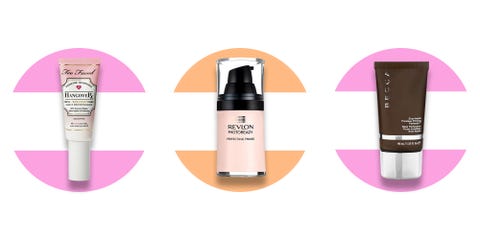 Courtesy of Brands/Design by American Artist
Hey, hi, you need primer. Right now. No, this isn't a ploy to get you to buy another overhyped and underwhelming beauty product—it's an intervention from a concerned beauty editor who is determined to save your face from melting, your eyeliner from smudging, and your concealer from creasing by the end of the day. Basically, primer is your bestie, and you're neglecting it.
Of course, not all primers are created equal, and many are actually kind of terrible. But not the five superstars ahead, which are universally acknowledged to be the cult favorites of the beauty industry, and for very, very good reason. So keep reading to find your new number one, and promise me you'll remember the little people when you feel like a rockstar.
1
Becca Ever-Matte Poreless Priming Perfector
If you've got oily or combination skin, please take a knee for this truly magical cult-favorite. The thick—it squeezes out like spackle, but actually feels like nothing on your skin when it dries—primer actually makes pore look a bit smaller, but more importantly, it really, truly, keeps oily skin completely matte, even in hot-as-hell weather.
Becca Ever-Matte Poreless Priming Perfector, $36
2
Hourglass Veil Mineral Primer
Though this one can leave a bit of a white cast (which can easily be buffed out), the mineral-base formula is super gentle on sensitive skin, and has a tiny bit of zinc oxide that helps repel water and soothe skin. Don't be fooled by the SPF 15, though—you'll still need a sunscreen of at least 35 every morning.
Hourglass Veil Mineral Primer, $19
3
Revlon PhotoReady Perfecting Primer
You know that really pretty Instagram filter that gives your skin a bright, ethereal, lit-from-within glow? Yeah, meet the real-life equivalent of that. This lightweight primer is formulated with super-subtle—like, you won't even notice them—iridescent ingredients that reflect light off your skin for a diffused finish. So by the time you finish your makeup routine, you'll look like you have a natural, Instagram-level glow.
Revlon PhotoReady Perfecting Primer, $10

4
Monistat Chafing Relief Powder Gel
No, this isn't a mistake—this beauty editor (and more than 1,000 five-star reviews on Amazon) swears by this cheap dupe as a daily primer. Unlike some primers that are filled with a bunch of 16-letter-long ingredients and sparkles, this powder-soft gel is formulated with only the good stuff (i.e. silicones), helping your makeup stay totally matte and budge-proof, all day.
Monistat Chafing Relief Powder Gel, $9
5
Too Faced Hangover Replenishing Face Primer
Most primers have at least a tiny bit of alcohol in them to help them feel lighter and matter on your skin, which means they can also be somewhat irritating and drying to the super-sensitive or dry-skinned. But this water-based face primer is infused with coconut water, so it seriously hydrates skin as soon as you slather it on.
Too Faced Hangover Replenishing Face Primer, $25