Editors handpick every product that we feature. We may earn commission from the links on this page.
Tested and Approved: The 5 Best Contour Kits for Total Newbies
So ridiculously easy, it almost feels like cheating.
Contouring gets a rap for being way harder than it actually is, and we're not sure why, though we have a feeling it starts and ends with the Kardashians. Hey, zero shade, because the Kardashians-slash-Jenners are the actual queens of contouring, but they've also accidentally endorsed the idea that contouring and highlighting requires 12 different creams, a dozen brushes, and an MFA in painting.
But trust us when we say that contouring really, truly doesn't need to be that hard, or even slightly difficult. Because as long as you stick with powder formulas, and get a kit that matches your skin tone, you can subtly contour your face in less than three minutes. (Seriously—we timed it this morning). And to help you move forward in your makeup game, check out our thoroughly vetted, picked-and-approved list of the very best beginner contour kits, below.
1
For Medium-to-Dark Skin Tones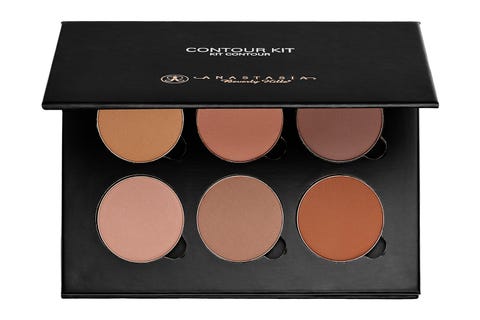 Smashbox Step-By-Step Contour Kit in Medium/Dark, $35
This mirrored kit (which also comes with an angled contour brush) houses three super-blendable and super-matte powders with deep-red undertones that add warmth and depth to darker skin tones, without looking ashy. Plus, the mirror comes equipped with a little cheat-sheet illustration, so you know exactly where and how to apply each of the shades to your face.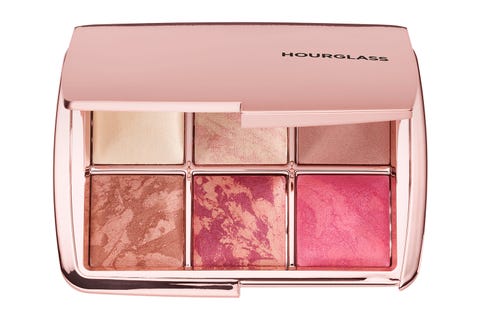 Hourglass Ambient Lighting Edit Volume 3, $80
Each of these best-selling baked powders is packed with iridescent pigments that somehow (maybe magic?) never look sparkly or glittery on your skin, but instead leave your face looking lit from within, as if skin were being fueled by tea lights. And, because they're so sheer, they're foolproof on virtually all skin tones.
Swirl the champagne-hued tan over your face to warm up pale skin, sweep the marbled bronze under your cheekbones and around the edges of your forehead for a subtle contour, and blend the rosy peach (for lighter skin) or the burgundy (for darker skin) blush over the apples of your cheeks and eyelids for a soft, natural-looking flush.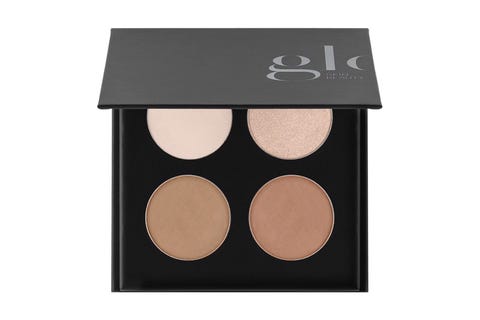 Glo Skin Beauty Contour Kit in Fair, $38
Unlike most contour powders that have dark, terra cotta-red undertones, the two bronzing powders in this palette are a cool taupe and a warm brown, which look most natural on porcelain, Casper-level skin types. Swipe the taupe from your ear to the middle of your cheek, slightly overlapping the cheekbone, then blend the warm brown on top of it, starting at your ear, but extending it to the apple of your cheek this time, swirling in tiny circles to really blend out.
4
For the Absolute Bare Minimum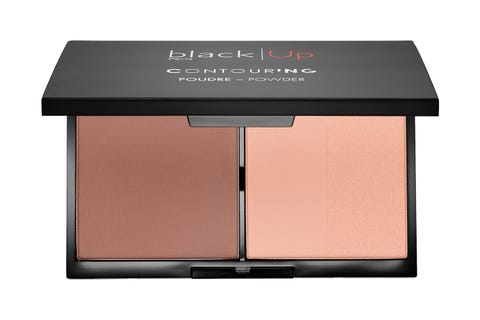 Black Up Contour Powder, $45
If you look closely, this two-pan kit (which comes in six light-to-dark skin-tone ranges) actually houses three shades: One matte contour color on the left, and then two highlighting shades—one matte, and the other iridescent—on the right. Lightly swirl the contour color under your cheekbones, around your temples and hairline, down the sides of your nose, and just beneath your jaw bone for a softly sculpted look, then blend the shimmery (or matte) (or both!) highlighter over your cheekbones, brow bones, and Cupid's bow. It's really that easy.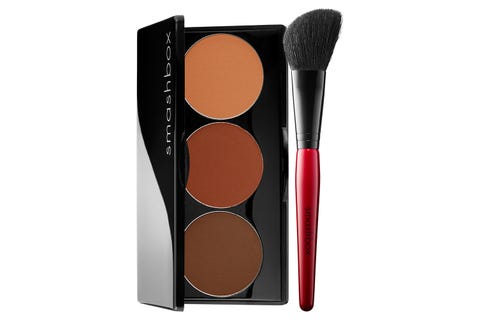 Anastasia Beverly Hills Powder Contour Kit in Deep, $40
Alright, we know—this powder looks insanely milky, ashy, and way too light for deep skin tones, but we're blaming bad photography here, because dark-skinned women swear by this palette, heralding it online as one of the only powder kits that has worked for their deep skin. Not that the competition was that hard, though, seeing as this palette is pretty much the only contour kit on the market that even slightly works for super-deep skin tones.
This content is created and maintained by a third party, and imported onto this page to help users provide their email addresses. You may be able to find more information about this and similar content at piano.io