The 5 Most Inspiring Hair and Makeup Looks from Spring 2014 Fashion Month
Click through to discover which hair and makeup looks will be appearing on our inspiration board.
There were natural looks a-plenty in New York and Milan, but Paris pulled out the stops with jewels, hair accessories, and actual gold lids. Check out the five most inspiring shows below.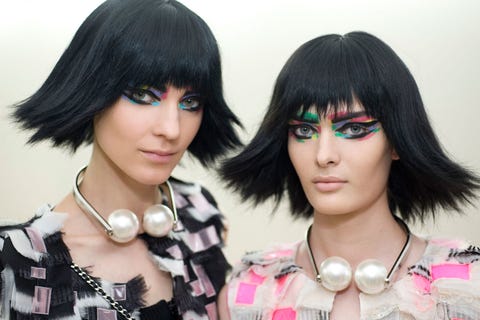 Chanel Spring/Summer 2014
In fitting with Karl Lagerfeld's art gallery set (there was a giant 2.55 bag!), models strutted the catwalk with paint-streaked covered eyes. Makeup artist Peter Philips used Chanel eye shadow and a flat brush to achieve the look, and we imagine Van Gogh himself would approve!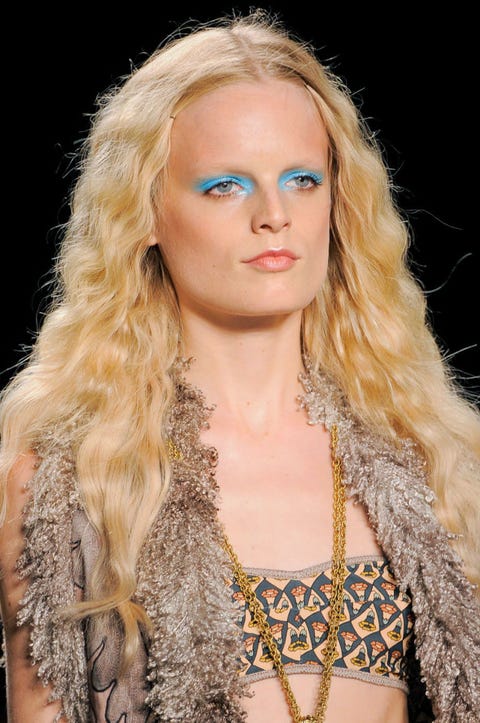 Anna Sui Spring/Summer 2014
While New York took a more sedated road in the beauty realm (there were more 'natural' looks then we could keep count!), we were pleasantly surprised when we spotted the look at Anna Sui. Blue eye shadow has been having a moment for the past few seasons, and we loved the azure shade that was pushed into the inner corners of the eye. Add some beauty waves and we've got a new summer look to try.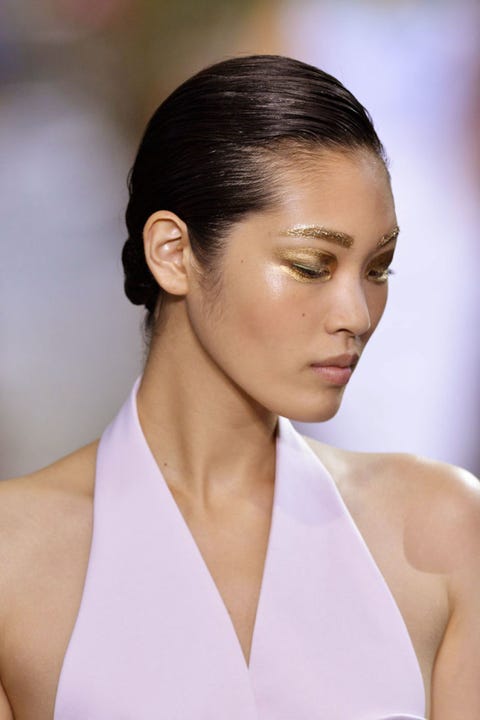 Christian Dior Spring/Summer 2014
Makeup artist Pat McGrath never fails to inspire at Christian Dior. Since new designer Raf Simons took the reins as head designer of the house, his models have sported hot pink neon lipstick, plastic eyelash extensions, and metallic silver eyeshadow. For spring/summer 2014, McGrath stayed in the metallic realm, this time turning to gold. Models sported gold covered brows, and both the lid and lower lash line contained a thick coverage of shimmering gold shine.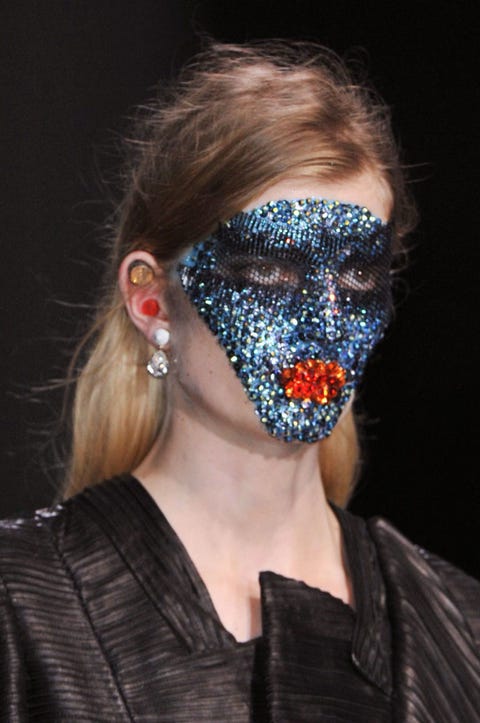 Givenchy Spring/Summer 2014
There are only two words to describe the look at Givenchy: Blown away. Although we won't be rocking a bejeweled face mask anytime soon, the craftsmanship and artistry delivered by one of our favorite brands was a site to behold, and was a great reminder to put just a little more time and effort into our everyday look.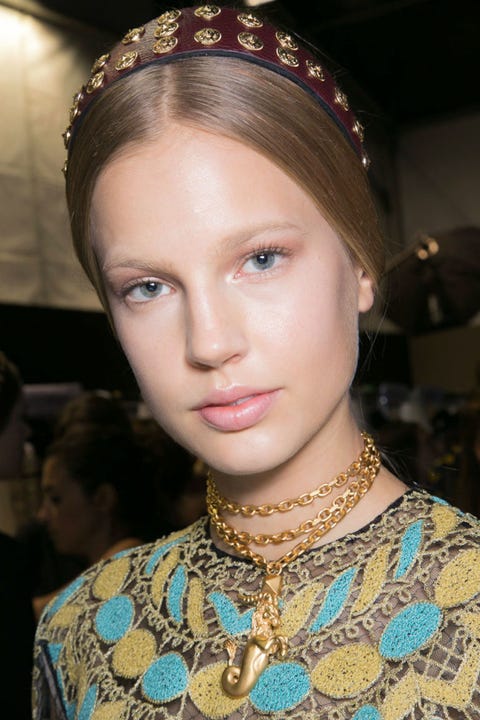 Valentino Spring/Summer 2014
Sigh. Each season, we wait with bated breath to see what Guido Palau (on hair), and Pat McGrath (master of makeup), will create. Purity and braids have become house signatures for the beauty look at Valentino, and this season was no different (although the braid was replaced with the headband). From flawless skin to the perfect low ponytail, we can't wait to try this look ourselves.
This content is created and maintained by a third party, and imported onto this page to help users provide their email addresses. You may be able to find more information about this and similar content at piano.io