You Can Buy Great Hair
Who says you're stuck with the hair you have? It's easy to change your lock look with these hi-tech products, at-home tricks and salon services. Get the look you've been waiting for.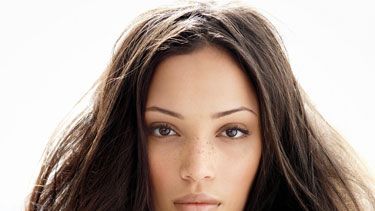 (Image credit: Robert Chizzola)
Who says you're stuck with the hair you have? It's easy to change your lock look with these hi-tech products, at-home tricks and salon services. From getting curls to having volume to achieving shine to making it straight, you can get the look you have been waiting for.
GET STRAIGHT
At the salon:
The Cut: An all-one-length blunt cut is a great style if you want sleek hair, no matter how long your hair is. The fewer layers you have the straighter your hair will be, and the neater your ends the nicer it will look.
Chemical Solutions: Straightening treatments are not as damaging as they used to be, says Cody Kusakabe, styling director of the Gavert Atelier salon in Beverly Hills. This means you can get your hair chemically straightened if you also color it. Also, it's not as expensive as you think, because more salons are offering this treatment than ever before. "It shouldn't cost more to straighten your hair than to highlight it," says Kusakabe. And like highlights, straightening treatments should be refreshed every three to four months (or when curl begins to come back). Cost: $75-$300.
Blow-Outs: Why does having your hair blown out by a professional stylist look so much better than when you do it on your own? "We dry the hair from a good distance above it, which is impossible to do on your own," says Sabag. "And we can see to style the back of your head, which is hard even with a mirror." Cost: $15-$75.
At home:
Styling techniques: If you are going to dry your hair straight on your own, you'll get the best results if you start with wet, not damp, hair and blow it until it's completely dry. "The more heat you use, the straighter it will get," says Sabag. Always dry your hair from the roots to the ends with a round or paddle brush and a dryer with at least 1500 watts, and don't use too much hairspray. Even straight hair should have movement. Tip: Straightening gels and creams make hair more manageable and add thickness to fine hair. Apply a small amount to wet hair if your hair is thin, more if it's thick or wavy. Try: Dep Straightening Cream, $2.99, Philip B. Drop Dead Straight Hair Straightening Baume, $17.
GET CURLS
At the salon:

The Cut:
If you have wavy hair that you'd like to wear curly, the right cut can help, says Lorraine Massey, co-owner of New York City's Devachan Salon. "The key is to trim the ends beneath waves that form on damp hair, not create lots of layers." For many women, curls happen at the ends, and cutting them off also cuts off the curl.
Chemical Solutions: Like straightening treatments, perms are not as hard on the hair as they once were, and like color, perms come in different "strengths." "There are acid waves, which last eight weeks; conventional waves, the longest-lasting perms; and buffered conventional waves, which are long lasting yet gentle," says Eric Fisher, owner of the Eric Fisher Salon in Wichita, Kansas. The way perms are set has also changed. In addition to rods, stylists use flexible rollers and fabric. Cost: $75-$200.
At home:
Styling Techniques: Stop washing your hair every day, says Massey. When you do wash, use your fingertips to apply shampoo to your scalp and apply conditioner to your ends only. Let your hair dry naturally, then fluff with your fingers. Simon Sabag, a stylist at New York City's Daniel Salon, suggests using tissue paper squares as rollers. To do: Take a 6-inch square piece of tissue paper, twist it in the middle, wrap damp hair (from ends to roots) around the middle and tie ends together.
Chemical Solutions: Home perms are also more gentle than they used to be. But, says Massey, rather than using the small rods that come in most home-perming kits, use large plastic rollers from a drugstore. They're easy to work with and keep the perm from looking too tight. Try: Ogilvie Precisely Right Salon Perm Formula, $6.99.
GET VOLUME
At the salon:
The Cut: "Layers are one of the best ways to add body to your hair," says Fisher. "If your hair is chin-length or longer and you want to add moderate volume, ask for graduated layers that frame the face. To add more volume to hair of practically any length, have your stylist cut short layers beneath long layers. They support the long layers and give the hair incredible lift."
Chemical Solutions: "Root perms, whereby only the three or four inches of hair closest to the scalp is permed (and the rest of the hair is not), are great for adding volume to longer hair," says Fisher. Be warned: They are not easy to grow out. "If a client decides after eight weeks or so that she doesn't want another root perm, I suggest a straightening treatment to get rid of any waves or kinks." Cost: $75-$150.
Hair Color: "Color expands the molecules in the hair, which creates fullness," says Fisher. "The lighter the color, the more you'll see." Cost: $50-$300.
At home:
Styling Techniques: Flipping your head over and blowing your hair dry while brushing it with a vent brush is one of the easiest ways to add body. "Drying roots in the opposite direction of the way they grow creates volume that lasts," says Fisher.
A Trick from Massey: When hair is damp, take two to four one-inch sections surrounding your part and use a bobby pin as close as you can get to the scalp to prop up each section. Let the hair dry, then remove. Tip: Apply a spray gel or mousse to damp hair before styling. Try: Pantene Pro-V Healthy Spray Gel, $3.19, Clairol Daily Defense Spray Gel, $2.99, L'Oréal tec ni lift, $11.95.
GET SHINE
At the salon:

Scalp Treatment: Repairing damage is the way to boost shine. Scalp treatments, which use massage to increase circulation in the scalp and natural oils to coat the hair shaft and make hair softer, are effective and relaxing. Have one once a season, or when hair looks like it needs more help than you can give it. Cost: $25-$75.
Chemical Solutions: If you get your hair colored, have a gloss treatment immediately afterward. "These help coat the hair and seal in color," says Fisher. Gloss treatments, which last for about four to six weeks, can also be used on women who want shine, but not color. Cost: $0-$75. (Some salons don't charge if you color your hair.)
At home:
Do-It-Yourself Scalp Treatment: Philip B., a New York City- and L.A.-based stylist known for his heavenly scalp massage (and fabulous botanical products), offers these tips for giving yourself one at home. Before you get in the shower, apply a handful of hair oil to unwashed hair. Starting at the nape of the neck and working your way toward your forehead, massage your scalp with your fingertips. Next, also using your fingertips, gently lift the skin of your scalp and slowly release. Then, let the oil soak for about 20 minutes and wash out with shampoo.