The New Fall Hair Accessory: The Hair Cuff
Class up your ponytail with fall's must-have accessory: the hair cuff.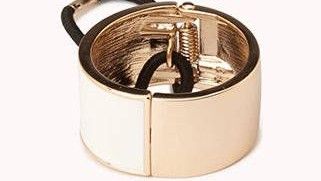 (Image credit: Marie Claire)
With fall and winter fast approaching, one thing is inevitable: more bad hair days are on the way. Thankfully, you can easily mask frizzy, messy, or completely out-of-control tresses in seconds with the season's hottest hair accessory: the hair cuff. Sweep hair into a low ponytail, secure with a hairband, and clasp on a cuff—it's that simple.
If you saw Jason Wu's S/S '13 show, then you inevitably had your eye on his models' polished ponytails adorned with Sylvain Le Hen's barrettes. Although Le Hen's hairpieces are classic enough to remain in style for years to come, we've also rounded up a few options that are a bit more budget-friendly. Now, go show some cuff love.
Sylvain Le Hen Ponytail Barrette, Gold, $64.00; shopanaise.com
'Atelier' Enamel Cuff Ponytail Holder, $22.00; nordstrom.com
Lacquered Cuff Hair Elastic, $6.80; forever21.com
Hair Clip, $4.95; hm.com