We Present to You: The Best Shampoo for Your Exact Hair Type
Prepare to have a life of really excellent hair days.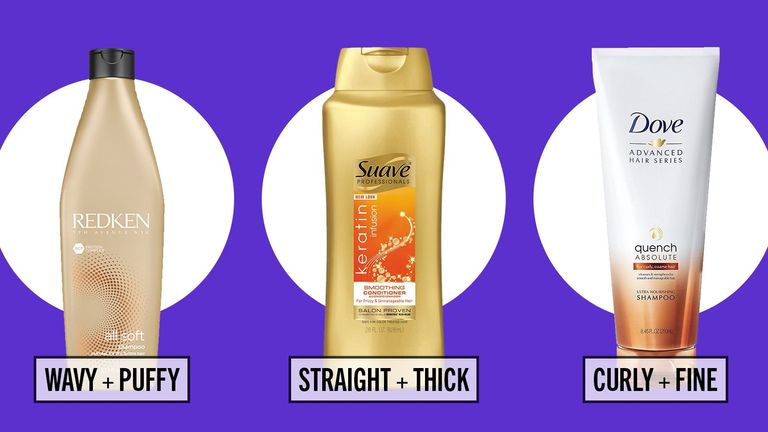 (Image credit: Future)
If your hair has ever looked weirdly greasy and lank, or stiff and bone-dry after showering, you know that the type of shampoo you use actually matters. Sure, maybe 20 years ago, you would have had to just deal with constant bad hair days, but now that women are become increasingly accepting of their natural hair, brands are finally developing shampoo formulations specifically designed for an array of types and textures.
Of course, that now means you also have a billion options to choose from, making the simple process of picking a shampoo unnecessarily confusing. So to cut through the crowd, we selected the very best, top-rated, cult-favorite shampoos for hair that's kinky, curly, fine, flat, wavy, poofy, and more. Check 'em out, ahead.
If it's straight, fine, and flat…
Sad fact: Most "volumizing" shampoos are kind of bullshit, since their root-boosting ingredients spend more time in the drain than they do on your hair. But this protein- and panthenol-infused formula actually increases the diameter of each hair strand, leaving it looking visibly fuller.
Nexxus Diametress Luscious Volumizing Shampoo, $12
BUY IT: amazon.com.
If it's straight and thick…
Ah, the plight of the thick and puffy straight hair—easily weighed down, yet easily dry and frizz-prone. The key, here, is looking for lightweight formulas infused with a mix of keratin and glyercin, like this drugstore cult-favorite, to smooth frizz and add shine.
Suave Keratin Infusion Smoothing Shampoo, $3
BUY IT: target.com.
If it's wavy and flat…
Congrats! You basically have the wavy hair of beach-lovers' dreams. At least, you could, if you use the correct products in the shower, like a texture-enhancing shampoo that dissolves buildup and oil while amping up fine, flat waves.
Bumble and Bumble Surf Foam Wash Shampoo, $25
BUY IT: sephora.com.
If it's wavy and puffy…
Working with your coarse, wavy hair does not mean beating it into submission with heavy oils or straightening formulas. Instead, pick an ultra-moisturizing shampoo, like this one, which is filled with argan oil to smooth fluff and soy protein to add softness and strength.
Redken All Soft Shampoo, $29
BUY IT: amazon.com.
If it's curly and fine…
Even if your curls fall flat at the mere thought of "oil," using a shampoo that's not moisturizing enough will leave them frizzy, undefined, and tangled. Keep them smooth and bouncy with a lightweight moisturizing shampoo, like this one from Dove, which, despite its "coarse hair" label, is actually surprisingly lightweight and volumizing.
Dove Advanced Hair Series Quench Absolute Therapy, $3.99
BUY IT: amazon.com.
If it's curly, thick, and coarse…
Co-washes (AKA cleansing conditioners) are not created equal, and a too-heavy formula can leave your curls weighed down, oily, and sad. Luckily, this co-wash is filled with lightweight moisturizers, like jojoba oil and grape seed oil, to gently hydrate coarse strands while keeping them springy and shiny.
Kenra Professional Curl Co-Wash, $24
BUY IT: amazon.com.
If it's kinky and fine…
Most co-washes for tightly coiled hair are loaded with thick oils and rich moisturizers, but this grape seed oil-based cleansing conditioner stays lightweight and hydrating, making it perfect for fine, type-four curls.
DevaCurl No-Poo Decadence, $25
BUY IT: amazon.com.
If it's kinky and coarse…
Your curls called, and they want their moisture back. If your coils are super-tight and prone to shrinkage, cleanse them with an oil-infused co-wash, like this olive oil formula from Palmer's, which coats and penetrates each strand to keep them from drying out.
Palmer's Co-Wash Cleansing Conditioner, $9.50
BUY IT: amazon.com.