This Makeup Artist Made Her Mom Look 10 Years Younger and Reddit Is Obsessed
Her post has 23,000 upvotes and 332 comments on Reddit.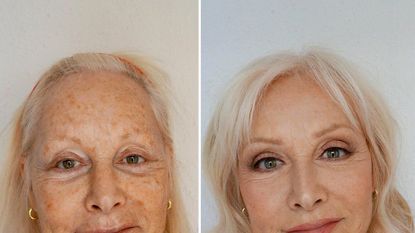 (Image credit: Callista Lorian)
In a world of social media beauty gurus and influencers, it can feel like everyone in the world has flawless skin and Kardashian-level makeup skills. But while some women can contour, highlight, and draw a fierce cat-eye like it's second nature, the rest of us are still trying to figure out our proper foundation shade and how to do a smoky eye without looking like a vampire.
This difficulty only becomes amplified as you grow older. Instead of acne, maybe you're dealing with wrinkles, dark circles, and saggy skin, and you aren't sure how to apply makeup that enhances your face without looking overdone. It doesn't help that makeup brands tend to market their products with models in their teens, 20s, and 30s, so it might be harder to picture yourself wearing that highlighter or blush if you're older than the target age range.
One makeup artist, Callista Lorian, posted a series of photos on Reddit illustrating an important point: there's absolutely no age limit on makeup. In a post that has almost 23,000 upvotes and 332 comments, Lorian shared before-and-after photos of a makeover she did on her own mom, and the results are absolutely stunning.
It's no wonder the transformation is currently the top voted post of all time in r/MakeupAddiction, a community of almost a million subscribers. Members of all ages wrote that they felt inspired by Lorian's soft, youthful makeup look.
"Probably my favourite post I've seen on this sub. This literally makes me excited to wear makeup as an older woman," wrote one commenter.
"Can we get a tutorial? I would love to be able to do this for my mom and grandma. Your mom looks so fresh and lovely!" asked another.
Lorian wrote that her mother is usually not one to switch up her makeup routine, but ended up loving the results. "She's basically been doing more or less the same thing since the 70s," she wrote in a comment. "Usually she wears just a tinted spf, a dab of concealer, some green mascara and maybe green eyeliner (I've been trying to get her to change up her green mascara the whole of my adult life!) and a very pink toned lipstick, all of which didn't flatter her that well in my opinion... She loved the end result and keeps asking me to show her how to recreate it."
This isn't the only time Lorian has stunned the internet with her makeup magic. A few months later, she shared more before-and-after photos of a client in her 40s who literally looks 10 years younger afterward.
How to achieve this age-defying look
Lucky for us all, Lorian detailed the full list of products she used in the comments of each post. And if you're feeling inspired to dive back into your own makeup drawer, she also included her best tips for applying makeup if you have wrinkles and other totally normal signs of aging that you want to emphasize less. Here are some key takeaways from her two posts:
Always use a primer
Using a primer will make the application of your makeup smoother and help it stay put longer, she wrote. Lorian also used plenty of moisturizer and strobe cream to help even out her mom's overall skin tone as well as hydrate.
Use a color corrector on dark circles
Color correcting is a beauty technique where you use specific hues to conceal blemishes and other imperfections on your face. The idea is that colors opposite each other on the color wheel will cancel each other out—so if you have excessive redness, you can cancel it out with green. The same trick applies to dark under-eye circles. For light to medium Caucasian skin, Lorian recommends applying a peach-toned concealer to dark circles. For darker skin tones, she prefers an orange-toned concealer, and for olive skin tones, she leans toward pink-toned concealer.
Step away from the mirror to assess
A good way to judge whether you actually need more under-eye coverage is to move a few steps back from your mirror, Lorian wrote. "I'll sometimes get the client to tilt their chin down so I can see where the shadows are falling. Once I'm happy, I'll set it pretty quickly with translucent powder to prevent the product from creasing or shifting around," she said. She doesn't believe in "baking" makeup, which refers to letting translucent powder sit on your face for five to 10 minutes before dusting off. "I would avoid it like the plague for more mature skin. I think the trick is just setting quickly and pushing the powder in with a fluffy brush."
Use a light hand with foundation and powder
"I am not a fan of using foundation for coverage in any makeup," she wrote. While it may take longer, she prefers to conceal and color-correct any specific spots that need it while leaving most of the skin with light coverage. "Also, powder really sparingly with a small brush and try to avoid powdering over wrinkled areas at all... Anything too thick doesn't sit well in wrinkles."
Focus on what needs the most attention
Don't add blush or eyeshadow just because you think that's what you're supposed to do; instead, make tweaks to areas that actually need it. "For my mum, that was evening out her skin tone, defining her lips and sparse brows, and making her eyes the main event," Lorian wrote. "Don't just go through the motions of what makeup should be."
Don't neglect the brows
Brows have been making a major comeback over the past few years, and for good reason: filling in your brows can instantly elevate your look to be more striking and youthful. The trick is layering different products with different color tones and intensities to achieve a more natural, feathery look, she explained.
"I always start by brushing the hairs upwards with a clean spoolie brush," she wrote. "Once I'm happy with the overall shape of the base layer, I'll go in with a darker pencil and very lightly flick in hair strokes to create dimension. You don't ever want it to get to a point where the color looks too solid," she adds. She finishes off with a brow build and a clear brow gel to hold everything in place.
Embrace your freckles
If you're getting Meghan Markle vibes from that second transformation, you're not alone. "I played up to her natural freckles as she mentioned how much she loved Meghan Markle's wedding makeup and wanted to emulate that," Lorian wrote. She used Freck, a product for adding natural-looking freckles, to "enhance and bring back what was already there after the base was applied" rather than create new freckles.
At the end of the day, makeup isn't about trying to look like someone you're not, or even to look younger than you are. Makeup has always been about enhancing your natural beauty in a way that makes you feel youthful, radiant, and confident in your own skin, whether you're 17 or 70. With these life-changing tips in hand, there might just be hope for the rest of us beauty amateurs after all.
For more stories like this, including celebrity news, beauty and fashion advice, savvy political commentary, and fascinating features, sign up for the Marie Claire newsletter
RELATED STORIES
Exclusive: Glossier Just Expanded Their Shade Range, and It's a Huge Deal
RELATED STORIES
Kim Kardashian Got a Retro Hair Makeover With Short Blunt Bangs
RELATED STORIES
The 15 Best Hair Growth Oils for All Textures
Celebrity news, beauty, fashion advice, and fascinating features, delivered straight to your inbox!
Jenae is the editorial assistant for Prevention.com, where she regularly covers nutrition, beauty, celebrity workouts, and health trends. Previously, she was an intern at ELLE and CountryLiving.com and a web producer for O, the Oprah Magazine. When she's not writing about health and wellness, Jenae is either playing video games or reading tweets about The Bachelor.