Beauty How-To: Shailene Woodley's Cover Look
How get Shailene Woodley's April cover look.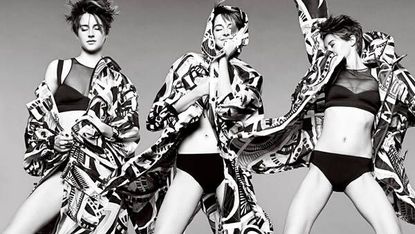 (Image credit: Jan Welters)
1. Hair: After refreshing Woodley's recently chopped locks with a quick trim, hairstylist Keith Carpenter misted her 'do with seawater he collected on a trip to Turks and Caicos for a lived-in texture with natural hold. "Shailene's soft features and outgoing personality allow her to pull off an unexpected look," he says.
2. "When I saw Shailene's short new cut, I was inspired by model and musician Leslie Winer." —Hairstylist Keith Carpenter
3. Makeup: For a "sporty chic" feeling, makeup artist Christian McCulloch kept Woodley's skin almost bare and emphasized her brows with a brown pencil. He brightened her eyes by lining them with a nude pencil, then curled the lashes and brushed on black mascara. Natural hues made for effortless glamour.
4. Nails: To complement the bold, graphic fashion looks, manicurist Casey Herman painted on two coats of dark-blue polish. "The nail color conveys a little edge but is still totally wearable," she says. Navy Seal blue polish added a modern twist.
5. Special Touch: Products on the set of the cover shoot.