Editors handpick every product that we feature. We may earn commission from the links on this page.
The New Fountain of Youth
Wrinkles are so 2012. The worldwide antiaging market is now focusing on brighter, more even-toned skin as the fountain of youth.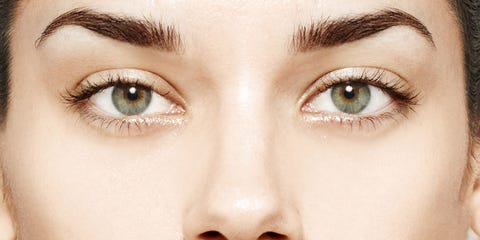 Wrinkles are so 2012. The worldwide antiaging market is now focusing on brighter, more even-toned skin as the fountain of youth.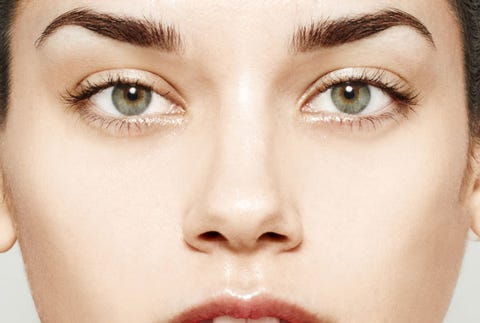 Everything Is Illuminated
"The wrinkle thing has been beaten to death," says Dr. Zoe Draelos, a dermatologist and vice president of the American Academy of Dermatology (AAD). "In the U.S., we've been late to the party, but in Asia, the quest for clear skin has been going on for a while," agrees Los Angeles–based dermatologist Dr. Ava Shamban. Not all cultures take the pursuit of complexion perfection as gospel, but there's one thing on which we now agree: A youthful complexion isn't just smooth; it's also even-toned, which is the skin characteristic we most covet, according to recent Procter & Gamble research.
When we're young, specialized cells called melanocytes pump out a steady flow of pigment that reaches the skin's surface, supplying an even tone. With age, melanocytes decrease, and the ones left over tend to cluster, so pigment is spread less evenly. What's a woman in search of radiance to do? "You have to use topical products that help block melanin production to brighten," explains cosmetic chemist N'kita Wilson. Fortunately, enlightenment comes in many forms — and from many places.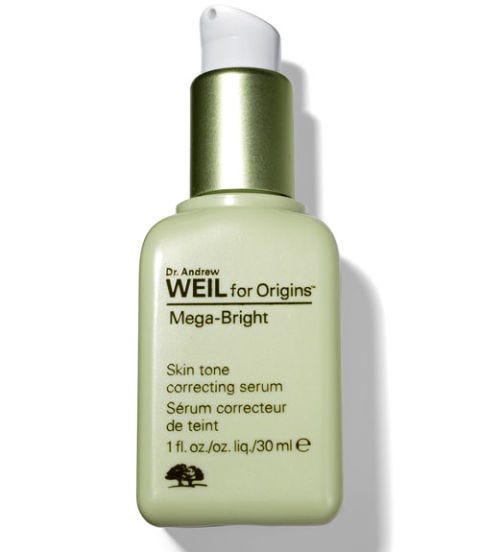 "Jeffrey Westbrook/Studio D."
China
An Eastern-medicine fan, holistic healer Dr. Andrew Weil discovered the magic weapon against a blotchy complexion. The Dr. Andrew Weil for Origins Mega-Bright Skin Tone Correcting Serum contains rosa roxburghii complex, an antioxidant-rich white rose found in China. "The extract helps protect against the internal and external stressors that cause skin discoloration," explains Lizz Starr, executive director of global product development for Origins. And it becomes even more powerful when mixed with licorice root, a natural ingredient that aids in inhibiting melanin production.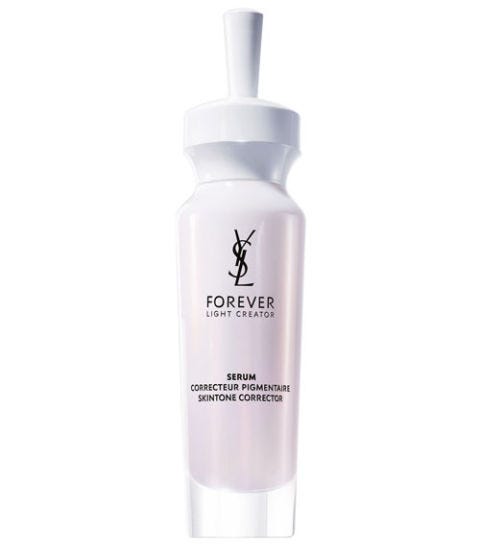 France
Where else but France, the birthplace of macarons and éclairs, would sugar be the secret to gorgeous skin? Glycans, sugar structures found on the surface of cells, help prevent dark spots from forming at the skin's surface, explains Bruno A. Bernard, L'Oréal Paris' research fellow and head of the Yves Saint Laurent Skinscience committee in Paris. The ingredient is at the core of YSL's new Forever Light Creator, which also incorporates a vitamin-C derivative that Bernard says improves skin's ability to reflect light. "The complexion looks more radiant after just a month," he says, summarizing results of a clinical study conducted by YSL. "After two months, color imperfections look visibly reduced." In addition, the formula can boost circulation, getting blood flowing to lend a youthful blush, explains Wilson. Salicylic acid and cherry-tree extract also slough away dead skin cells to reveal a fresh, bright layer of new skin.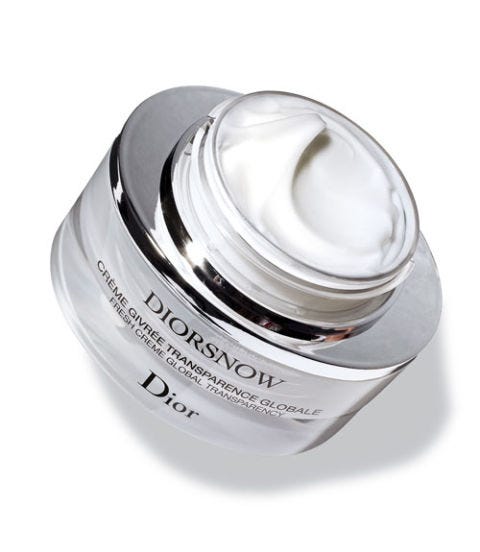 "Jeffrey Westbrook/Studio D."
Iceland
It sounds like a legend plucked from Scandinavian lore — a lake so pure, it's capable of reversing the aging process. But the benefits of these waters are real, and they're the cornerstone of Dior's Diorsnow, a line that has just welcomed three new innovations: a serum, a gel mask, and an eye treatment. "The Icelandic glacial water has minerals that counteract acidity, leading to melanin reduction," says Edouard Mauvais-Jarvis, the scientific communication director for Dior Beauty International in Paris.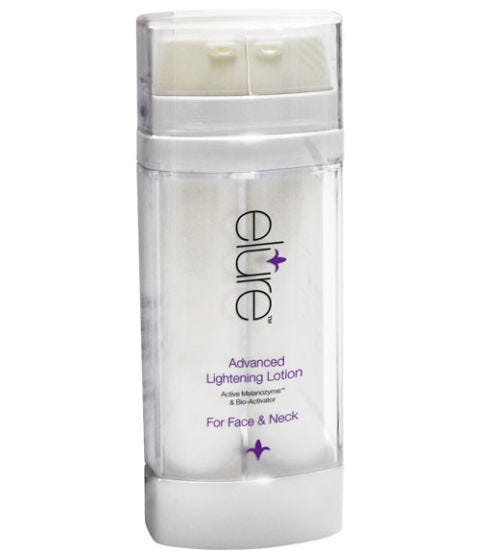 Israel
Elure — a skin-brightening line from this sun-drenched, technologically innovative country — is a novel weapon against hyperpigmentation. It contains the compound Melanozyme, a trademarked enzyme derived from an edible tree fungus. Many products inhibit melanin production to prevent dark spots, but Melanozyme can also break up existing spots, says dermatologist Dr. Gregory Nikolaidis, founder of Westlake Dermatology and Cosmetic Surgery in Austin, Texas. Other lightening agents, like prescription hydroquinone, take about a month to work, but this lotion provides visible results in as little as two weeks without irritation, according to Elure scientist Yoram Karmon. In fact, the AAD's Draelos is working on a research paper that shows Elure Advanced Skin Brightening Lotionis as effective as 4 percent hydroquinone — the Rx lightener — in the same amount of time.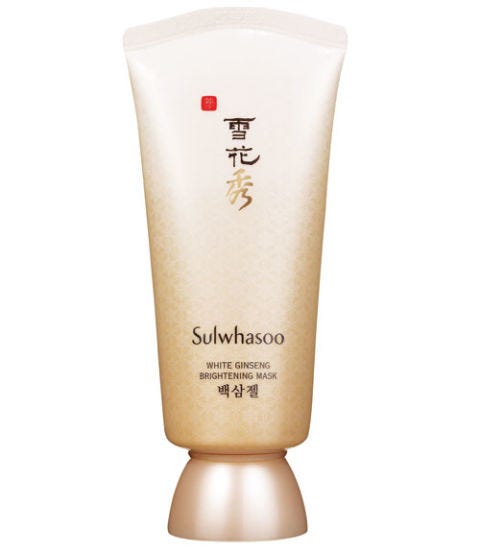 Korea
"In Korea, they take skin brightening even more seriously than they do in Japan," says Shamban, who has toured the cosmetic-obsessed country extensively. The native Sulwhasoo brand has been leading the way with its Snowise Brightening collection, which relies on ingredients gleaned from holistic healing, like white ginseng, to help curb melanin production by reducing inflammation. Some of the products also contain white cloud grass, which increases circulation so skin seems to glow. "The future is definitely looking bright," says the dermatologist, who is a fan of the brand.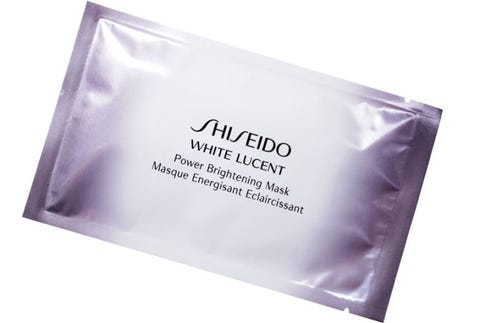 "Jeffrey Westbrook/Studio D."
Japan
Skin "whitening" products, as brightening products are often called in Asia, are extremely popular in skincare-technology-savvy Japan. Shiseido's new White Lucent mask utilizes positively and negatively charged ions to drive an ingredient called 4MSK deep into the skin in order to remove melanin the way bleach lifts a stain. The mask also contains lightening kojic acid and vitamin C to help quash free radicals before they cause damage. Subjects in Shiseido's clinical trials noticed an immediate glow after just one application.

Researchers at Japanese skincare company SK-II also discovered compelling results from tests of its new serum Cellumination Essence Ex, which has been in development for the past five years. Like all SK-II products, it contains Pitera, a yeast-derived, nutrient-rich liquid with vitamins and amino acids that seems to render skin as smooth as Cate Blanchett's, a company spokesperson. It also incorporates the so-called cure-all herb Centella asiatica and vitamin B3 to impede the transfer of melanin to the skin's surface.
This content is created and maintained by a third party, and imported onto this page to help users provide their email addresses. You may be able to find more information about this and similar content at piano.io