Editors handpick every product that we feature. We may earn commission from the links on this page.
Behold: How to DIY Ridiculously Cool Ombré Nails at Home
And it's weirdly really easy.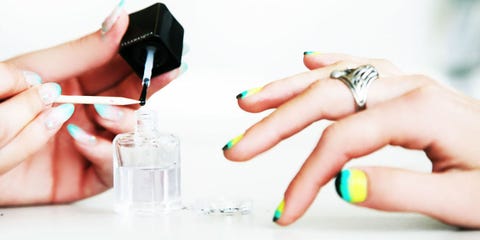 Hey, your nails shot us a text, and they're really tired of the boring, blah nudes and creams you've been painting on them. So we're being their advocate and presenting you with a truly cool DIY for ombré nails, using just a few polishes and a makeup sponge, and trust us—it's actually really easy. Keep reading to find out how do the mani on yourself, and get ready for some Instagram action.
Yes, we'll admit that these colors don't exactly whisper, "Hi, I'm subtle," but when layered together, they feel less like a scream and more like a simple statement. For our look, nail artist Fleury Rose worked with Illamasqua to pair Rare (neon-yellow), with Omen (shimmery green), Noble (electric turquoise blue), and Boosh (pure black).
If highlighter shades are still way too intense for you, pick four soft shades in the same color family, like white, charcoal, and two shades of light and dark pink, or two shades of light and dark blue, and follow the same steps.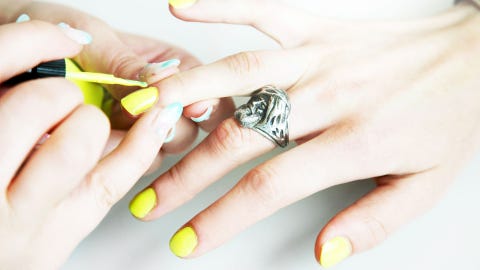 After applying a base coat, layer on two coats of neon yellow, letting them dry for 10 minutes between each coat.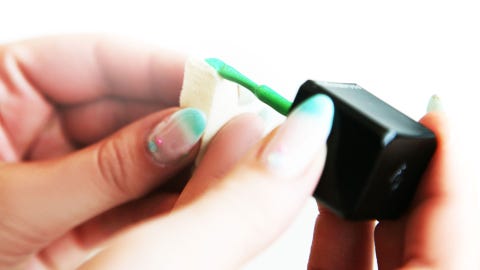 While you're waiting for your final coat of yellow to fully dry, grab a clean, latex-free makeup sponge, carefully cut it in half, and then saturate the tip of it with green polish.
4
Stipple, Stipple, Stipple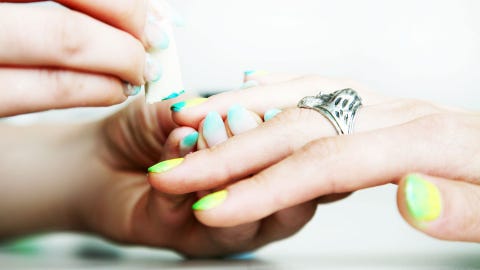 Holding your sponge directly over your nail at a 90-degree angle, lightly dab and stipple the green polish over the lower half of your nails, lightly feathering it out as you work.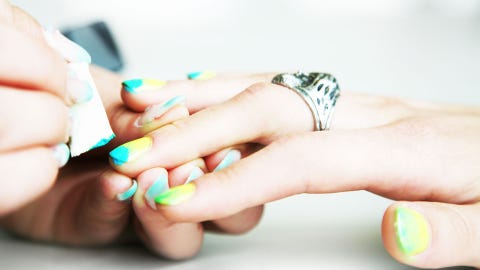 Grab your makeup sponge again, paint it with the blue polish, and dab it over just the lower-third of your nails, right on top of the green.
For the final layer of the fade, paint the edge of the sponge with black and dab it just over the tips of your nails.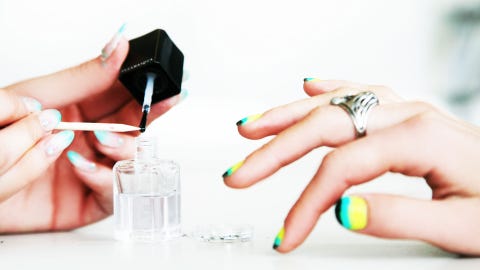 To really amp up the look, because hey, you're already here, add a few sporadic dots of glitter. Cover the tip of an orange stick with clear polish, dip it into some loose glitter, and lightly dot it across each nail.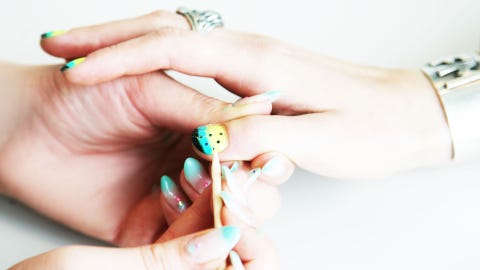 Next, dip your orange stick into black polish and dot it across alternating nails.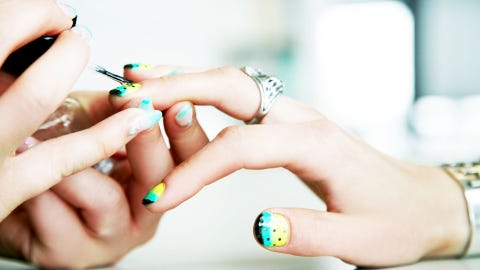 After the black dots dry (give them at least 15 minutes), layer on a clear top coat.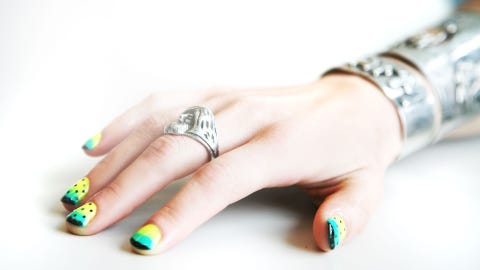 Grab some big, chunky jewelry and a really nice friend, and get them to take a photo of your nails for Instagram, because congrats—you just completed ombré nails.
This content is created and maintained by a third party, and imported onto this page to help users provide their email addresses. You may be able to find more information about this and similar content at piano.io