Fake It 'til You Make It
From getting rid of facial fuzz to hiding cellulite, here are a few makeup and beauty secrets to enhance your look and work with what youve got.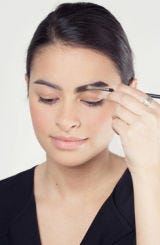 Beef Up Your Eyebrows
If you weren't blessed with a thick, picture-perfect pair of "power brows," put down the tweezers and pick up an eyebrow stencil and pencil. Choose a cutout shape that flatters your facial features, and a brow pencil that's a shade lighter than your natural hair color.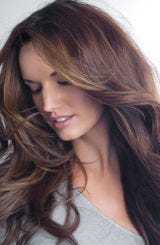 Andreas Kuehn/Getty Images
Tease to Thicken
Want to add more volume to your strands? Give your hair an extra dose of oomph by teasing your roots high with a fine-toothed comb before styling. Another cool tress trick: You can also fake fuller hair by lifting your strands up high while blow-drying.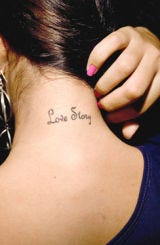 Dean Belcher/Getty Images
Hide Tattoos
While you may love your body art, there are certain times when you might prefer to not show it off. Cover up with a heavy-duty concealer stick that is a few shades lighter than your actual skin tone. Let it dry completely before applying a thick cream foundation that perfectly matches your complexion on top. (Beauty secret: Set it with a light dusting of translucent powder for a flawless look!)
This content is created and maintained by a third party, and imported onto this page to help users provide their email addresses. You may be able to find more information about this and similar content at piano.io