Editors handpick every product that we feature. We may earn commission from the links on this page.
#BigLipstickEnergy: The 3 Lip Products I'm Obsessed With Right Now
"What lip is that?" A professional lipstick critic reveals all.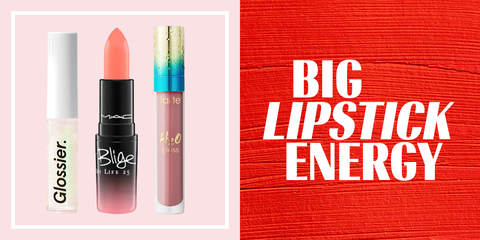 I'm a serial lipstick dater. So many lip products slide onto my desk. Some I double-tap and have all the heart eyes for. Others I ghost and leave on seen. This is #BigLipstickEnergy, an honest breakdown of how I feel about the latest lip launches. Read on for the three lipstick flings I'm keeping in rotation for now. Next week, I'll have a new roster.

This Ultra-Shimmery Gloss
Lip Gloss in Holographic
Glossier
glossier.com
$14.00
THE DETAILS:
Something Glossier gets right time and time again is listening to consumers. Now, the brand's popular clear lip gloss is available in two new shades: this intergalactic shimmery shade I can't get enough of, and a sheer cherry color. Bless, because no tackiness or sticky residue is left behind when you apply this gloss. You can expect this opulent iridescent shimmer to hug your lips for hours on end—no sliding and no reapplying necessary.
WHY I'M OBSESSED:
Remember when the holographic movement took the makeup industry by storm in 2016? And every product everywhere made you look like a mermaid? This gloss is a refined upgrade to the holographic trend, which I like to think of it as a grown-up, cool-girl play on glitter. I tried it for the first time during an episode of writer's block (as a good beauty editor does), and I swear this shimmery gloss took my day from meh to amazing. The light-reflecting specs adds an extra oomph to its shine, yet it's completely appropriate to wear at the office. In terms of my mood, it perked me up, and the formula survived my sweaty Subway commute home.

This Easy-Peasy Neutral
H2O Lip Gloss Sea Collection in Salt Lyfe
THE DETAILS:
If you're already a fan of Tarte's #1 best-selling shade "Salt Lyfe" from their Color Splash line, you'll be thrilled to know that the fan-favorite shade comes in gloss form now, too. What's so game-changing about a neutral gloss? The formula, made of ocean-sourced marine plant extracts to blur fine lines and enhance the look of fuller lips, is what gives this gem major cool points. Plus, if you prefer a non-subtle shine, the glassy effect this produces will be your new go-to.
WHY I'M OBSESSED:
I'm not going to complain about stepping outside and being drenched in sweat five seconds later—I begged for summer all year long. But I will say that wearing boldly colored lipsticks (during the day, at least) has become less of a thing for me lately because I know they will melt off in the sweltering heat. So this mauve-gray gloss has been a life-saver this week. It's a my-lips-but-better shade that enhances the natural tone of my mouth with a lustrous and long-lasting (!!!) shine. I'm also not mad at the way it pops in photos when I find my light.

This Poppy Peach
Love Me Lipstick Mary J. Blige in French Silk
MAC Cosmetics
maccosmetics.com
$19.00
THE DETAILS:
Leave it to MAC, known for having the most star-studded campaigns, to collaborate with an icon: Mary J. Blige who is The Queen of R&B. Blige is the face of the brand's Love Me Campaign, a lineup of 24 lipsticks, and she says her favorite it this peachy nude shade. It has a pillow-soft, satin finish that provides mega moisture. "I love a nude lip because it's just effortless and it doesn't fight with everything that's going on," Blige says about the shade. "Even if you're all glammed up, there's something about a neutral lip that makes you look younger." And don't we all want to look forever young?
WHY I'M OBSESSED:
It's July, which means peaches are in season. Not only am I into eating peaches, I've also been really obsessed with wearing the color on my lips lately to work and to Sunday brunch. This hue has the ideal mix of brown, pink, and peach undertones to pop on deep skin tones without looking ashy. I mean, seeing Blige wearing it like a goddess gave me all the inspo I needed. I suggest lining your lips with a neutral or taupe-toned lip liner for your skin tone (this is my favorite inexpensive option for deep skin tones), then swiping this on top.
...
For more stories like this, including celebrity news, beauty and fashion advice, savvy political commentary, and fascinating features, sign up for the Marie Claire newsletter.
This content is created and maintained by a third party, and imported onto this page to help users provide their email addresses. You may be able to find more information about this and similar content at piano.io